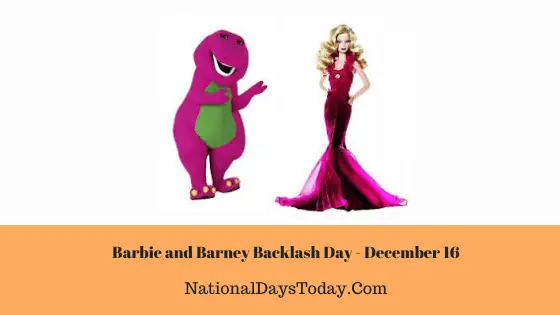 Barbie and Barney Backlash Day 
Celebrated on December 16th, the Barbie and Barney Backlash Day allows parents to take a break from the annoying songs and cartoons and to gather the courage to finally tell their kids to end their annoying Barbie and Barnie binge-watching habits.
| | | | |
| --- | --- | --- | --- |
| Year | Date | Day | Where |
| 2020 | 16th December | Wednesday | United States |
| 2021 | 16th December | Thursday | United States |
| 2022 | 16th December | Friday | United States |
Twitter Hashtags:
#BarbieandBarneyBacklashDay
Related: Other National Days Celebrated on December 16th:
National Chocolate-Covered Anything Day
Why Barbie and Barney Backlash Day?
All the parents are quite familiar with the tantrums and whining of their kids when they change the cartoon channel for a split second. While cartoons are a means of entertainment for the kids, some cartoons can get on your nerves with the redundant sing-alongs and storytelling going on forever in a loop. Barney and Barbie are synonymous with fun for children, but it has been a permanent headache for parents worldwide who put up with their children's addiction to these shows and cartoons.
The famous play doll Barbie was created by Ruth Handler.Though Barbie has been a positive influence through doll sets that depict different careers and occupations that could be pursued by girls the doll has had a fair share of controversies concerning the kind of unrealistic body-image idea that is subtly sowed in the minds of the young generation through the doll's unrealistic body shape. After its arrival in the stores on September 6, Barbie dolls have conquered the toy world and continues to be a popular icon, especially for girls.
Barney the purple anthropomorphic T-rex had become a celebrity in the world of children's television. Barney is a character in the show Barney and Friends. The show mainly tries to generate a positive feeling with its stories, songs and dance. The show, from its humble beginnings as a home video series, has attracted children all over the world.
Though Barney was children's favorite character, many parents felt that the show was of no educational value and was very repetitive with the content. The show was criticized for portraying a perfect world, ignoring difficult emotions or situations even when it is considered within the context of children's shows. 
This day reminds parents to gather courage and tell their kids that their favorite characters are fictional if they are up to it. While some parents wouldn't approve of this idea as the content seems to be age-appropriate for preschool children, it certainly is a challenge to break it down to the kids who have been mesmerized into a virtual world of perfect happiness. On the bright side, they won't be shocked to know Santa is not real!
This day can be a new beginning for the kids, they might even focus on productive things rather than binge-watching cartoons or crying for Barney and Barbie toys. This day is certainly a backlash at the billion-dollar toy companies and  popular TV shows.
How Can We Observe Barbie and Barney Backlash Day?
The most obvious way to celebrate this day is to break the news to your kids gently. Parents who are especially concerned about equipping their kids to face difficult emotions and disappointments early in life can make use of this opportunity.
Introduce them to new activities!
If children can find a substitute for cartoon binge-watching, they can channel their energy  into a time of learning, fun and productivity! You can introduce them to new activities like reading, drawing etc.
Share the photos, videos and posts of your tactics for the day to inform the annoyed parents of the world by using  #BarbieAndBarneyBacklashDay. 
Interesting Facts On Barbie and Barney Backlash Day: 
Few interesting Facts on Barbie and Barney.
Barbie was introduced to the American International Toy Fair held in New York City on Match 9, 1959. This day is known as Barbie day or Barbie's birthday.
September 6 is celebrated as the Barbie Doll Day
A black and white swimsuit was the first barbie doll apparel.
Barbies' full name is Barbara Millicent Roberts.
PBS planned to quit the Barney and Friends show in 1992 after 30 episodes. The show continued after a campaign by CPTV members and parents.
The famous song in the Barney and Friends show "I Love You" was said to be so annoying for many adults that it was even used to interrogate war prisoners
Barbie was marketed extensively through Television ads.
In 2019 Barbies dolls were created in the likeness of the pioneering women of the era. 
History Of Barbie and Barney Backlash Day:
The holiday is copyrighted by Thomas and Ruth Roy the owners of Wellcat.com. They suggested that this day can be an opportunity to reveal the truth to children  that both Barbie and barney don't exist.