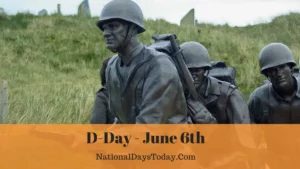 D-Day:
Military team D-Day is celebrated on June 6 every year to celebrate the anniversary of the historic Normandy landings.
| | | | |
| --- | --- | --- | --- |
| Year | Date | Day | Where |
| 2023 | 6th June | Tuesday | United States |
| 2024 | 6th June | Thursday | United States |
| 2025 | 6th June | Friday | United States |
Twitter Hashtags:
#D-Day
Related: Other National Days Celebrated on June 6th:
National Gardening Exercise Day
Why D-Day?
Just like other military days, this one is a very special day for Americans. Most people love celebrating this special day in several ways. In simple words, you can show your respect to the military team on this anniversary of the Normandy landings. Many people also call this day 'Day-Day'. However, there were various meanings in the past.
How Can We Observe D-Day:
If you are celebrating this historical day, you can do something different. In this case, there are several unique ways to observe this Normandy landings anniversary. In the following, we will share the top ways to observe this military day. Let's find out:
You might know that the Normandy landings anniversary is very special for Americans. If you want to observe this day, make sure you start with flying the American flag. Hence, it's a great opportunity to show your love and respect for the country. Make sure you fly the flag from a fixed pole. Plus, you have to take down the flag when the weather changes.
If you are a beginner and it's your first time observing this anniversary, you can make it more interesting. In this case, watching a World War II movie can be the best solution. The good thing is there are so many WW II movies available. You can even watch a European World War II movie.
No matter what way we are celebrating the anniversary of the Normandy landings, we always have to be grateful to our veterans. It's difficult to imagine their contribution during World War II. We have learned more about those people who protected our freedom. So, this historic day is ideal for thanking veterans.
Visit World War II Museum
Do you want to do something unique? You can visit the World War II Museum in New Orleans. It's a great chance to explore more about WW II when you are from Louisiana. On the other hand, you will learn more about this memorial day by visiting the World War II museum.
Are you from Lake Erie? If so, you have a great chance to attend Conneaut on this special day. The main attraction of this event is around 1,200 reenactors recreating the memory of the Normandy landings. If you want to experience this beautiful event, you have to plan everything ahead.
And, don't forget to share how you are observing #DDay on social media.
Interesting Facts About D-Day
Even though this anniversary is special for our troops, there are so many interesting facts about this day. If you had no idea of the history of the Normandy landings, these factors can make it more interesting. In the following list, let's find out these interesting factors:
The invasion plan was scheduled for June 5. However, it was delayed the next day because of the bad weather condition.
The US government purchased around 20,000 Land Craft Vehicle Personnel boats to complete this invasion. These boats were actually invented to use Louisiana swamps.
Theodore Roosevelt Jr, son of the US President was a volunteer in this Normandy landings invasion.
Many Americans died during the invasion on June 6. The US Army created the American St. Laurent Cemetery near Omaha beach to complete the burials of 9,387 Americans.
The US Army and their Allies started the parachuted operation on five beaches of Normandy; Utah, Gold, Omaha, Sword, and Juno.
This special invasion was an international effort. Almost 2 million troops from 12 countries participated in this operation.
It was also the largest air, land, and naval operation in history. The naval force played a crucial role in this invasion.
History of D-Day
As we noted before, the importance of D-Day is huge for World War II. On June 6, 1944, the American military landed in Normandy, France with their allied forces. This special invasion is popular as Operation Overlord. On that day, 156,000 American, British, and Canadian troops landed on five beaches of Normandy. That mission's code name was Operation Neptune.
They planned the military invasion to slow down the advancement of the Nazis. However, the planning started in 1942. The key goal of this secret invasion was to remove Nazis from German-occupied France. There was another mission called Operation Bodyguard by our Allies to mislead Germans.