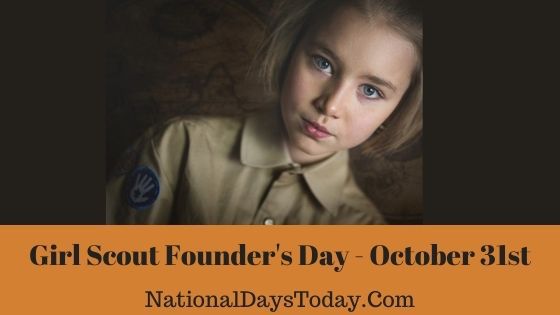 Girl Scout Founder's Day:
Girl Scout Founder's Day is celebrated on 31st October to commemorate all-girls' welfare through scouting. Juliet Gordon Low was the founder of girl scouting.  This day remembers her as well.
| | | | |
| --- | --- | --- | --- |
| Year | Date | Day | Where |
| 2023 | 31st October | Tuesday | United States |
| 2024 | 31st October | Thursday | United States |
| 2025 | 31st October | Friday | United States |
Twitter Hashtags:
#GirlScoutFounder'sDay
Related: Other National Days Celebrated on October 31st:
National Knock-knock Jokes Day
Why Girl Scout Founder's Day?
Juliette Gordon Low, also called Daisy, was born on October 31, 1860, who found Girl Scouts of the USA using the help of Sir Robert Baden-Powell, the one who founded the Scouting Movement.  In 1912, Low established a Girl Guide troop in Savannah, Georgia, and in 1915, the Girl Guides transformed into the Girl Scouts, with Low becoming the first president.  She was active with the Girl Scouts until the time of her death in 1927.  Low's birthday, October 31, is celebrated by the Girl Scouts as "Founder's Day." Her activeness and belief in women empowerment until she was on her deathbed inspire all of us. She did something that orthodox people would have frowned upon, but she still followed her beliefs until her last breath.
The day is extraordinary for all girls. It is high time to think about who we would like to be, let our imaginations run wild, and turn those dreams of doing something big into a reality. Though society back then was very much focused on boys' strength rather than girls,  Low broke these stereotypes for women.  Only because of Low's attention on women power and female strength, women empowerment have been possible.  Until this day, all the girls with strength would have suppressed their dreams. They were forced by society to behave in a shy, soft, and feminine manner. Their dreams also needed to be like that of women. Just because of her courage, the pain of all these females ended.
Even today, the celebration of this day is very important because many educated people still tend to suppress women. Many still don't let girls and women follow their dreams. All of us assume that just because we have made a lot of technological development and other kinds of progress, there is mental progress as well. But it is not the case.  There are many crimes against women. They are unable to protect themselves just because society told them to be weak. When parents and teachers support girls to use their strength to protect themselves, that is only when even they will know their strength. The roles of male and female were allowed by society for better organization and functioning of society. It means that the roles of men and women are not natural. And this is why we need to be flexible about what all girls can achieve. The sky is the only limit now.
From the bottom of our hearts, we can genuinely change ourselves into something different—something more important, bolder, brave, and more courageous than we could ever think possible before. We cannot forget her and should celebrate this day in numerous ways. This is the day of bravery,  perseverance, and determination.  Today is when we need to remember and cherish all these positive values. Girl Scout Founder's Day is what delineates the dream fulfillment of every girl out there.
How to observe Girl Scout Founder's Day?
Know more about Juliet Gordon Low
You will be more inspired by Low if you have more knowledge about her. There are many books, videos, documentaries about her. When you watch it, you will be very much ambitious and motivated towards your goals and dreams.
You will be truthful to yourself and that to Low when you don't let go of your dreams. You need to execute them despite all the hardships that come your way. What is the use of knowing more about Low if you cannot learn and implement her values?
Share your pictures on social media.
If you are happily following your dreams of strength, you should share them with others. Add the hashtag #girlscoutfoundersday so that many more people will know about her bravery and perseverance.
Interesting facts about Girl Scout Founder's Day:
The first name of the girl scouting group for girls was Girl Guides of America.
The motto of this first group was "Be prepared."
This girl scouting group grew from 70 thousand members in 1920 to 3.7 million members in 2005.
The slogan of Girl Guides of America was "Do a good turn daily."
The first girl troop was formed in the year 1920.
Juliet Gordon Low took the help of Sir Robert Baden-Powell, who was the founder of the Scouting movement.
History of Girl Scout Founder's Day:
Girl Scouting in the USA started on March 12, 1912, when Juliette Gordon Low established the first Girl Scout troop meeting. At the first troop meeting in Savannah, Georgia, there were only 18 girls available. Juliette Gordon Low arranged enrichment and personality development programs, social service projects, and outdoor activities, treks, projects, and adventures for these girls. Since the time of the initial meeting, Girl Scouts has grown to over 3.7 million members.