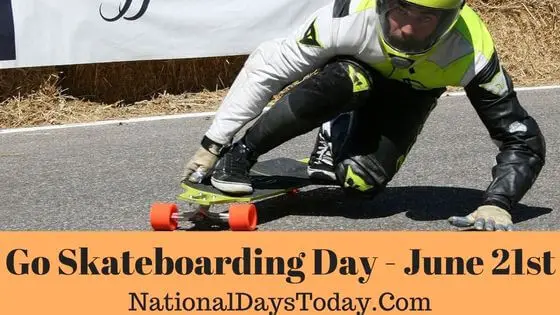 Go Skateboarding Day:
The IASC (International Association of Skateboard Companies) organizes the Go Skateboarding Day every year on the 21st of June.
| | | | |
| --- | --- | --- | --- |
| Year | Date | Day | Where |
| 2023 | 21st June | Wednesday | United States |
| 2024 | 21st June | Friday | United States |
| 2025 | 21st June | Saturday | United States |
Twitter Hashtags:
#GoSkateboardingDay
Related: Other National Days Celebrated on June 21st:
National Daylight Appreciation Day
National Peaches 'N' Cream Day
Why Go Skateboarding Day?
Skateboarding has been gaining a lot of momentum on the popular game charts in recent times and you would find many skate parks blooming all around you. Skateboarding involves riding the skateboard and showing off tricks as you ride on it and it is an action sport. Many people take it up as a recreational hobby and this is loved by almost all age groups.
There is no age limitation on who can learn this art or when you can start learning it. If you love it, then you can learn to skateboard at any age. It is a good workout for the cardiovascular system and it helps add strength to your muscles as well. You will also learn to balance over any surface and you will also gain the confidence to be yourself in any situation. Given the many benefits this sport brings along, both mentally and physically, we celebrate a day to emphasize and encourage more people to learn skateboarding.
How can we celebrate Go Skateboarding Day?
The day is filled with celebrations with people getting onto their skateboards and riding to their hearts' content in any skate park near them or even on the roads. As part of the celebration of this day, you can
Participate in the many events organized by the IASC like barbecues, demo sessions, competitions, and other fun activities.
If you do not know the sport, then this is the day to start learning a new sport and skateboarding will make a good starting point. If you already know to use a skateboard, then this day could be the beginning to learn some new tricks to perform while skateboarding. There are even YouTube videos to help you but it is better to have someone help you professionally before following online demos.
If you are a professional, then you can share your tricks on a video or have a demo session for those who want to learn the art. You can bring attention and teach the nuances of this active sport online to all those who are looking for it, from across the world. You can share your support for this recreational activity online with videos to help you learn and a #GoSkateboardingDay.
Interesting facts about Go Skateboarding Day:
Skateboarding has been gaining popularity in recent times with more and more people embracing this recreational and active sport. Here are some interesting facts you would love to know about skateboarding to learn about today.
Considered among the top ten sports of today in the world, skateboarding was earlier known by the name of "sidewalk skating".
The skateboards used to have handles to help the riders to hold on as they skated around. Now, though the art is to skate without handles. The riders used to ride shoeless in the initial period.
Skateboarding's origins cannot be traced to a single person or group. But it is said that it was created by surfers who wanted an option to use during low tide.
Studies show that more than 85 million people are skateboarders from around the world. And most of these people are under 18 years of age.
The US has more than 3000 skate parks in the country with more than 500 of these situated in the state of California alone.
Goofy Stance, a well-known skateboard move is named after the famous Disney character Goofy.
The highest ollie was at 45inches high and it was pulled off by Aldrin Garcia in skateboarding.
Studies also show that most skateboarding professionals are ambidextrous.
In the year 1995, skateboarding was launched as part of the Extreme Games program by ESPN.
Urban warrior 99, is a program launched by the US military in the year 1999 that makes use of skateboards to maneuver through urban settings.
A video game based on skateboarding, Tony Hawk's Pro Skater, was released in the year 1999 by Activision and it became a popular video game in a very short time.
In response to the tragic events of the 9/11 attack, Kerel "Srikala" Roach along with Bryan Chin held the All-City Skate Jam, the first of the many to come, in New York City in the year 2004.
New York City is the epicenter of celebrations every year on this day and you would see many people gathering with skateboards onto the streets on this day.
History of Go Skateboarding Day:
The Go Skateboarding Day was kick-started by the (International Association of Skateboard Companies) in the year 2004 to bring people together to participate in a skateboarding event as a community. It is a day for all the skateboarding lovers to come together and learn about the game, learn the game and tricks, show their skills, engage in friendly competition, and have fun.