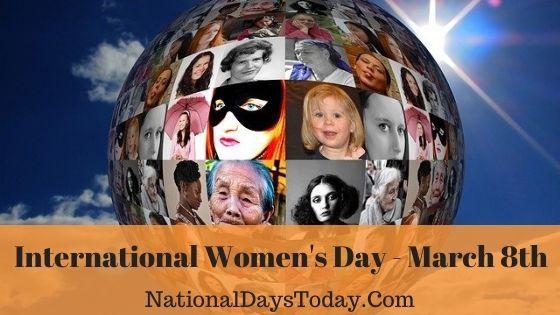 International Women's Day: 
International Women's Day gets celebrated every year on the 8th of March every year worldwide. This day is specially dedicated to women from all walks of life.
| | | | |
| --- | --- | --- | --- |
| Year | Date | Day | Where |
| 2023 | 8th March | Wednesday | United States |
| 2024 | 8th March | Friday | United States |
| 2025 | 8th March | Saturday | United States |
Twitter Hashtags:
#InternationalWomen'sDay
#Women'sDay
Related: Other National Days Celebrated on March 7th:
Why International Women's Day? 
Women are an important part of our society. In this world we live in, society cannot exist without women and their contributions. However, sadly women are grossly underestimated and undervalued by people all over the world. There is a huge difference in the treatment of men and women in this patriarchal world where men are considered more powerful and intelligent. There is a constant and persisting imbalance in men and women's social standing, with women occupying an inferior position on the rungs of the social hierarchy ladder.
Since time immemorial, women have always been undervalued both by society and by their very own families. Traditionally across cultures, it was believed that women were born to look after their family and to have children with their husbands. Service and higher education were considered a man's privilege. Women were said to possess very little intelligence, which apparently made them incompetent in the field of service and education.
For the longest time, even education was denied to girls and women because people thought it was useless for them. Women were denied to vote, own properties, buy properties, have an education, voice their opinion, and be themselves.  They could not inherit any land or property either. Women were also not given jobs or paid an equal salary as men.
Women could only work as tailors, governesses, nannies, and servants. High offices, whether in the household or the government, were not assigned to women. Therefore by curbing their chances to earn for themselves, people had successfully forced them to become dependent on their fathers, brothers, husbands, sons, and other male family members.
Women in many cultures are seen as a burden on their parents, and girl children are often neglected and cast aside by their very own families. This belief of being a burden comes from the fact that people saw women as objects that need to be married off to someone to start making children as fast as possible.
Child marriages were practiced predominantly in the past, and the evidence of it also lies across cultures. Children can be as young as eight years old would be married off to much older men even before they start hitting puberty. In some extreme cases, female fetuses are killed in their mother's womb so that the parents would not have a daughter to worry about. Female-feticide is also tragically still practiced in many places.
Activists, social welfare workers, and governments are trying their best to curb this growing and persisting violence and injustice against women. Several laws have been made with serious penalties against breaching them. The education system is being revamped to help children and young adults understand the importance of equality and mutual respect for all sexes. Women are now being encouraged to further their careers and improve their academic knowledge as well.
In spite of these, even today, women have to be constantly undervalued, insulted, degraded, and denied basic rights on the grounds of their sex. Sexism is still pretty much practiced everywhere despite the government passing strict laws against sexism and inequality. Women still have to fight for basic rights, education, equal pay for an equal job, freedom of expression, freedom of speech, the right to live, and so on. In many countries, child marriage, forced marriage, domestic violence is still prevalent.
With growing first for women's human rights and freedoms, there emerged a need for spreading awareness among the people and sensitizing them about equality among the sexes. International Women's Day is one such initiative that seeks to spread awareness of the injustice women face in their lives and also aims to celebrate the beauty in femininity and womanhood. On this day especially, hundreds and thousands of women take to the streets to demand equality and justice.
These huge marches and protests also spread knowledge about the crisis that women have to go through every day. Despite growing protests and sensitization of people, many countries refuse to acknowledge women's rights and continue to mistreat their female citizens. Therefore, International Women's Day has become an important day in the international calendar that is widely celebrated.
How Can We Observe International Women's Day?
It is extremely important to celebrate Women's Day in solidarity with women all over the world. Given are some ways in which you can observe International Women's Day and spread awareness on the plight of women worldwide:-
Wish all your women/girl acquaintances, family members, friends, colleagues, and neighbors.
Do something nice for the women in your family. Cook them a good meal. Buy them some cake and gifts. Pamper them with a spa day or movie night. Express your appreciation for them by letting them relax and enjoy the day.
Express your appreciation and love for all the women in your life. Let them know that you support their cause and acknowledge their problems while also appreciating the hard work they put into their jobs and homes.
Spread awareness on the plight of women and the evils of sexism around your friends and family. If someone is ignorant, help them realize the importance of women and how they are equal to men in all aspects.
You can enrich your knowledge of women's rights and movements by reading books on the history of the feminist movement and documentaries on the major problems faced by them in the present world.
If you are a student, make sure your educational institution prepares a celebration to observe International Women's Day.
You can buy International Women's Day merchandise from various stores around you. You can also order them online. Wear these merchandise on the day to Mark your support in favor of women.
If you are a woman yourself, take this wonderful day to do something nice for yourself as well. Pamper and love yourself. Take a break and have a girl's night out.
You can throw a party or a celebration with people of all sexes to mark the importance of peaceful co-existence and equality among all.
You can purchase goods or invest in local businesses that are run by women.
You can make some goodies for all your local women workers who you meet daily.
You can show your appreciation for your women teachers and professors by either buying them gifts or making them handmade cards and gifts at home.
You can consider giving a one day leave to women domestic workers in your house and other helping hands like babysitters, nannies, governesses, cooks, and the like.
You can donate some amount to charities and NGOs who actively work with women and for women. You can donate to orphanages, old age homes, charities, women's homeless shelters, women empowerment organizations, and so on.
Don't forget to do something thoughtful for your mother, grandmother, and sister on this special day. You can give them some handmade greeting cards, small gifts, knick-knacks, or a token of appreciation.
In case you cannot contribute financially, spare some time to volunteer at an NGO or local shelter which works for the betterment of women.
You can spread awareness of women's problems and the need to construct an equal and fair society where they will not be discriminated against on the grounds of their sex. You can post on your social media handles and use the hashtags #internationalwomensday, #womensday, and #celebratingwomen.
Interesting Facts On International Women's Day:
Here are some amazing and interesting facts on International Women's Day to increase your knowledge on the celebration of the day:-
The first formal women's day celebration dates back to February 1909 in America, which was conducted by the Socialist Party of America.
In Russia, International Women's Day is seen as a national holiday since the establishment of its women's suffrage in 1917.
March 2011 was declared as Women's History Month by the then American President Barack Obama.
On March 8, 2011, International Women's Day completed its 100th year of celebration.
The Australian government in March 2011 had produced a commemorative coin in Australian dollars as a way of marking the 100th anniversary of International Women's Day.
As a part of the International Women's Day celebration, an Indian Airline named Air India conducted an all-female operated flight that traveled to San Francisco from Delhi.
The United Nations Organization officially accepted the celebration of International Women's Day in 1975, about 64 years after its emergence.
Women's suffrage in the United States of America was not made an act till 1920.
New Zealand was the first country to let women vote legally in government elections.
Women were first allowed in some Olympic sports in 1900.
About 1 in every 3 women in the world have had to face gender-oriented violence in the form of physical and mental abuse.
A study has found that women are generally paid only about 78% of the salary that men are paid for the same job.
Women have successfully taken up about 24℅ parliamentary positions that exist in the world.
Right countries around the world, including the USA, do not provide paid maternity leave in the workplace.
History Of International Women's Day:
It is extensively believed that the Socialist Party of America was the first to assign February 28 as Women's Day in 1908. However, the exact origin of the March 8th women's day is still not confirmed. Some say that International Women's Day is linked to the Russian Revolution in the mid-1900s.