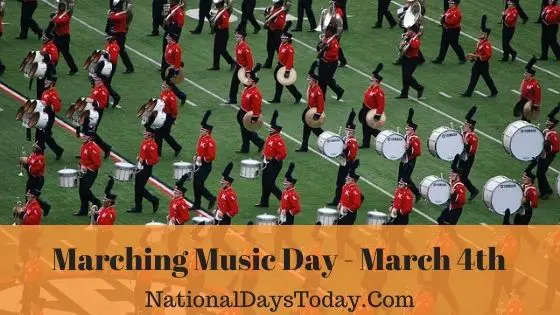 Marching Music Day
Marching Music Day is celebrated on the 4th of March every year. It celebrates every form of art with a special emphasis on music. This day came into being in 2017. It is also known as March Forth, Marching Band Day, and National Marching Arts Day.
| | | | |
| --- | --- | --- | --- |
| Year | Date | Day | Where |
| 2023 | 4th  March | Saturday | United States |
| 2024 | 4th  March | Monday | United States |
| 2025 | 4th March | Tuesday | United States |
Twitter Hashtags:
#MarchingMusicDay
Related: Other National Days Celebrated on March 4th:
Why Marching Music Day
Marching Music Day is celebrated to mark and honor all forms of art. The purpose of celebrating it is to spread awareness, especially about music, and revel in its pleasure all day long. It helps to bring around art lovers together and celebrate the one thing that is capable of even binding strangers together – music!
How Can We Observe Marching Music Day?
All people who harbor a love for art and knowledge enjoy the prospect of Marching Music Day and are quite fascinated by the idea seeing it as an opportunity to indulge in their favorite forms of art along with family and friends for company. Some fun and exciting ways to celebrate Marching Music Day with your family and friends are listed below. Take your pick or come up with your own unique ideas to make the most of this day.
Explore new genres by accepting suggestions from others as well as giving them ideas to try out new things. The best thing to do is share and exchange your playlists with acquaintances who enjoy music as much as you do.
Visit a café with a good band playing, a club or disco, or maybe even a concert if possible. Take your family and friends along to turn it into a short trip and spend the day having some great company and quality time.
Support your local bands by visiting their performances on the day. Help them gather more attention and audience by getting your family, friends, and colleagues to go with you as well. Tag them on social media platforms to help them garner more attention.
Dig out old pictures of yourself celebrating Marching Music Day and upload throwback pictures on social media platforms like Instagram and Facebook to create more awareness and attention about the day. Use hashtags like #MarchForth, #MarchingMusicDay, #NationalMarchingArtsDay and so on to garner the attention of other art lovers and help them make the most of the day as well.
Reach out to your favorite musicians via the internet and support them online.
Attend or organize karaoke nights to attend with your loved ones. There isn't any better way to celebrate this day than by spending good times with your family and friends a make it a lot of fun.
Sign up for classes to learn to play your favorite instrument. Don't push your dreams away any longer, and start playing the instrument you always wanted.
Watch movies related to music and share with others as well. You can also attend plays that are being performed in your neighborhood and give them your support.
Interesting Facts On Marching Music Day:
Marching Music Day is a huge occasion for people who love art and music. People also share interesting facts about the day with each other. Some such interesting facts are listed below.
The date March 4th was picked out specifically as it is a word pun for 'March Forth.' This symbolizes the witty nature of art as March Forth is another name for Marching Music Day.
Every year, the World Music Day is celebrated on June 21st. Marching Music Day was a separate day created to mark the spread of music as an art form across the world.
History Of Marching Music Day:
For a long, music has united people, be it military bands or simply a national anthem; it has brought together diverse people by binding them in a shared heritage. Music makes a huge impact on lives and can be a positive change and influence for young children. People have now started exploring other forms of music and art from other parts of the world as well. Drum Corps International founded the Music Marching Day in 2017 in honor of rejoicing the Music In Our Schools' month. Since then, Marching Music Day has been celebrated every 4th of March. Apart from this, not much is known surrounding the history of Marching Music Day.