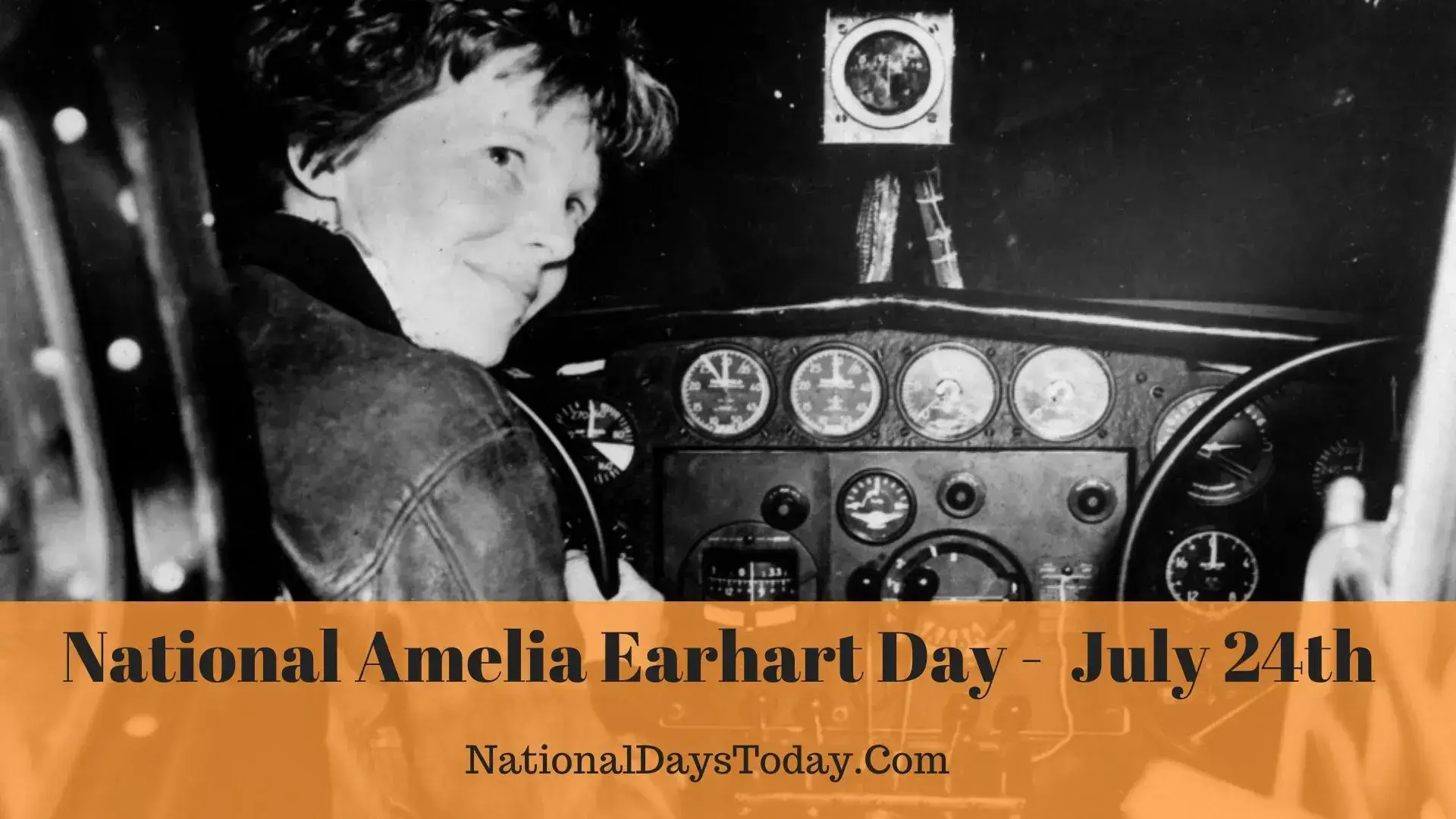 National Amelia Earhart Day, which is celebrated on July 24 every year, celebrates the pioneering aviator's accomplishments on her birthday.
| | | | |
| --- | --- | --- | --- |
| Year | Date | Day | Where |
| 2023 | 24th July | Monday | United States |
| 2024 | 24th July | Wednesday | United States |
| 2025 | 24th July | Thursday | United States |
Twitter Hashtags:
#NationalAmeliaEarhartDay
#AmeliaEarhartDay
Related: Other National Days Celebrated on July 24th:
Why National Amelia Earhart Day:
The 24th of July was designated as National Amelia Earhart Day in recognition of the renowned aviation pioneer. Author and pioneer of American aviation Amelia Earhart was an inspiration to women all across the world. She crossed the Atlantic alone as the first female pilot to do it.
Earhart joined Purdue University in 1935 as a visiting faculty member and also penned best-selling books on her aviation adventures. She set out on an adventurous journey in July 1937 with Fred Noonan as her navigator, but she never made it past the Pacific Ocean at Howland Island.
How To Observe Amelia Earhart Day:
Consider learning more about this renowned female aviator to commemorate the day. Bessie Coleman and Louise Thaden, among other trailblazing women in aviation, should be included in your research. Exploring more spectacular firsts in flight is another way to celebrate. These eight incredible aviators are how we start. There are still more days to honor aviation! Take a look at these 7 Fantastic Days Celebrating Flight. Using the hashtag #AmeliaEarhartDay on social media, you can also express your skepticism or amazement.
Interesting Facts Of National Amelia Earhart Day:
Earhart accomplished two autogiro  cross-country tours, two of which had three highly visible accidents, and she established the first autogiro altitude record.
The National Aeronautic Association, which approved official records and competitions, elected Earhart as its first female vice president.
Using her own sewing machine, dress form, and seamstress, Earhart initially created a line of "functional" women's clothes that included dresses, shirts, slacks, suits, and caps.
Amelia first saw a plane when she was ten years old at a state fair. She trained as a nurse's assistant in Toronto, Canada, to care for injured soldiers during World War I.
Amelia took pleasure in a cup of hot chocolate on her 2,408-mile voyage to become the first person to fly solo across the Pacific.
The first female pilot to fly nonstop, alone, across the United States.
The first solo passenger to fly between Hawaii and the US mainland.
History:
Amelia Earhart was born in 1897, a year when attitudes toward women in the US were starting to shift. Earhart defied gender stereotypes when she was younger by playing basketball, enrolling in a course on auto repair, and going to college. During World War I, she worked as a nurse's aide in Canada, where she had the opportunity to interact with pilot recruits for the Royal Flying Corps.
Earhart had her maiden flight in a plane in 1920. She began taking flying lessons and bought her own aircraft, "the Canary," by 1921. Earhart broke numerous records while flying, but her greatest accomplishment was being the first woman to fly alone over the Atlantic Ocean .
She immediately transferred to a Lockheed Vega from an Avro Avian. She established a number of speed records in June 1930. In addition to setting airborne records, Earhart also utilized a Pitcairn autogyro to set the autogyro height record on April 8,  which lasted for 84 years.
Amelia Earhart began her second attempt at a flight around the globe in 1937. She made it all the way from California to Southeast Asia before getting lost at sea.
Due to Earhart's fame, chances ranged from a brief career in fashion to a position as Cosmopolitan's aviation editor (then a family magazine). Additionally, it provided funding for subsequent long-distance and speed records-breaking flights. She was the first woman to fly alone across the Atlantic in 1932 while operating an aircraft. The French Legion of Honor Cross and the American Distinguished Flying Cross were among her honors. Earhart participated in the creation of the Ninety-Nines in 1929, a group for female aviators.
Earhart was employed by Purdue University in 1935 as an aviation adviser and career counselor for women, and the university also bought the Lockheed aircraft she dubbed her "flying laboratory." To become the first woman to fly around the world, she set out from Miami on June 1, 1937, with navigator Fred Noonan. The jet was 7,000 miles from the Howland Islands when it lost radio contact. Despite intense efforts that lasted for decades, it was never discovered.
Amelia Earhart Day, which falls in July ,coincides with the brave aviation pioneer's birthday and gives people the chance to celebrate her achievements and support other women around the world.