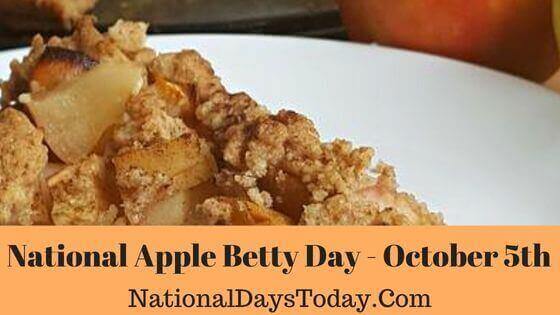 National Apple Betty Day:
The National Apple Betty Day is celebrated on the 5th of October every year in America as a national food holiday. On this day, apple betty, which is a crustless apple pie, is prepared worldwide.
| | | | |
| --- | --- | --- | --- |
| Year | Date | Day | Where |
| 2023 | 5th October | Thursday | United States |
| 2024 | 5th October | Saturday | United States |
| 2025 | 5th October | Sunday | United States |
Twitter Hashtags:
#NationalAppleBettyDay
#AppleBettyDay
Related: Other National Days Celebrated on October 5th:
National Do Something Nice Day
Why National Apple Betty Day?
This day cherishes the beauty of American deserts, which is dated back to the colonial period. There was a remarkable evolution of the deserts that were being served in America, from a simple bread pudding to this super amazing apple pie. Apples are considered one of the important fruits in not only America but other countries as well.
If we talk about the apple pie, it is seasoned with elements like sugar, nutmeg, and cinnamon. It is crustless and instead has buttered and sweetened crumbs. And the toppings are generally of whipped cream or lemon sauce. This pie has been eaten during colonial times, and Roland and Nancy Reagan also ate it.
The name Apple brown betty ha appeared in a magazine named "Yale Literary Magazine," in which the pies were mentioned as things to be taken during physical training or when we perform some workout. Since then, the term gained popularity in American households so much that it is now declared as a national festival in America.
This day is celebrated to cherish the various varieties present in apples around the world. Initially, the history of it is dated as long as hundreds of years ago. The first-ever national apple betty day was celebrated on October 21, 1990.
The day is dedicated to apples and all the things that could be created from them, like apple sauce, apple pie, etc. There are around 7,500 varieties of apples to choose from. The gala apple is the most liked variety of apple, followed by the rest.
The most basic thing which one can do on this day is to eat an apple. They can enjoy the raw fruit without any additions as it is sweet and delicious already and is very good for health also. One can also go for planting an apple tree on this special day. We should always stay rooted in mother nature and what can be the other best way than to cherish the gifts we get from it in the form of fruits such as these. They are both edible and good for your health at the same time.
How can we observe National Apple Betty Day?
On this special occasion of pies, one can enjoy the occasion by making recipes from apples such as:
Apple Betty
Apple Brown Betty
Grandma's Apple brown betty
These dishes can be prepared hassle-free and enjoyed on this occasion.
Post photos and videos of your favorite apple pie using the #NationalAppleBettyDay and #AppleBettyDay on all your social media pages today!
Interesting Facts on National Apple Betty Day:
Since we are referring to the occasion of apple betties, here are some interesting facts about apple betty:
The apple betties are an English pudding dessert which is related to the french apple charlotte.
This is a popular dish since colonial times.
It is one of the favorite dishes of Ronald and Nancy Reagon in the white house.
The apple brown betty was also a part of the winning essay for the $500 American public health association.
The name got popularized after it got printed in the Yale Literary magazine in the year 1864.
These were some of the interesting facts about apple betty prepared on this special occasion of national apple betty day. 
History of National Apple Betty Day:
On October 21, 1990, the first national apple betty day was celebrated. This day was founded by U.K. based charity organization named Common Ground. The day shows the enthusiasm of people celebrating the various varieties of apples all around the world. National apple day has its root in Europe. The apple history roots date back to the 1600s when the colonists arrived at Jamestown with European apple seedlings and started to plant and then cut down the apples from the trees.
In the 1800s, the traveler Johnny was on a voyage throughout the midwest to plant the apple trees and teach the farmers how to take good care of them. It was a positive initiative towards growing and expanding the production of apples. After this happened in the late 1850s, the testing began on the apples to determine their suitability for the farmers ( English).
Consequently, the farmers now had a better idea as to how to grow apples and what all is needed to make them nice and sweet. They began their work of sowing and reaping, and eventually, the results were pretty good. And we now have around 7500 varieties of apple that is grown around the world. And people enjoy dishes of their favorite variety of apple.