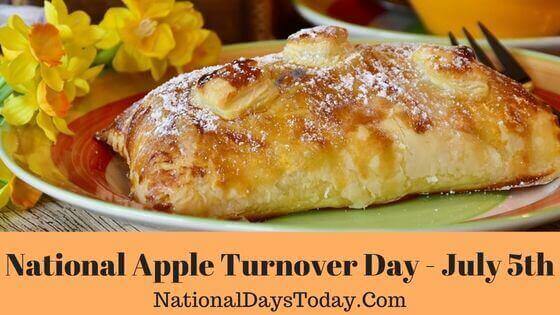 National Apple Turnover Day:
Portable pies in the flavor of apples, call for a mood of celebration and that is why we have National Apple Turnover Day every year on the 5th of July.
| | | | |
| --- | --- | --- | --- |
| Year | Date | Day | Where |
| 2023 | 5th July | Wednesday | United States |
| 2024 | 5th July | Friday | United States |
| 2025 | 5th July | Saturday | United States |
Twitter Hashtags:
#NationalAppleTurnoverDay
#AppleTurnoverDay
Related: Other National Days Celebrated on July 5th:
Why National Apple Turnover Day?
We do not have any information about the history or origins of the delicious Apple turnovers. But the dish is one of the most popular dishes in food history. According to historians, the beginnings of the dish can be traced back to the early 17th century when its popularity grew in bounds. It was in Saint-Calais, a small town in Sarthe, France. When the town was suffering from a pandemic, the chatelaine or the lady of the town distributed apples, butter, and flour, that were used by people to make the apple turnovers. This helped in the overall improvement of the town and they celebrate it to this day as Apple Turnover Festival, known as "Chaussons aux Pommes" every year. Soon the dish became so popular that it was featured in many cookbooks and is one of the most beloved dishes of all time. It is therefore of utmost importance to celebrate the dish and we do that on this day every year.
It is not about apple pies for this celebration. Pies are the most versatile offering you both sweet and savory flavor in one shot. Every region and country has its variation of pies and each of them is as delicious as you could want. This is a day to celebrate the dish and its versatility.
How can we celebrate National Apple Turnover Day?
Being a delicious holiday, you can make this day of delicious memories with simple steps. You can use the hints and tips here to make this celebration worthy of your memories.
The best way to celebrate the day is to enjoy apple turnover pie on this day. You can have it for breakfast, or lunch, or dinner, or simply as a snack. Just add a dash of cream, ice cream, or chocolate sauce and enjoy it.
Another way to make this day extra special is to make an apple turnover. You can try baking an apple turnover, as it is a very simple dish to make. You can search for the recipe online and remember to post the outcome online as well with pictures. You can share with friends and family as well.
There is a lot of history behind these simple yet delicious apple turnovers. You can use this day to learn about them. Spend time to learn the history of this pie and how this came into existence, along with the many stories involved with these pies.
Share your thoughts and how you would love to celebrate this day with #NationalAppleTurnoverDay on your social media, spreading awareness and bringing attention to this day.
Interesting facts about National Apple Turnover Day:
History has many interesting anecdotes with regards to the apple turnovers and pies of similar kinds. While there is no specific information on the origins of this pie, there is still a lot of history to learn about on this day.
The pies have been in existence for a long time and you can find evidence of the pies back to 6000 BC, in Egyptian history. They used bread dough, nuts, honey, and fruits to make the pies back then.
Pies are the most sold desserts in the country with more than 186 million sold every year in America. Simply put, they can be used to circle the earth and more.
17 students from the college of Stratford upon Avon made the heaviest of the pie in 1998 weighing about 23237 pounds.
Lord of Commonwealth, Oliver Cromwell banned meat pies in the 17th century since he thought of consuming them as an act of gluttony.
While there are many different flavors in pies, sweet and savory alike, the most favored among Americans is apple pie. Nearly 50% of the American states voted this pie as the most favorite.
Apple Turnovers were so famous that it was introduced as part of McDonald's menu in the 21st century, as a signature dish.
History of National Apple Turnover Day:
There is no real information about the beginnings of this day and who founded it. It is nevertheless a day to celebrate the most popular pies, in the delicious apple flavor.