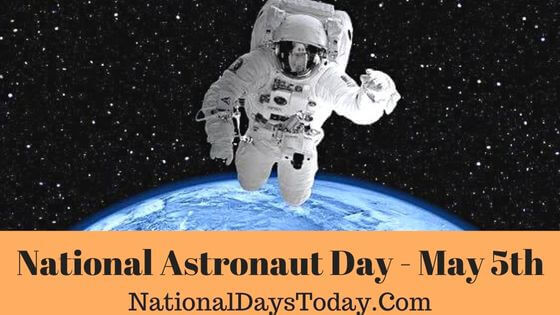 National Astronaut Day:
Celebrated on 5th May to honor astronauts as the heroes they are and inspire people about what they do.
| | | | |
| --- | --- | --- | --- |
| Year | Date | Day | Where |
| 2023 | 5th May | Friday | United States |
| 2024 | 5th May | Sunday | United States |
| 2025 | 5th May | Monday | United States |
Twitter Hashtags:
#NationalAstronautDay
#AstronautDay
Related: Other National Days Celebrated on May 5th:
Why National Astronaut Day?
This auspicious day is celebrated to recognize the heroes who have set foot outside our planet. Astronaut Alan Bartlett Shephard Jr. was the first American to achieve this courageous challenge. He traveled in the Freedom 7 Space capsule. His journey lasted about 15 minutes, and he reached a height of 116 miles from the earth. He made history and set an example of bravery for generations of astronauts to follow. We celebrate this day by listening to the stories and experiences of real-life astronauts. The goal of this day is to encourage everybody to follow their heart and work hard towards their dreams. Listening to inspiring stories like that of Alan Bartlett Shephard Jr. Just like Astronaut Alan Bartlett Shephard, many astronauts have set milestones, which inspire young people to explore science further.
Traveling to outer space is something we all have dreamed about; it has become a reality for a very few of us. Various people are the reason behind making a dream into reality, and they all come from different parts of the world and excel in different fields as well. But one thing that is common among them all is the fact that they are all very good at what they do. They are leaders and aim to inspire others to achieve their goals as well. When we look at these people, who are just like us. And observe how far ahead they have come; they inspire us to achieve our true potentials. They give us hope to be better and find what our passion is. To stretch our limits and work harder than ever. We celebrate this day to listen to the stories and experiences of astronauts. With the story of each astronaut traveling to space, we set wonderful examples for the future generation to show them that even the sky is not the limit!
How Can We Celebrate National Astronaut Day
Here are some of the things which you can do on this national day
We do all out-of-this-world things on this day to be a part of a large community of space lovers.
Wear your spacesuit, watch your favorite Astronaut-inspired movies, or read biographies about Bravehearts who have experienced the universe.
Share the experience with your loved ones and get inspired by individuals who have worked their entire lives tirelessly to experience the surreal feeling of going to space.
Every year, various events are conducted for science enthusiasts. Participate in these events, many of which are conducted online, or come up with your new traditions to celebrate this day and honor astronauts.
Encourage other people to celebrate this day with you and post on your social media about the astronauts who work and share their journey with us. Use the hashtag #NationalAstronautDay on all your social media pages on this day!
Interesting Facts about National Astronaut Day:
Here are 8 cool facts about Astronauts that you don't want to miss out on-
Sally Ride was not only the first American woman to go to outer space, but she was also the youngest.
Alan Shephard hit a golf ball while he was on the moon.
Astronauts have to learn Russian to travel into the international space station to read manuals on the Russian side and communicate.
Exercising while you are in space is very important so that astronauts suffer bone and muscle loss.
Astronaut Charles Duke signed a photograph of his wife and two children, which read, " This is the family of Astronaut Duke from Planet Earth. Landed on the moon, April 1972."
Astronauts have to wear maximum absorbency garments in space. They are diapers. Missions can last long, and live in space is difficult; it's best to be safe.
The word "Astronaut" comes from a Greek word, "Astron nautes," which means star sailor.
Astronauts can grow up to 3% taller while in space. They return to their normal height a couple of months after they return to earth.
History of National Astronaut Day:
This auspicious day reminds us how hard work pays off and that nothing can hold us back, not even gravity! With the journey starting with Alan Bartlett Shephard Jr., We have come a long way, with about 556 astronauts that have reached the altitude of space according to the FAI definition of space boundary.