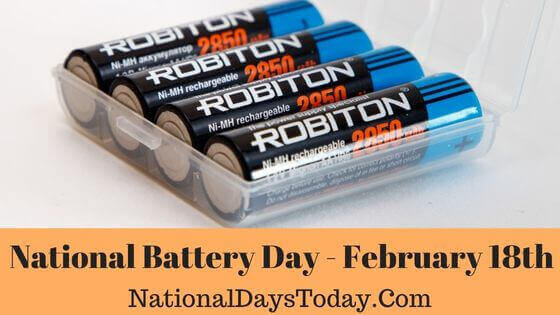 National Battery Day:
National Battery Day is on the 18th day of February and is a commemoration or observance of how much batteries have added value to our lives in the way they work to power our devices.
| | | | |
| --- | --- | --- | --- |
| Year | Date | Day | Where |
| 2023 | 18th February | Saturday | United States |
| 2024 | 18th February | Sunday | United States |
| 2025 | 18th February | Tuesday | United States |
Twitter Hashtags:
#NationalBatteryDay
#BatteryDay
Related: Other National Days Celebrated on February 18th:
National Crab Stuffed Flounder Day
Why National Battery Day?
Batteries are a very important accessory for all manner of electronic devices, ensuring that we do not have to be glued to the socket all day long. In the contemporary world, it is almost impossible to find a teenager or adult who has is not an active beneficiary of batteries. From our cellphones to radios, watches, and clocks alike, and even our cars are battery-powered. This means that batteries are involved in our everyday life, ensuring that we gain access to information, time, and even make calls.
Batteries serve by converting chemical energy to become electrical energy. This is achieved when different chemicals are combined in a designated order. In such an order, the electrons (negatively charged ions in the battery) travel from one substance to the next, an action that leads to the creation of an electrical current.
In a world where everything is taking the technological direction, it is impossible not to be grateful for batteries. There are batteries that are rechargeable while others are not. Even so, the two are still equally appreciated.
In the 21st Century, we rarely think about portable, and therefore mobile, electricity especially owing to the fact that batteries are easily accessible even in local stores. For instance, the batteries that power our phones can be charged using the battery that powers our cars while we are on the move driving. It is also possible to use portable chargers that car connected to our phones via USB cables has our phones charged on the go. Because of knowledge and technology, the kinds of batteries that serve the market are progressively changing, making it possible to have more options. More recently, solar-powered batteries have been developed, giving us the chance to be able to easily recharge our phones and even use cells as storage for power. To commemorate such inevitable invention for humankind, National Battery Day is being celebrated all over United States!
How Can We Celebrate National Battery Day:
We can celebrate the National Battery Day by doing one of the following, or all:-
To observe this day, you can post on social media under the hashtag #NationalBatteryDay. This will achieve much in creating awareness to this day, while at the same time ensuring that many people from different parts of the world come to the recognition and appreciation of the fact that batteries are indeed a value addition to life as we know it.
Buy a new set of batteries
You can also observe the National Battery Day by replacing all the batteries in your devices with new ones. The new sets could either be of the same brand or different, but the bottom line is that replacing your batteries would achieve much in commemoration of this day.
Another way to observe the National Battery Day is learning how the functionality of batteries. By understanding how batteries work, and even taking initiative to teach others, you will be able to appreciate the day more for what it is. You can also study the different types of batteries and their mechanisms for functioning.
Learn how you can recycle your batteries
You may also choose to observe this day by learning how to recycle your batteries and make it a habit of doing so instead of replacing them and discarding the old ones.
Interesting facts about National Battery Day:
Among the most interesting facts about batteries include:
National Battery Day is a commemoration of Alessandro Volta's birthday anniversary set on February 18th and born in 1745.
The term battery was first coined by Benjamin Franklin in his efforts to describe an array of glass particles that are charged. This was in 1748.
Battery manufacturing for daily and personal use started between fifty and sixty years ago.
History of National Battery Day:
The history of batteries traces back to the 1800s credit t Alessandro Volta, an Italian Scientist. In his experiment, Volta layered substances like silver, cloth, paper soaked in salty water as well as zinc to make what according to him was voltaic pipes. The history also extends to William Cruickshank for his land-marking achievement in 1802 when he mass-produced batteries. Several scientists have carried on from the pace set by these two.