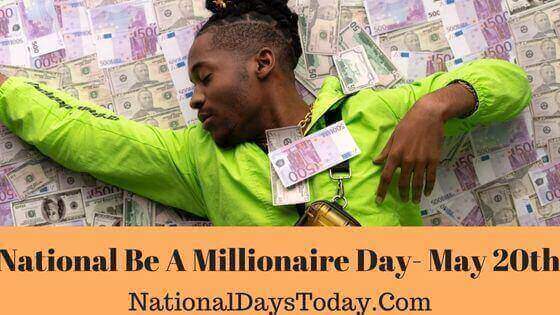 National Be A Millionaire Day:
You can check your financial position and make changes as you celebrate the National Be A Millionaire Day on the 20th of May every year.
| | | | |
| --- | --- | --- | --- |
| Year | Date | Day | Where |
| 2023 | 20th May | Saturday | United States |
| 2024 | 20th May | Monday | United States |
| 2025 | 20th May | Tuesday | United States |
Twitter Hashtags:
#NationalBeAMillionaireDay
#BeAMillionaireDay
Related: Other National Days Celebrated on May 20th:
National Pick Strawberries Day
Emergency Medical Services For Children Day
Why National Be A Millionaire Day?
Everyone has a different concept and definition of a millionaire. For some, it would be about being able to buy what they want while for some it is about able to travel the world.  It could just be about living debt-free for some while some would choose a philanthropic outlook. Whatever be the definition, everyone would love to be a millionaire one day. It is this dream and fantasy of the people that is celebrated on National Be A Millionaire Day. The day is about doing the one item that would make you feel richer than you already are and is also a day to relook at your finances and reset where it is needed.
It is also a day that tells us that anything is possible if we put our minds to it. You can set your goals and the steps you need to work towards them. All that you need after that is the dedication to follow through with your objectives.
How can we celebrate National Be A Millionaire Day:
Celebrating this day can be done in more ways than one. This is because the concept of a millionaire varies from person to person and so does the celebration. You can make this a day to do your favorite thing and not worry about the money spent on doing it. Here are a few tips if you are still unsure about how to celebrate this day.
It is a day to think and act like a millionaire when you can plan living the life of a millionaire, according to your definition. It could be simply having a spa treatment or dining in an expensive restaurant of your choice.
It is also the day when you can look at your financial objectives, investment plans, and decide on the best way to make more money in the future.
If you want you can also watch the reruns of programs like "celebrity homes" or "who wants to be a millionaire" and spend your time living vicariously through the people on the show.
You can have a day getting together with friends and seek their definition of what a millionaire would be. You can talk about ways to achieve everyone's dreams and if it is possible to make the hustle.
Share information and thoughts about this day and your definition of a millionaire on social media with #NationalBeAMillionaireDay.
Interesting facts about National Be A Millionaire Day:
Let us find out some facts which we may not know on this day about millionaires in general.
It was in the 17th century when John Law became the first millionaire thanks to the success of the Mississippi company, that he owned.
The first confirmed billionaire from the US was John D. Rockefeller, who was the oil magnate from the country.
The show "Who Wants to be a millionaire?" premiered on ABC TV and has been a show enabling even the most common man to avail a chance of becoming a millionaire.
As of the year 2013, the US had nearly 16 million millionaires living in it, as per the Global Wealth Report.
Studies show that only 20% of the millionaires inherit their money while the others earn it with their effort.
Statistics indicate that millionaires also go bankrupt at least 3.5 times on average.
There is a millionaire in every 800+ people in the world and there is a millionaire born every 58 hours.
More than 50% of the millionaires are self-employed which proves that working towards your financial goals is well in your hands. You can become a millionaire too if you put your efforts into it.
History of National Be A Millionaire Day:
There is no specific information available on how this day came into existence and who initiated the celebration of such a day. But as for millionaires, there have been many to date, and the history of the concept of the word "millionaire" has a history dating back to 1786. It was mentioned by Thomas Jefferson when he was describing the French and soon the word became a label indicating those who are wealthy and who perused luxurious brands.