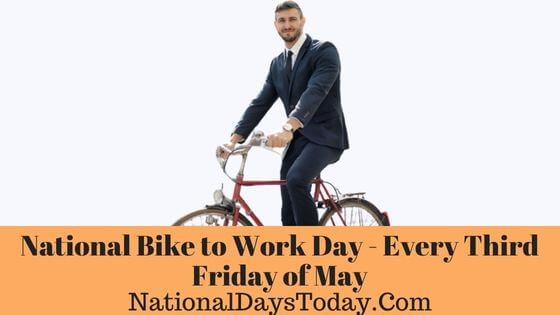 National Bike to Work Day:
The third Friday in May every year is celebrated as the National Bike to Work Day, designated as such by the bike enthusiasts in the country.
| | | | |
| --- | --- | --- | --- |
| Year | Date | Day | Where |
| 2023 | 19th May | Friday | United States |
| 2024 | 17th May | Friday | United States |
| 2025 | 16th May | Friday | United States |
Twitter Hashtags:
#NationalBikeToWorkDay
#BikeToWorkDay
Related: Other National Days Celebrated on May:
National Cornelia De Lange Syndrome Awareness Day
National Take Your Parents To The Playground Day
National Defense Transportation Day
Why National Bike to Work Day?
Taking a bike instead of other transportation has always been a favorable option when it comes to fitness. There is also evidence to prove that bicycles or bikes can help with our environment as well. Not only does it reduce the carbon emissions to our environment, but it can also result in considerable fuel saving. The day is an emphasis on the contribution we can make to our environment by switching to an eco-friendly and fitter option to commute to work. To add, using the bike for your commute can also save you a considerable amount of money in terms of other vehicle maintenance, fuel, or any other tickets and transportation costs involved in your monthly budget.
Apart from the need to use bikes instead of cars and other automobiles for commuting, there is also the need to educate people on bike safety. Many people are switching to bike rides for commuting to work and there is an increasing need to bring awareness to them about road safety for bicyclists. This day is also observed as a way to bring awareness about bike safety, road safety laws, and the need for biking lanes for safety. This is also one form of transportation, that does not need a replacement for a very long period.
How can we observe National Bike to Work Day?
Bringing awareness to the masses about the health benefits and the safety rules of cycling has been the objective behind the initiation of this day. You can observe this day in various means, some of which could be,
Taking your bike to work is a must on this day. If you have been commuting by other means, you would immediately agree that biking to work is more fun than any other means of transport. If you can use a scenic route to bike, then you would enjoy it more. It will also help to wake up your sleeping cells, rejuvenating you for a fresh start at your office.
You can spread awareness about the day to your friends and family. You can encourage them to join you on the fun ride to the office and you would be surprised at the fun you can have while biking to work with your fellow workers. There is no hassle of finding parking and there are, of course, the innumerable health benefits that you can bring to the attention of others.
You can either have an event organized at your company on this day with biking challenges and other options that will motivate the employees to bring their bikes to work. You can share your views, ideas, snippets about bike safety, and more on your social media with #NationalBiketoWorkDay and bring attention to the day.
Interesting facts about National Bike to Work Day:
It was not until the 19th century, that the bikes we know of came into existence. But other alternatives that existed before this. Here are some fun and interesting facts you might want to know about bikes, their history, etc.
Called initially as "hobby horse", the first two-wheeled cycle was invented by Baron Karl von Drais de Sauerbrun from Germany in 1818, who was also called the father of bicycle. This contraption did not have a saddle or pedals. It required the riders to push forward with their feet on the ground. It was also known as the "running machine" and "draisine". This served as the starting point for the later inventions.
John Keats, the poet was not impressed and he called the contraption by Drais as "nothing of the day".
The first bicycles were invented by French inventors Pierre Lallement, Pierre & Ernest Michaux. These had pedals affixed to the wheels in the front. This was during the year 1863.
James Starley and Eugene Meyer later created the model with larger front wheel. This was the first model of the modern bikes we know and it was during the 1880s.
Within a decade, there was a huge craze for these bikes across the globe spurring the creation of many bike clubs and races.
The commuter rail network in Southern California offers free rides on this day to the cyclists.
Ziggy's, a local bike club in Ontario gifted 12 bikes to those who blogged or participated in the event on this day in 2012.
Participants of this day were once awarded free tune-ups and balaclavas in Chicago. In Colorado, in the years 2012 and 2013, nearly 1000 bikers were given free breakfasts for participating in the event.
History of National Bike to Work Day:
The League of American Bicyclists initiated the celebration or observance of this day in the year 1955. The American Medical Association has also endorsed this day emphasizing the importance of switching to bikes and the need for fitness.