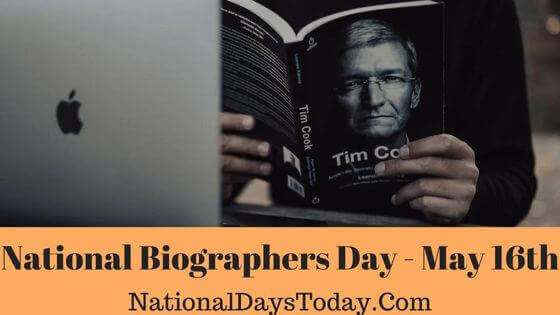 National Biographers Day: 
Celebrated annually on May 16th, National Biographers Day honors the anniversary of Samuel Johnson's meeting his biographer James Boswell for the first time in a bookstore in London in the year 1763. Have you read any biographies recently? Who's your favorite biographer?
| | | | |
| --- | --- | --- | --- |
| Year | Date | Day | Where |
| 2023 | 16th May | Tuesday | United States |
| 2024 | 16th May | Thursday | United States |
| 2025 | 16th May | Friday | United States |
Twitter Hashtags:
#NationalBiographersDay
#BiographersDay
Related: Other National Days Celebrated on May 16th:
National Coquilles Saint Jacques Day
National Honor Our LGBT Elders Day
Why Biographers Day? 
A biography gives us an account of another person's life and the person who writes it is called a biographer. It is a day to honor all of the biographers who have worked so hard to teach us about history. This genre became famous in the 18th century.
We are often inspired by reading biographies as that person's real character, life, and story are forever etched into our memories transforming our lives thereafter. In all this, we forget to embrace and appreciate the efforts and skills of the person who actually recorded it – the biographer.
The story of this day began when Johnson – a popular biographer himself and nonetheless, a great poet, essayist, editor, literary critic, and lexicographer met James Boswell for the first time in 1763, London. They hit it off and became best of friends! Johnson always believed that a biography could be justified only when the biographer knew the person he was going to write about.
After thirty years of friendship, Boswell wrote and published the biography on Johnson titled – The Life of Johnson. This biography has been appreciated as one of the best ones published in English literature, and it is still a very famous book which is read by people around the world today.
Biographies have existed since the time of the Roman Empire, but they were not recognized as a different genre. And biographies were written in the Middle Ages by monks, priests, and Roman Catholics. But Boswell's writing style to describe the life of Johnson laid the foundation for future biographers.
Biographies have had their glorious phase. Later, autobiography came into the picture, and till today, many autobiographies and biographies are being written about political leaders, scientists, actors, and many more people. Biographies offer us deeper insights into a person's life. Today many biographies have come to life through documentaries and movies, as people embrace multimedia and watching videos than reading.
Yet biographers don't get the credit they ought to, so it's just right for us to dedicate this day to honor their efforts!
How Can We Celebrate National Biographers Day? 
Celebrate the day by reading a biography! As you soak up in the biography, don't forget to know who the biographer was!
You can gift a friend and encourage them to join you in reading biographies and knowing about the biographers to celebrate the day!
Join a book reading club.
You can join a book reading club and enjoy the day by celebrating as a community. It's a great place to get suggestions on good biographies and biographers based on your interests!
If you like to write, you can choose to write a biography on any topic of your interest and try to write a biography as you celebrate National Biography Day. Who knows, you may also become a famous biographer someday!
Give your favorite ones a shout-out!
You can post on your social media and encourage your friends and family to celebrate National Biographers Day. Use #NationalBiographersDay and #BiographersDay to share your favorite biographers and it's a great opportunity to encourage reading good but unfamiliar biographies today!
Interesting Facts About National Biographers Day: 
Here are some interesting facts surrounding Biographers Day.
Biographies are used as a good source of history to educate students.
The first record of biography was kind of a journal, written in 44 BC by Cornelius Nepos.
In 2AD, a book by the name "Parallel Lives" had many famous peoples' biographies. It was written by Plutarch in Greek.
"A Beautiful Mind" by Sylvia Nasar is one of the best biographies of all time.
In these modern days, biographies can be taken as video documentaries and movies.
There are four types of biographies.
Samuel Johnson's biography was published by James Boswell himself!
The History of National Biographers Day: 
The origin of National Biographers Day is still a mystery. But this day gives us all the reasons to celebrate and increase our knowledge about the many great biographers in the past and in our times!