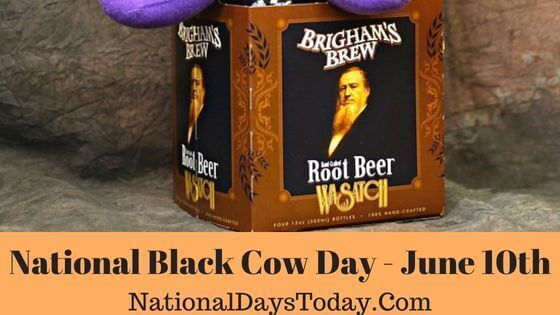 National Black Cow Day:
The National Black Cow Day is celebrated each year on 10th June to observe Root Beer Float, which is a simple ice cream floating beverage. It is also called as the Black Cow.
| | | | |
| --- | --- | --- | --- |
| Year | Date | Day | Where |
| 2023 | 10th June | Saturday | United States |
| 2024 | 10th June | Monday | United States |
| 2025 | 10th June | Tuesday | United States |
Twitter Hashtags:
#NationalBlackCowDay
#BlackCowDay
Related: Other National Days Celebrated on June 10th:
Why National Black Cow Day? 
The ice cream soda or simply called as root beer float is the real black cow drink, it is made with a simple combination of vanilla flavored ice cream and rootbeer. It is one of the most refreshing drinks during the summer and heat, and it is enjoyed by people of all age groups. The Black cow was introduced back in 1893, and it has been developed over and over all these years resulting in different variations and combinations. Some of these combinations are made with root beer-flavored ice cream, bourbon, and frozen custards.
During the 1840s, people were loving cold soda drinks at that time of the year as there was scorching heat in the environment and nothing seemed better than a cold refreshing glass of root beer soda that refreshes one's mind and body. Frank J. Wisner, the owner, and proprietor of the company Cripple Creek Cow Mountain Gold Mining was the main founder of this interesting and unique float root beer.
One fine day in the year 1893, Wisner was sitting beside his window and was watching outside the window, and while staring at the full moon he was wondering about the soda line that was produced and served to the people of the Cripple creek. Suddenly his attention drew towards the snow-covered cow mountain that was crowned by the full moon, and this scene brought the image of a vanilla ice cream scoop in his mind.
Thereafter, he got the idea of creating a soda drink for the local children because root beer soda was a low concentration alcoholic drink that was not for children. He rushed to his personal bar in the Cripple Creek and started making a root beer soda and then he took a scoop of vanilla ice cream and placed it on the top of the children's root beer glass. He thought and named his new beverage as Black Cow Mountain, however, gradually the children shortened it to the 'Black cow'.
Children were loving the simple yet unique beverage very much and with time almost everyone including adults started loving the simple drink that was refreshing and tasty. All the dining and fast food outlets started serving the Black cow as it was in demand, and it was also one of the best choices to serve in a house party, small gatherings, family and friend dinner, and lunch. This simple yet delicious drink brought a great revolution in soda drinks and made a huge impact with different scoops and flavors.
The Black Cow or root beer float has been evolving continuously with time. But the main motto and purpose of this drink is to provide relief and relaxation from the scorching heat of summer. This day reminds us to enjoy the day with a glass of black cow and remember the special revolution that this beverage brought in these years.
How can we celebrate National Black Cow Day? 
Make your own Black Cow and enjoy it.
Take a tall glass and fill it with a soft drink or soda and top it with a scoop of your favorite ice cream and enjoy it. share your recipe using hashtags #NationalBlackCowDay and #BlackCowDay.
Try different combinations with Black Cow.
Make a new combination of the Black cow with your choice of soda and ice cream flavor.
Order your favorite Black Cow and enjoy it by sitting and relaxing back at home.
Interesting facts about National Black Cow Day:
It is popularly known as ice cream float in some of the countries such as the UK, Canada, United States, etc.
The drink is also known as vaca Negra in some countries like El Salvador, Columbia, Costa Rica, and many more.
The Black Cow is known as Helado flotante in Mexico.
In New Zealand and Australia, the drink is generally termed as 'spider'.
History of National Black Cow Day: 
The origin of this root beer float day or Black cow day is still unknown. It is annually celebrated on the 10th of June, as on this day Frank J. Wisner came up with the idea of this beverage, the Black Cow, that brought a shuttle change in the way people had soda drinks.