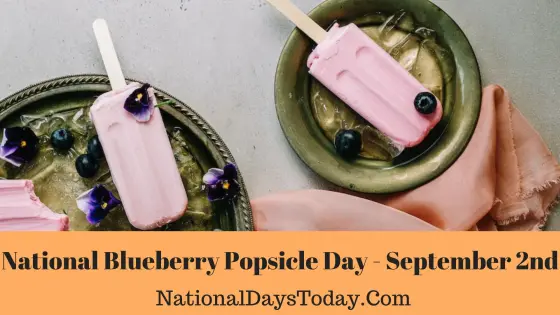 National Blueberry Popsicle Day:
National Blueberry Popsicle Day is celebrated on 2nd September every year. This day is celebrated to honor the frozen treat.
| | | | |
| --- | --- | --- | --- |
| Year | Date | Day | Where |
| 2023 | 2nd September | Saturday | United States |
| 2024 | 2nd September | Monday | United States |
| 2025 | 2nd September | Tuesday | United States |
Twitter Hashtags:
#NationalBlueberryPopsicleDay
#BlueberryPopsicleDay
Related: Other National Days Celebrated on September 2nd:
Why National Blueberry Popsicle Day?
The sweet flavor and vivid blue color make blueberry one of the favorite ingredients for an ice lolly. Probably that's why we celebrate a special day for blueberry popsicles. Well, the key reason to observe this day is to show love for this frozen treat.
And it's one of those days that you can observe with your kids or younger siblings. In fact, we have seen many adults celebrate this day with their friends or cousins. There are so many things you can do during this day.
How Can We Observe National Blueberry Popsicle Day:
Now, you know why people love observing this day. If you want to celebrate this day, you can implement some unique ways. It will add more excitement, especially when celebrating with your beloved kids. Let's find out how you can observe this special event about blueberry popsicles:
Enjoy a Blueberry Popsicle
One of the top ways to celebrate this day is by enjoying your blueberry popsicle. On the other hand, you don't have to work a lot to get a popsicle. Just buy one and enjoy your day with your family. Hence, it's one of the easiest ways to celebrate this event. 
Make Your Blueberry Popsicle
If you have enough time, you can spend your day making blueberry popsicles. Well, the best thing is the recipe for making blueberry popsicles is very easy. On the other hand, you don't need a lot of ingredients to prepare popsicles. 
As we noted before, it's a great event you can observe with your kids. If you are making your own blueberry popsicles, make sure you involve your kids as well. It will be enjoyable to celebrate this day when kids are involved. Plus, they will learn new things. 
Observing this day does not mean you have only to make blueberry popsicles. You can take advantage of this day by starting a new thing. For example, you can join a baking class or a cooking class. On the other hand, you can do something new related to cooking like learning a new recipe. 
Share Recipe on Social Media
Making blueberry popsicles are super easy to make. Still, many people don't know how to prepare for it. In this case, you can help them by sharing the recipe on social media platforms.
 It's one of the best events that you can celebrate with everyone. Make sure you share your story on social media using the #NationalBlueberryPopsicleDay or #BlueberryPopsicleDay hashtags.
Interesting Facts About National Blueberry Popsicle Day:
Popsicles are very popular among Americans, especially among kids. If you are celebrating this for the first time, you can surprise your kids. On the other hand, there are some interesting facts you should know. In the following section, we will share some amazing facts about blueberries.
Interesting Facts About Blueberries
Blueberries contain high antioxidants and that's why it ranks better than other fruits.
A report says that one handful of blueberries is 10% of daily Vitamin C and 44 calories.
Blueberry is the only fruit that is 100% natural blue in color.
According to a report, people have been eating blueberries for more than 13,000 years.
As per a report, a single blueberry bush can produce up to 6,000 blueberries every year.
History of National Blueberry Popsicle Day:
Well, you might know that Popsicle is a popular brand in America. However, it has become a generic term for frozen treats since the 1920s. It happened because of the popularity of these frozen treats. Popsicles are now everyone's favorite right now.
The story of popsicles is also interesting as they were considered the brainchild of Frank Epperson, an eleven years old boy. In 1905, he left his fruit drink outside his house on a cold night. He did it unintentionally and it turned into an ice lolly by morning. He used to call his invention 'epsicle' in the initial days. However, the name changed to popsicle 18 years later when Epperson applied for a patent.
We have no data on who started celebrating this day. Still, we are researching to find the founder of this special day. However, we can say that most people love observing this event.