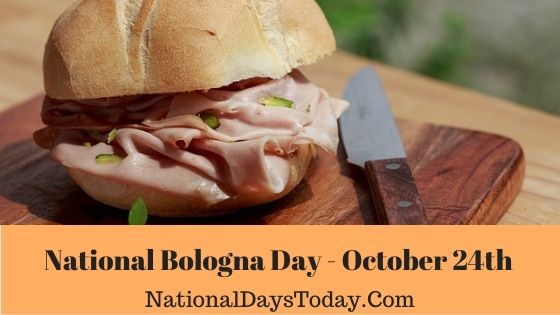 National Bologna Day:
National Bologna Day gets celebrated every year on 24th October to celebrate everyone's favorite luncheon meat, Bologna, by making sandwiches using it as stuffing.
| | | | |
| --- | --- | --- | --- |
| Year | Date | Day | Where |
| 2023 | 24th October | Tuesday | United States |
| 2024 | 24th October | Thursday | United States |
| 2025 | 24th October | Friday | United States |
Twitter Hashtags:
#NationalBolognaDay
#BolognaDay
Related: Other National Days Celebrated on October 24th:
National Take your Parents to Lunch Day
Why National Bologna Day?
Bologna sausage, popularly called baloney, is a sausage derived from mortadella, which comes from the Italian town Bologna. The Bologna sausage, though, owes its origins to mortadella. During the Middle Ages, this was extremely popular and reached the peak of its popularity in the 17th century in central Italy. When the Italian immigrants began migrating to the United States and other parts of the world at the end of the 19th century and the beginning decades of the 20th century, this was one of the most popular items at that time. But it wasn't because of the migration that Bologna became popular, but there was another reason.
It was the German immigrants who made this famous in the United States. Germans during that period loved mortadella, but it was almost impossible for them to find it in the United States during the 19th and the 20th century. To resolve this issue, they decided that they'll manufacture it themselves, and therefore, the German butchers in the Pennsylvania State of the U.S created their version of mortadella. With changing times, the initial product went through a lot of changes as they started using a different part of the pig to make it and left out the pistachios, which were the essence of mortadella. The Germans also made other substitutions besides just pork, such as chicken, turkey, and beef. Due to this, American bologna came into the picture.
It was during the Great Depression, this invention seemed very attractive luncheon meat, as it was very expensive, so millions of Americans would come to rely on it. Since so many Americans started using Bologna, it became a very familiar food for lunch. It was its familiarity that led to its popularity.
Bologna can be cooked and smoked with a fabulous bouquet of spices that leads to its amazing flavor. The German bologna and Kosher Bologna are, to name a few, variations of bologna. The spices used in Italian bologna are more and richer as compared to those used in American Bologna. In fact, in the United States, due to the existing regulations, there's a requirement for American bologna to be finely ground without any visible lard pieces. There's almost no resemblance to the Bologna found in Italy.
Bologna sandwiches can be made by adding multiple varieties of garnishes. Some of them include mustard, ketchup, mayonnaise, cheese, lettuce, pickles, tomato, and onion, etc. One can even try out the Bologna bowl, which is quite popular. In this, a slice of bologna is heated properly, after which its fat renders, and the round slice takes the shape of a bowl. You can fill this with cheese or other fillings to have an amazing experience.
Other variants of Bologna include German Bologna, Kosher or halal bologna, Lebanon bologna, Lauantaimakkara, Rag bologna, South African polony, Vegetarian, etc. This day is celebrated as this is one of the most famous items out there that almost everyone loves.
How Can We Observe National Bologna Day:
Choose your favorite type of Bologna and make a sandwich that day. Post a picture on your social media with your sandwich to show your love for Bologna with hashtags #NationalBolognaDay and #MyFavoriteBologna
Mix one block of cream cheese with ranch dressing and layer everything with dozen slices of bologna, and top it with decorative swirls piped on using a pressurized cheese that can celebrate this day perfectly.
Find your ideal bologna boat recipe online and recreate it to have an amazing experience with bologna on this day.
Interesting Facts on National Bologna Day:
Here are a few interesting facts about bologna and this day for you to enjoy:
The amount of bologna consumed by Americans annually is about 800 million pounds.
In the Minnesota landscape, people gather at local restaurants to eat all the bologna they can handle on this day.
In a few bologna dishes, bologna forms an ideal receptacle for cheesy potatoes.
In the year 1963, the New York Board of Education added bologna as an official lunch item to feed children in the country's largest public school system.
History of National Bologna Day:
The origin and founder of this day remain unknown to us. There are suspicions that some bologna industry might have started celebrating this day to sell their products, but there's no proof. National Bologna Day is celebrated on October 24th every year by school children and adults all over the U.S and around the world who happens to love this particular sausage. This day, no one should feel self-conscious about taking a brown bag lunch with a bologna sandwich in it.