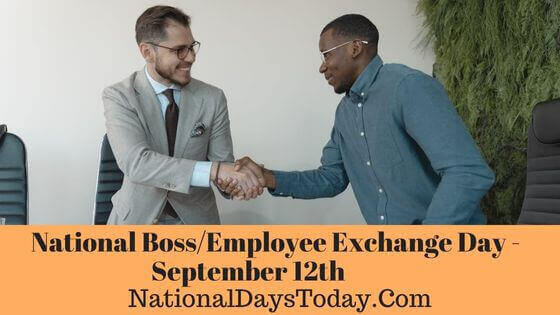 National Boss/Employee Exchange Day:
National Boss/Employee Exchange day is celebrated on September 12th every year, when employees and bosses swap roles.
| | | | |
| --- | --- | --- | --- |
| Year | Date | Day | Where |
| 2023 | 12th September | Tuesday | United States |
| 2024 | 12th September | Thursday | United States |
| 2025 | 12th September | Friday | United States |
Twitter Hashtags:
#NationalBoss/EmployeeExchangeDay
#Boss/EmployeeExchangeDay 
Related: Other National Days Celebrated on September 12th:
National Report Medicare Fraud Day
National Chocolate Milkshake Day
Why National Boss/Employee Exchange Day?
It is celebrated each year on the Monday following Labor Day when bosses take the client's calls and deal with their indifferent attitudes. At the same time, employees enjoy their day by showing their bowling skills or maybe challenging each other for a baseball match? All this sounds dreamy. 
Obviously, because of many employees in contrast to the minority of bosses, swapping roles is not an ideal way to celebrate the existence of this day. So, the day becomes more memorable and unique.
It offers exciting opportunities to the bosses and the employees to analyze and discuss the titbits of the business. The day offers the people involved in the corporate world to learn and expand their views, beliefs, skills and ideas. 
Bosses and employees generally organize insightful meetings and sessions that help both roles understand and respect their respective positions and the positions of others.
Planning and communication are done subtly to have an interactive session where everyone stands up and speaks about their ideas related to business solutions. These initiatives help employees to gain confidence and boost their skills. It makes them respect their work and also the work of others. National Boss/Employee Exchange Day creates a balanced environment and reduces the amount of stress in a workplace.
The execution of this day can be made memorable in so many ways. You can celebrate the day by nominating a person to swap roles with the boss. 
This can be beneficial for the team to put forward ideas and fetch feedback. Also, it will put your boss in a situation to think vitally as a team member, that will help you gain more than a handful of insight.
This is your chance to show your boss how great you are at your job! You may be wondering how you can make the most of this opportunity. Here are a few tips to help you out. 
How can we observe the National Boss/Employee Exchange Day?
The day marked to celebrate different honors in a work environment can be observed in so many ways. On this day, you can grab the opportunity and swap the roles with your boss or can elect a representative to change positions with the boss. You can set up meetings, analyze the business and supervise the work of others. Tell me a better day than this to show off your skills and passion for your work. You can find solutions to different problems and provide feedback for the same.
If you do not find yourself in such positions, do not worry because the day distinct from other days is just an excuse to learn and experience things that you might not be able to learn otherwise. So laugh, learn and enjoy the day with your colleagues.
You can share your ideas, learned skills and experiences about this very special day on social platforms using the hashtag #BossEmployeeExchangeDay and #NationalBossEmployeeExchangeDay.
 Interesting facts about the National Boss/Employee Exchange Day:
This whimsical day brings so many exciting facts that you might as well know.
This very peculiar day helps break the ice and create a friendly work environment that allows employees to gain more courage to speak up more openly and provide feedback.

The day also creates good connections between the employees and the boss and helps release the work stress.

It brings in the opportunities and lets people show their skills by allowing them to act out of the box and explore their potential.
History of National Boss/Employee Exchange Day:
The history of this very mesmerized and unique day is not known; no one ever mentions it, or there is no news known to the world about it, but we can say that work and labor have existed in the same timeline since the beginning of the time. The types of labor varied with different stages of human evolution as it was more subsistent in the early times than in the world today.
Whatever might be the case, National Boss/Employee Exchange Day nurtures curiosity and provides hope to the workers involved in any business in the corporate world. The day marks and refines the respect for the people's work and their positions and brings so many opportunities with itself.