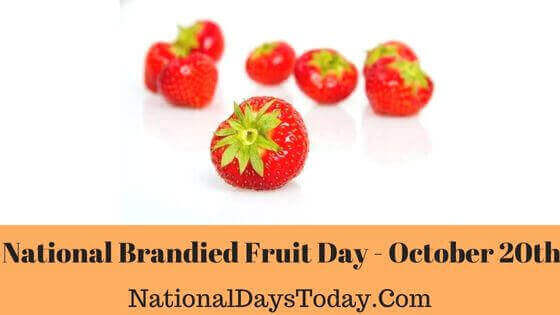 National Brandied Fruit Day:
On October 20th every year, National Brandied Fruit Day is celebrated in the US and is mainly celebrated by those people who are fruit lovers!
| | | | |
| --- | --- | --- | --- |
| Year | Date | Day | Where |
| 2023 | 20th October | Friday | United States |
| 2024 | 20th October | Sunday | United States |
| 2025 | 20th October | Monday | United States |
Twitter Hashtags:
#NationalBrandiedFruitDay
#BrandiedFruitDay
Related: Other National Days Celebrated on October:
Why National Brandied Fruit Day?
National Brandied Fruit Day is celebrated to be aware of the people of this Brandied fruit, which is very tasty and encourages people to get excited about such a unique type of fruit. This tradition stays for a long time as freshly extracted natural fruits are soaked in brandy and sugar. They are kept like this for some days as it will give you a better taste.
This day also acknowledges the benefits of this fruit which is a combination of brandy, fruit, and sugar. Brandy is beneficial for the body as it boosts our heart's health, boosts immunity, controls weight, and consists of anti-aging properties.
On the other hand, fruits, as we all know, are rich in minerals and vitamins. Also, due to their high fiber property, they are valuable in providing anti-aging and anti-oxidant properties. For preservation, brandied fruit is known to be the best method and fruit is dipped in brandy or sugar. Adding brandy into the fruit was the easiest way to make the fruit last for long hours.
How can we observe National Brandied Fruit Day?
People who celebrate National Brandied Fruit Day observe the jar where fruits are mixed with brandy, and they get to taste the delicacy of brandied fruits. However, if you are not able to make Brandied fruit for yourself, you can always go and buy some from the market. You will have a variety of fruits and brandy and can choose your favorite. Make sure that you wait until the fruits are completely soaked in the brandy to have a delicious taste.
Additionally, for more information about the Brandied fruit- how to make it and preserve it, wait for the National Brandied Fruit Day. You will get immense knowledge on this day as many people share their dishes and videos on social media.
Invite your friends and family to celebrate this day. Serve them the freshly made brandied fruit with love. Click pictures with them along with the food and add a hashtag #BrandiedFruitDay or #NationalBrandiedFruitDay while posting it on social media. It will help people around the world to get to know about this day more. You can also post videos online, which will help other people. Make sure that once you plan to throw a party on this day, you prepare and preserve your dish timely.
In the 18th and 19th centuries, Brandied fruit became famous, which was a Victorian Era. The idea here was only to do something that will help the fruit stay for a long time. Hence, Brandied fruit was discovered, and it was the easiest way to make food that could last longer. Later, it became a sweet dish for many people, and it is served as a high-class food.
Following are the ingredients which are required to make Brandied Fruit-
Fresh fruits- 1 pound
Sugar- 3-4 tbsp.
Vanilla extract or bean- ½ tbsp.
Brandy or cognac- Minimum 80 proof
Interesting facts about National Brandied Fruit Day:
There are multiple interesting facts about Brandied fruit. It can be mixed with many other dishes, which will provide a different flavor. Here are some of the facts-
At least 30 days are required before the National Brandied Fruit Day to prepare the Brandied fruit. You do not want to spoil the dish.
It can be served as a starter with the fruit cake, or you can also have it with a loaf of sourdough bread. Sourdough bread will take some time to prepare.
To get the perfect dish, you should cover the container tightly and keep it in the dark place where there is no sunlight. It will prevent the dish from attracting fungus or bacteria.
Brandied fruits can also be eaten along with cakes, pies, or ice cream. It is also used as a topping for making many other dishes.
Making the dish in a container is the best and easiest way to prepare it without the hassle of canning.
To get a delicious taste, you should preserve the dish for some days.
History of National Brandied Fruit Day:
The history of National Brandied Fruit Day got extinct very smoothly, but its dish is still intact. It is made every year on October 20th, and even many people make it all the time, especially in bakery shops. Moreover, it is also considered a high-class served food; hence, big restaurants serve rich people. It is a combination of fruit and brandy which the customer can choose for itself. There are various them with different flavors, and all of them are made by the restaurants. Also, it is mostly served in the winter season, which provides warmth to the customers. Brandied fruits got hype in the 1970s but later lost it.