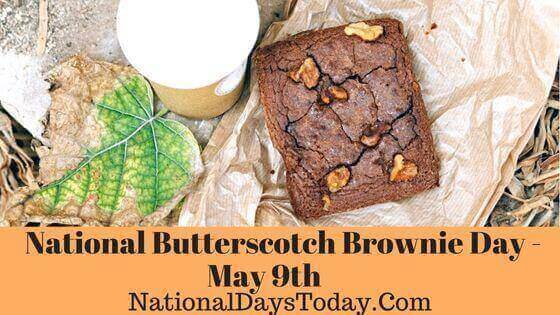 National Butterscotch Brownie Day:
The National Butterscotch Brownie Day is a special day on May 9th every year. It is set aside to remind people to celebrate the delicious treat of butterscotch brownies, otherwise termed blondies or brookies.
| | | | |
| --- | --- | --- | --- |
| Year | Date | Day | Where |
| 2023 | 9th May | Tuesday | United States |
| 2024 | 9th May | Thursday | United States |
| 2025 | 9th May | Friday | United States |
Twitter Hashtags:
#NationalButterscotchBrownieDay
#ButterscotchBrownieDay
Related: Other National Days Celebrated on May 9th:
National Lost Sock Memorial Day
Why National Butterscotch Brownie Day?
This amazing day is indeed special and is meant to remind people to appreciate the delicious butterscotch brownie. This delicious treat has also termed the blondies or brookies, a tag name designed from a combination of brownies and cookies.
The delicious recipe for making the butterscotch brownie traces back to the 19th century. Pastry enthusiasts would make it using a mixture of flour, brown sugar, butter, eggs, baking powder, and vanilla. There are also people and bakers alike who like to integrate walnuts, pecans, and even butterscotch chips into the recipe.
The brownies have a delicious taste, especially when they have a topping dollop of ice cream. In this design, they become an even more delicious pastry. Butterscotch brownies also make amazing trifles when the baker or pastry enthusiast cuts it up into chunks and layers it up with either puddings or mousse and, after that, perfectly whipped with cream.
Butterscotch brownies are normally made for domestic use as snacks. However, with the popularity of eating outlets, they are now made as complimentary snacks for beverages served at food outlets. Even better, they are also served as gifts to friends, family, and loved ones or as part of a welcoming package for new residents in communities.
How we can observe National Butterscotch Brownie Day
There are many ways through which we can observe the National Butterscotch Brownie Day. Among these include:
The first way you can celebrate this day includes posting on social media using the handle #NationalButterscotchBrownieDay. This hashtag is a call to action to other people to join in to celebrate the day. It will also encourage others to appreciate the day for what it represents.
Engage in a butterscotch brownie making competition
You can also choose to hold a butterscotch-making competition with your friends and reward in cash or in-kind. This person ends up making the most delicious butterscotch brownie.
Invite friends or colleagues over for butterscotch brownie
You can also choose to have your friends come over for butterscotch brownies as you engage in meaningful or funny agendas. You can also bring this amazing and very delicious pastry to work and share it among workmates in the spirit of the National Butterscotch Brownie Day. This would bring together the entire team of enthusiasts to enjoy the treat.
Learn a new butterscotch brownie recipe
Another way to observe this amazing and very special day is by learning a different butterscotch brownie recipe. This will promote the tradition and eliminate repetitiveness where you have the same design every May 9th.
Gift your friends with the butterscotch brownies
In case you have a friend or loved one who is celebrating their birthday or any special milestone in their lives, you can bake them a tray of this recipe.  Use this as a way of showing appreciation for their role in your lives. This shows them that you are happy about their existence.
Welcome a new neighbor with a tray of butterscotch neighbor
In case you have a new neighbor too to whom you have not had the chance to introduce yourself. To do this,  present them with a tray of this very delicious recipe even as you enjoy a cup of tea together and know each other.
Interesting facts about National Butterscotch Brownie Day:
Among the most interesting facts about this day includes:
Multiple claims exist concerning the genesis of this recipe. A group of people associates it with the Brownie that was created for the World Columbian Exposition by chefs of Palmer House Hotel in 1963.
Brownies have been customized to adhere to the current food and baking industry trends, including specifications of gluten-free, vegan, and low-carb diets. This attribute has seen them gain a significant food appeal.
History of National Butterscotch Brownie Day:
The history of this amazing day goes back to the 19th century. Although no one person is recognized for having founded or proposed this day, the delicious pastry remains a celebrated treat. This is especially for people who love baking and is a popular snack in many households.