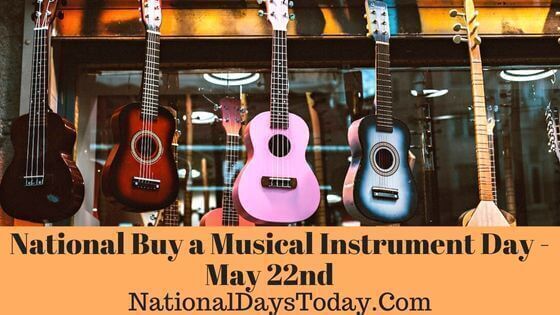 National Buy a Musical Instrument Day:
Elevating the music that plays an important part in our lives, the National Buy a Musical Instrument Day is celebrated on the 22nd of May every year.
| | | | |
| --- | --- | --- | --- |
| Year | Date | Day | Where |
| 2023 | 22nd May | Monday | United States |
| 2024 | 22nd May | Wednesday | United States |
| 2025 | 22nd May | Thursday | United States |
Twitter Hashtags:
#NationalBuyAMusicalInstrumentDay
#BuyAMusicalInstrumentDay
Related: Other National Days Celebrated on May 22nd:
Why National Buy a Musical Instrument Day?
There is music in everything and everywhere. Music has the power to elevate or depress your mood. It can easily relax your mind and get you excited with just a few notes. There is no emotion you cannot associate with the music. It can raise any kind of emotion and studies have proven that music can lower blood pressure and relax your heart rate. There have been plenty of musical instruments invented from time immemorial by men and each has its unique sound and way of playing it. If you love music or you are a musician, then this day is just your perfect day to celebrate the musical instruments in your life.  The day is a celebration to emphasize the importance of music in our days and a way to explore new instruments daily.
How can we celebrate National Buy a Musical Instrument Day:
The day is a chance for you to explore a new musical instrument and tap into your inner musician. There is no restriction of age or experience in learning music. And the day can be a celebration to embrace your affinity towards music. Here are some tips on how you can create a loving memory on this day.
The first option is of course to choose a new musical instrument and buy the same and enroll yourself into classes to learn it. This would open new venues for your musical passion and also help you to destress.
You can also gather with your friends and family and take their choice of musical instruments and discuss why they love that instrument.
You can research the history of a specific musical instrument of your choice and know the same has evolved over years. You would be surprised by the information you get.
And remember to spread the word about the day on your social media with the hashtag #NationalBuyaMusicalInstrumentDay.
Interesting facts about National Buy a Musical Instrument Day:
Musical instruments have been in existence for thousands of years and various forms and cultures. Here are some interesting facts about musical instruments and their evolution with time.
Animal horns were used as musical instruments in the ancient days. Lurs, or metal horns, were used by people in Scandinavia to create sound during Bronze Age.
The oldest of the musical instruments is dated back to more than 60000 years and it is a Neanderthal flute. The flute is made using a young bear's thigh bone and has four holes. It was found in Cerkno in the Divje babe cave.
Egyptians have a long history of musical instruments with drums, bells, and castanets along with stringed instruments like lute, harp, and the lyre. There is also evidence that ancient Egyptians played trumpets and flutes.
Kithara is a large lyre played by Greeks in ancient times. They also loved playing lyre and harp among other instruments.
There are depictions of idiophones used during ceremonies by Babylonians and Sumerians in the early Mesopotamian era.
A ram's horn was used by the Jewish community called a shofar. They still blow this horn during the Day of Atonement or Yom Kippur and on New Year Day or Rosh Hashana.
There were flutes found in China's Jiahu archaeological site dating back to nearly 6000-9000 years. These were nine-inch-long flutes crafted from the bone of a bird's wing.
The bag-pipes and the triangle along with hurdy-gurdy are played by Europeans since the 12th
While Xylophone has its history tracing to Southeast Asia, it was played mostly by Europeans in the 16th The word Xylophone is derived from the words "Xylon" meaning wood in Greek and "phone" refers to sound.
History of National Buy a Musical Instrument Day:
There is no specific information on how this day came into existence or when the celebration of this day began. However, there was a similar celebration held on the 18th of May honoring the composer and writer, Meredith Wilson in America. This could have been the inspiration for the celebration of this national day. However, there is no evidence if that is the case. Yet, this is a day to buy a new instrument and learn the same exploring your creative side.