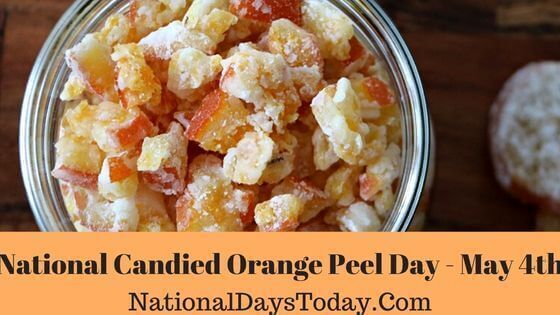 National Candied Orange Peel Day:
Set on the 4th of May every year, the National Candied Orange Peel Day is a day set aside to observe and celebrate this delicious treat that is popular for adding a bright and lovable flavor to dishes. The delicacy also provides flavor for amazing garnishes.
| | | | |
| --- | --- | --- | --- |
| Year | Date | Day | Where |
| 2023 | 4th May | Thursday | United States |
| 2024 | 4th May | Saturday | United States |
| 2025 | 4th May | Sunday | United States |
Twitter Hashtags:
#NationalCandiedOrangePeelDay
#CandiedOrangePeelDay
Related: Other National Days Celebrated on May 4th:
National Weather Observers Day 
Why National Candied Orange Peel Day?
This is an amazing day set aside to bring the attention of all enthusiasts to the delicacy. The candied orange peels are a sweet treat prepared by boiling, slicing, and adding sugar. It is a common recipe among chefs and bakers, as they use it to add flavor to the dishes they prepare and serve. It also serves as a beautifier to decorate their serving, especially where garnishes are concerned.
The treat is also a popular preparation during holiday baking activities and is normally associated with recipes such as cookies and fruitcakes among other pastries. Other than that, candied orange peels are used to add flavor to many other foods, ensuring that those who eat it enjoy both the taste and the presentation. Some of the pastry servings that are normally complemented with this food include granola and tarts.
While this delicacy is normally used as an addition for purposes of flavor or presentation, there is nothing that stops it from being eaten on its own. There are people, chefs, and bakers included, who normally partake of this treat as a single snack. To do this, the candied orange peel is dipped into milk. In the case of a decadent candy, you can just dip the treat into dark chocolate.
How we can observe the National Candied Orange Peel Day
There are multiple ways through which we can observe or celebrate this amazing day. Some of these ways include:
Among the ways through which you can observe this amazing day is by posting it on social media using the #NationalCandiedOrangePeelDay. This would achieve much in making sure that many people get to know and actually acknowledge the day when this amazing treat was developed.
Engage in a candied orange peel making contest
You can also organize a competition on how to make the candied orange peel and thereafter reward the most creative preparation. This is one of the ways to ensure that the movement supporting this national holiday is never forgotten through generations.
Learn a new candied orange peel recipe
You can also learn a new way to make the candied orange peel, either by using different ingredients or mixing several. The idea behind this auspicious day is to ensure that the significance of the national holiday it commemorates remains upheld and appreciated.
Treat yourself or your friends out for candied orange peel
Another way to celebrate this national pastry holiday is going out for the treat by yourself or in the company of friends and loved ones. This would be significant because it would be a very engaging way to observe this day while at the same time ensuring that those around you appreciate it too.
Interesting facts about the National Candied Orange Peel Day:
Some of the most interesting facts about this national holiday include:
Candied peel as we know it is believed to have started out in the Arabian culture. Arabic chefs served candied fruit at banquets.
Candied fruits were introduced into the West later and became a key ingredient for making some of the most renowned cakes and sweets of European descent.
Candied orange peel provides an amazing way of using up the flavorful peel of the orange fruit.
The treat has long been used as a delicious accessory to pastries such as cakes. This is owed to their thriftiness for when you want to save. The peel would have otherwise been thrown away. The peel can last for some time thanks to the sugar which bakers and chefs use to cover them thereby serving as their preservative.
The method of preserving foods using sugar and honey is ancient. The study has revealed that it is a common practice among the ancient Chinese and Mesopotamia who used the technique to preserve cakes and other foodstuffs.
History of National Candied Orange Peel Day:
The history of this treats holiday traces back to an unknown origin because no one has claimed recognition for its discovery or declaring. However, the National Day Calendar continues to dig in search of who is responsible for this amazing holiday.