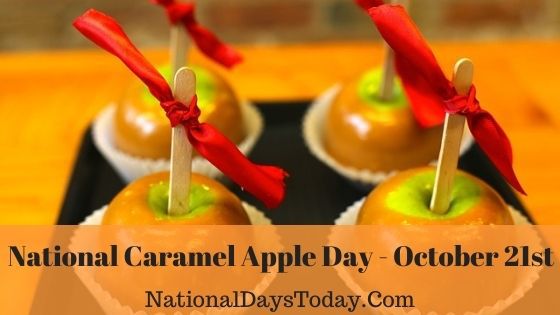 National Caramel Apple Day:
We National Caramel Apple Day is observed on October 21 every year. It is a day dedicated to celebrating everything apple, such as apple pies, apple sauce, apple crisps, etc. The day is to remind us to appreciate the fruit in its myriad forms.
| | | | |
| --- | --- | --- | --- |
| Year | Date | Day | Where |
| 2023 | 21st October | Saturday | United States |
| 2024 | 21st October | Monday | United States |
| 2025 | 21st October | Tuesday | United States |
Twitter Hashtags:
#NationalCaramelAppleDay
#CaramelAppleDay
Related: Other National Days Celebrated on October 21st:
National Reptile Awareness Day
National Pumpkin Cheesecake Day
Why National Caramel Apple Day?
The cool fall breeze, the pumpkin's sweet smell, and the crisp sunburnt leaves dancing through the wind. We find strands of fake spider webs, ghouls, and skeletons hanging on every home we find. Kids in the neighborhood play the traditional trick or treat, and we know it is that time of the year, Halloween.
Among these favorite treats is the rich blend of butter, cream, and sugar cooked into a thick caramel, with the green and red finely cut pieces from the orchards dipped in them. When they said an apple a day keeps a doctor away, we are not sure if this what they were talking about. National Caramel Apple day takes place after the apple harvest and is observed on Halloween.
Caramel Apples and Halloween go together like tricks and treats. The tradition of celebrating this day stretches back decades to the day when a Kraft confectioner invented a wonderfully simple recipe while figuring out what to do with a bunch of leftover Halloween caramels.
This day is taken to appreciate this fruit that has ample medical benefits and is a versatile option for all those sweet cravings. Around the world, Apple lovers take this day as a chance to showcase their love for more than 7500 different varieties of apples grown across the globe.
How can we observe National Caramel Apple Day?
Treat yourself with some.
 The best way to celebrate this festival with gusto is to treat yourself with some caramel apples. You can prepare the caramel apple with your family; that is the best way to spend some quality time with your loved ones on a national holiday. Do not forget to capture these moments and put them on your social media using #NationalCaramelAppleDay.
Another great way to celebrate this day is to organize an intimate party, where everyone brings their favorite recipe to the event, creating new memories and sharing some old ones.
Let the creativity flow and let the guests come up with their blend of "Caramel Apple." You can set a prize for the best creative caramel apple. Do not forget to share the pictures on your social media using #CaramelAppleDay.
Since this day falls on Halloween, you can spice up the proceedings by making your tasty caramel apple and then devour it while wearing a super creative Halloween costume. Do not forget to share pictures of it using #NationalCaramelAppleDay.
Plant an Apple Tree and share the apple love
Take this day as an opportunity to plant an apple tree in your yard. Not everyone is aware of this day, so help spread the seeds of awareness by sharing it on your social media using #CaramelAppleDay
Interesting Facts on National Caramel Apple Day:
Here are some interesting Caramel Apple facts for you to enjoy your day:
The first caramel apple machine was patented way back in 1960 by Vito Raimondi.
Candy Apples got first introduced in Arabian cuisine because the fruit was candied to preserve it.
Americans have turned this day into a practice of getting the gigantic apples covered into red candy to caramel to chocolate, peanuts, popcorn, and more.
In England, caramel apple day is celebrated alongside Guy Fawkes Day on November 5.
History of National Caramel Apple Day:
To understand the history of National Caramel Apple day, we first need to understand the timeline of apples and caramel evolution.
In 6500 BC, apple trees were the first-ever trees to be cultivated by humans, as claimed by a lot of historians.
In 1000 AD, caramel entered the sweet world. Although there is no consensus, some experts say Arabs first concocted it.
In the 1800s, Halloween became a bonafide holiday celebration. 
The history behind celebrating this day dates back to 1950, when a Kraft Foods employee had a bunch of leftover Halloween candies and a few apples. In a way to use these extra caramels and apples, Dan Walker, the confectioner, decided to melt them and dip the apples in it, creating an instant autumn classic. From that day to this, Caramel Apples are a staple Halloween treat. National Confectioner's Association sponsors this day.
The fall season is closely associated with apple harvest and making apple cider. So as the apple season reaches its finale in late October, the remaining apples from the harvest are either used to create a hot cider, apple pie, or deliciously sticky and sweet caramel apples. Granny Smith's are by far the most popular apple used in the confections.