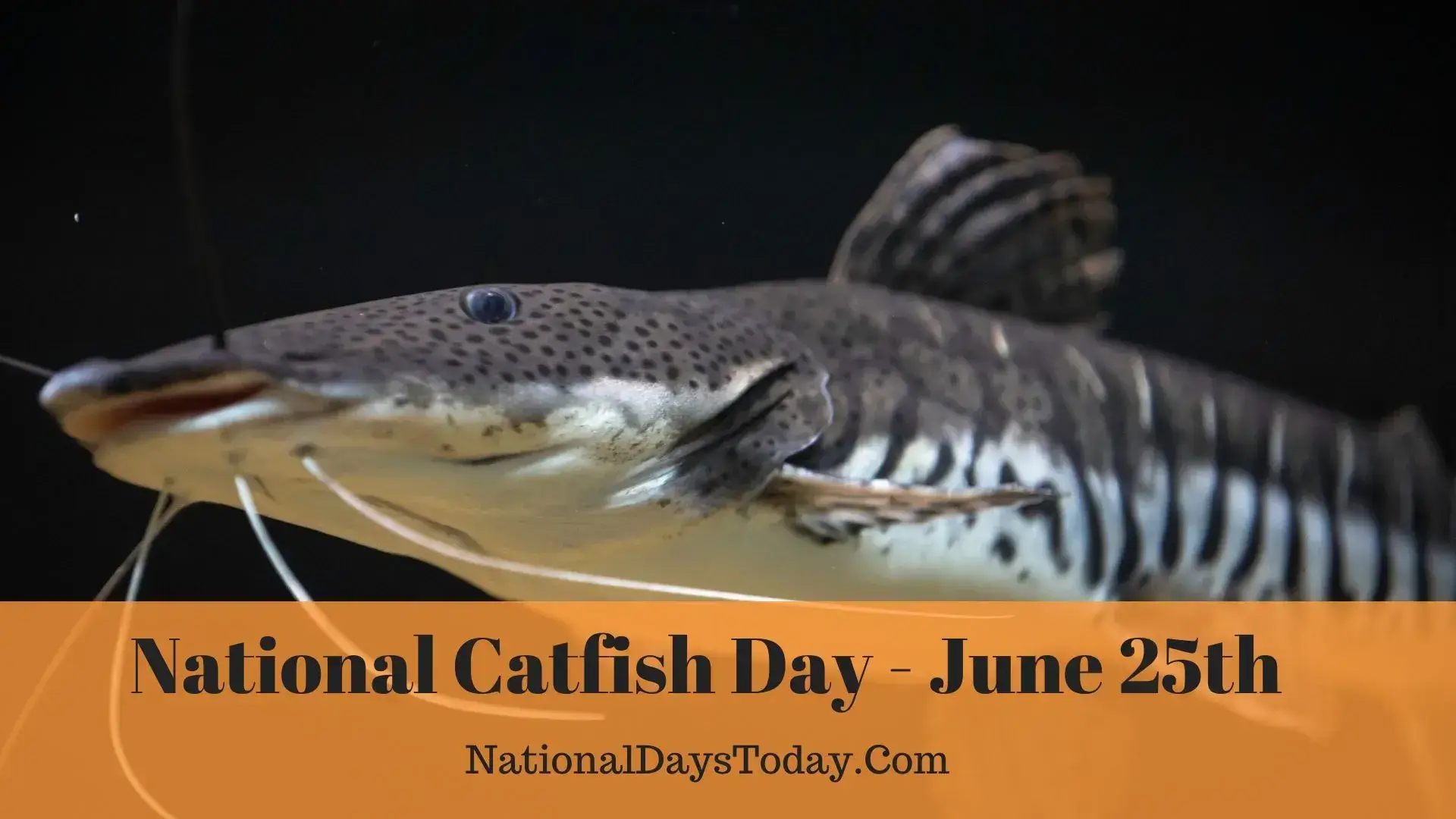 National Catfish Day:
To celebrate the value of farm-raised catfish, National Catfish Day is celebrated every year on June 25. Let's check out some more details about this day!
| | | | |
| --- | --- | --- | --- |
| Year | Date | Day | Where |
| 2023 | 25th June | Sunday | United States |
| 2024 | 25th June | Tuesday | United States |
| 2025 | 25th June | Wednesday | United States |
Twitter Hashtags:
#NationalCatfishDay
#CatfishDay
Related: Other National Days Celebrated on June 25th:
Why National Catfish Day?
But why is it called a catfish? This is just because of the barbels hanging on either side of its mouth which resemble the whiskers of a cat.
Talking about this fish, it is greatly consumed by the people of the United States in cooked or raw form. It can be fried, barbled or grilled and served with tangy salsa. Catfish is an absolutely healthy food as it is low in calories and has high amounts of omega-3, healthy fats, vitamins and minerals.
Besides being a part of the diet of maximum people, it has also helped in providing a stable source of income to a large number of people. These people are basically fish farmers and generate income by farming catfish.
In this article, we are going to talk about the reason behind celebrating this day, the different ways of celebrating it, interesting facts and the history behind its celebration. So without any delay let's get started!
Endowed with so many benefits, the Catfish is one of the most highly consumed fishes in the United States. It is now a part of the American tradition and as a result, it is commonly seen in school menus, military lunch menus and popular restaurant food lists.
This particular day is a celebration of the fish itself, along with its taste and history. This fish has also brought a revolution to the world of fish farming by providing a stable source of income for all the farmers.
Besides this, we will also like to mention that the catfish is very versatile as it can be consumed in different ways, starting from salads to burgers. Moreover, because of the health benefits, it can also be consumed by the people who are dieting.
How can we observe National Catfish Day?
National Catfish Day can be celebrated in a number of ways. But we have selected some of the special ones for all our readers. If you are one of the fish lovers then this one is just for you. Let's begin:
Starting from the easiest one, where all you need to do is eat catfish all day. You can include it in one or more meals in cooked or raw form. It can be fried, grilled or barbled, depending on your preference.
Next, you can try out some new recipes for catfish. This will bring some fun and adventure to your daily routine. Moreover, you will learn to make a new recipe which doesn't sound like a bad idea. Don't forget to share your recipes using hashtags #NationalCatfishDay and #CatfishDay on social media.
For the people who do not want to stay indoors, you can visit the fish farm and learn a lot of things about this aquatic animal. This includes its life cycle as well as its market value. Nothing can be better than knowing so much about the fish on the special day.
Interesting Facts about National Catfish Day:
There are so many facts about this day as this fish has been a part of the history of America. So we have a lot of interesting facts in store that we are going to unfold in this portion of the article.
Catfish are reared four to six feet deep in pond water.
Those who are raised on farms are taught to eat food pellets floating on water. Wild species are generally bottom feeders.
Surprisingly, one catfish has more than 27,000 taste buds.
These are available throughout the year and it is now America's fifth most popular fish.
The heaviest catfish was caught in 1984 in the Santee Cooper Reservoir in South Carolina. It weighs 58 pounds.
In the year 2000, India banned catfish farming as it was found to be dangerous to some of the indigenous species.
Catfish can feed on both dead and living matter. These aquatic animals can also survive in shallow mud as they have a high tolerance for low oxygen-containing water.
History of National Catfish Day:
For the first time, this day was celebrated in 1987 when President Ronald Reagan included it in his speech. But why did he do so? We know that it sounds strange, but there is a particular reason behind it.
During the 1980s, this fish was getting highly popular all over America along with a rise in income of the fish farmers. This was well marked by Congressman Mike Espy who introduced this fish as part of the military meals. Furthermore, he submitted the National Catfish Day bill which resulted in his increased popularity during elections, further boosting the demand for catfish all over America.
As breeding catfish is not a tough job, it consists of one-third of the finned fish in America. Maximally sold species include Channel Catfish and Blue Catfish. With so many health benefits, it forms a compulsory part of the diet and can be served in sandwiches, burgers as well as salads.