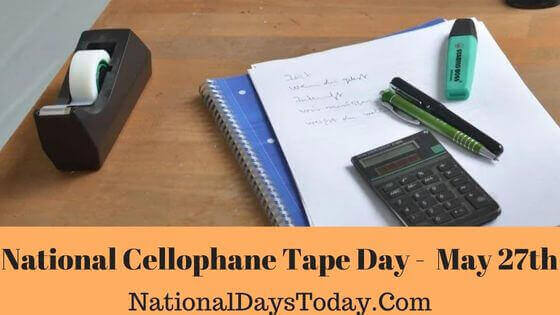 National Cellophane Tape Day:
Commemorating the invention of the most practical and widely used cellophane tape, National Cellophane Tape Day is celebrated on the 27th of May every year.
| | | | |
| --- | --- | --- | --- |
| Year | Date | Day | Where |
| 2023 | 27th May | Saturday | United States |
| 2024 | 27th May | Monday | United States |
| 2025 | 27th May | Tuesday | United States |
Twitter Hashtags:
#NatioanlCellophaneTapeDay
#CellophaneTapeDay
Related: Other National Days Celebrated on May 27th:
Why National Cellophane Tape Day?
Whether you are trying to wrap gifts or put things together or work on projects for school and colleges, the cellophane tape has a wide application. From completing assignments to household simple applications, cellophane tape is a well-used and much-appreciated invention. The day is to celebrate the invention of the cellophane tape and the multiple uses it brings to our daily lives. It is a day to celebrate Richard Drew, who invented the cellophane tape. The tape is known for bringing things together, fixing broken pieces, and is quite handy for everyone, from kids to adults. It is a day to acknowledge the importance of this stationery item used almost by everyone.
How can we celebrate National Cellophane Tape Day:
From wrapping presents to sealing the leaks,cellophane tapes are beneficial in many places for different applications. There are many ways to commemorate the cellophane tape for its multiple uses and here are some ways to celebrate this day in full fervor.
You could use this day to learn more about cellophane tape, its origins, the evolution of this simple stationery over time, etc. You can also learn how it is used in different places.
This could be the opportunity for you to use the cellophane tape to do things at home. Fix some of the broken things at home with the cellophane tape, label items with these tapes if you want, etc. They can even be used over the labels to avoid the possibility of smudging.
You can also tap into your creativity to make something ingenious with the cellophane tape on this day elevating the tape.
Share your enthusiasm and your celebrations about the cellophane tape and this day on your online portals and social media. Include a hashtag #NationalCellophaneTapeDay to your post to create maximum awareness.
Interesting facts about National Cellophane Tape Day:
Cellophane tape was first introduced as the masking tape used in automobiles in the year 1925. Unlike many other inventions whose uses fade away with time, the cellophane tape is found useful to date in many different applications. Here we bring some interesting facts about this multipurpose tape to know about.
The cellophane tape was initially called the Scotch cellulose tape and then later as the Scotch transparent tape. The name came into being when a body shop painter tested the tape and frustratingly cited that the Scotch bosses should be adding more adhesive to the tape.
The commercially used cellophane tape was first produced in the year 1930.
The cutter blade, very commonly used for cutting the cellophane tape was marketed a couple of years later from 1932.
The snail-shaped dispenser for the tapes, used in commercial applications, was first introduced in the year 1939.
The X-ray tape was discovered in 1953 when the cellophane tape was peeled off in the vacuum by Soviet scientists.
There are more than 400 different types of tapes in existence now like tape for labels, transparent tape, packaging tape, electrical tape, etc.
Duct tape was initially known as "Duck tape" for its ability to resist water like the duck. It was produced more during World War II.
Certain ornithologists used the scotch tapes to cover the egg cracks on pigeon eggs, allowing them more time to hatch naturally and saving many birds' lives.
The duct tape or the duck tape was initially used for sealing off ammunition boxes.
While it is called duct tape, it doesn't work well on ducts and it is also illegal to use them for closing ducts.
There is a Duck Tape Festival organized by Duck Brands where the students have to attend with a dress made of these tapes. The best dress was awarded a cash prize.
The adhesive for the Duct tape is derived from the rubber trees.
History of National Cellophane Tape Day:
There is no specific information on how this celebration began or who initiated the day. As for the history of cellophane tape is concerned, the tape started as masking tape invented by Richard Drew. But now there are thousands of different cellophane tapes available in the market in different sizes, for use in different applications. It is hard to find a household that doesn't have a use for cellophane tapes.