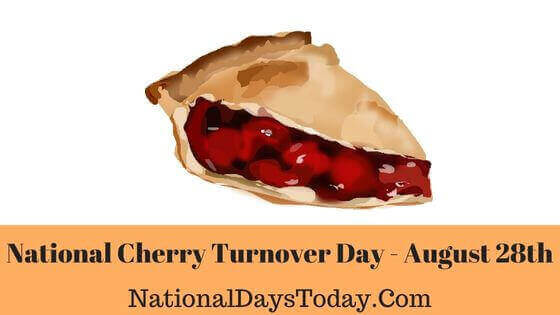 National Cherry Turnover Day:
The U.S. observes National Cherry Turnover Day on August 28 every year to celebrate the sweet homemade Pie.
| | | | |
| --- | --- | --- | --- |
| Year | Date | Day | Where |
| 2023 | 28th August | Monday | United States |
| 2024 | 28th August | Wednesday | United States |
| 2025 | 28th August | Thursday | United States |
Twitter Hashtags:
#NationalCherryTurnoverDay
#CherryTurnoverDay
Related: Other National Days Celebrated on August 28th
Rainbow Bridge Remembrance Day
Why National Cherry Turnover Day?
To celebrate this delicious and sweet homemade pie, there is now a day called National Cherry Turnover Day. The ideal way to enjoy these pastries, which are loaded with delectable cherries, is hot. But it's not our place to tell you how to eat your cherry turnover, so feel free to eat it at room temperature if you truly can't wait! Lots of people do. It will elevate the dish to even greater heights of deliciousness if you serve it with a lovely scoop of ice cream or a large amount of whipped cream.
Even cherries by themselves provide a variety of nutritious advantages. Even while the deep-frying and the pastry are undoubtedly bad for you, at least you'll gain some vitamins along the road.
It is sometimes referred to as a hand pie. It might be salty or sweet. However, this is the day for the sweet-sour cherry stuffed turnover.
How Can We Observe National Cherry Turnover Day?
Cherries by themselves provide a wealth of nutrients. For instance, this crimson fruit's antioxidants shield cells from deterioration. Cherries have powerful anti-inflammatory properties, which may also help lower the risk of heart disease. Visit Nutrition and You to learn more about the advantages of tart or sweet cherries.
Cherry turnovers are made by several dessert companies and are even sold in neighborhood stores. To commemorate this day, go to a neighboring store and get a cherry dessert .
To share on social media, use the hashtag #CherryTurnoverDay and #NationalCherryTurnoverDay.
Interesting Facts Of National Cherry Turnover Day:
On this day, cherry turnovers are often served hot, although they can also be consumed at room temperature.
Cherry turnovers can be selected at any moment of the day; there is no set time when they must be consumed. Enjoy your cherry turnover and the day as a result!
It is a celebration that honors a recipe for a nutritious dessert despite the fact that deserts are typically not the healthiest option.
Some Facts Of Cherries:
During this century, domestic cherries expanded widely throughout Europe and Great Britain.
Darker cherries contain stronger antioxidant power than pale cherries.
On average, a cherry tree used for marketing gain will yield 7000 cherries a year.
The first tart cherry plantations were established in Michigan.
Cherries are classified as drupes, or stone fruits, along with plums, peaches, and nectarines.
History of National Cherry Turnover Day:
The history of this delectable event is still being investigated by the National Day Calendar.
However, turnovers have existed since the dawn of time, when they were known as "mobile pies." Puff pastry dough is commonly used to make cherry turnovers, and it is produced in a method that makes the dough light and flaky. To do this, more fat is added to the dough. The rolled-out puff pastry is then gently smeared with the cherry filling. Many folks like to even experiment and add their own toppings at this stage. After completing this step, you may proceed to fold the seams together to create a pouch before baking them.
In reality, cherries have long been a favorite meal, and even Roman rulers, Greeks, and Chinese noblemen enjoyed them. In the fifteenth century, domestic cherries expanded throughout Europe and Great Britain.
Then, throughout the 1600s, English colonists used ships to transport cherries to North America. Following that, it was the Normandy-born French colonists that introduced pits and planted them alongside the Saint Lawrence River. Midway through the nineteenth century, modern cherry production had its start. Today, the United States produces more than 650 million pounds of tart and sweet cherries each year, with Michigan accounting for the majority of that production.
The occasion of National Cherry Turnover Day is a great reason to indulge in this delectable delicacy and take part in the festivities. On this day, acquire a Cherry Turnover for yourself and share the love on social media. You may bake one, purchase one, or just go out and get one.
A slice of dough is covered with a cherry filling to create a pastry known as a cherry turnover. The dough is sealed by folding it over. To get a golden and flaky crust, the individual turnovers are then baked or deep-fried. Pies with tart cherries work well. Their liquids combine with the sugar when baked because they require additional sugar to be tasty. The outcome is delicious perfection!