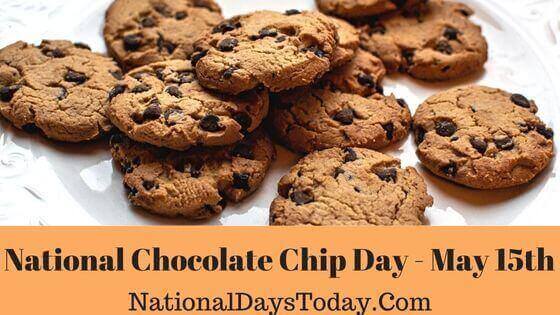 National Chocolate Chip Day:
If you love chocolate chips, then you can join everyone to celebrate them on the 15th of May every year as the National Chocolate Chip Day.
| | | | |
| --- | --- | --- | --- |
| Year | Date | Day | Where |
| 2023 | 15th May | Monday | United States |
| 2024 | 15th May | Wednesday | United States |
| 2025 | 15th May | Thursday | United States |
Twitter Hashtags:
#NationalChocolateChipDay
#ChocolateChipDay
Related: Other National Days Celebrated on May 15th:
National Peace Officers Memorial Day
Why National Chocolate Chip Day?
As we all know the creation of chocolate chip cookies happened by accident and they became famous instantly. The chocolate chips were introduced later by the company Nestle, as chocolate morsels in the 1940s and they later became the chocolate chips that we are well-versed with. While the initial creation of these chocolate chips was for making the chocolate chip cookies, today they have found a variety of application in a multitude of dishes. It is quite difficult now to find a confectionery item that does not have a chocolate chip option in it.
It is not just the dishes where you can find variety but the chocolate chips are available in a variety of flavors ranging between milk chocolate and bittersweet chocolate. People love to have chocolate chips, whether it is on a confection of their choice or a cake, or simply out of the bags for munching over. It is difficult, even impossible to find a baker who doesn't have chocolate chips as part of his ingredients shelf. Truly a versatile inclusion on many desserts and sharing the love of everyone across the world in all age groups, the chocolate chips deserve a day of their own to be celebrated.
How can we celebrate National Chocolate Chip Day?
Celebrating the ever-versatile chocolate chips does not need any reason whatsoever. However, if you are looking for ideas to celebrate this day, then we have some pointers just for you.
If you are a chef or you simply love to cook, use this day to experiment on different dishes using chocolate chips. You can move out of the conventional approaches and recipes and try a new recipe of your own. For instance, you can try using these delicious chips in your dinner recipe and see how they can be a flavor-enhancing option in your dish.
It may not be easy to break the world record or the national record for the biggest cookie. But you can try your hand in baking the largest chocolate chip cookie that you can make on this day. You can even hold a competition among friends to see who can cook the best and largest chocolate chip cookie on this day.
Art is in many forms and edible art is all about finding a new way to enjoy your favorite dishes. Add the chocolate chips with other favorite confections of yours and enjoy your edible art on this day. This project can have kids in it which makes it a fun day for them as well.
Share your opinions and your ideas about chocolate chips and also new recipes using them with everyone. Quote #NationalChocolateChipDay to bring notice to the day and the delightful chocolate chips.
Interesting facts about National Chocolate Chip Day:
Some funny and interesting facts are given here about chocolate chips and the cookies using them, and more.
Chocolate chips are available in different flavors including milk chocolate, white chocolate, bittersweet chocolate, dark chocolate, semi-sweet chocolate, and more.
The chocolate chip cookie is considered the official cookie of the state of Massachusetts.
Chocolate sauce is used for topping the chocolate chip cookies in the Middle East and they use a knife and fork to enjoy this chocolaty dish.
Nearly 14% of Americans have agreed that they have eaten a minimum of 20 chocolate chip cookies at any given time.
Even the pickiest of the eaters cannot say "No" to the famous chocolate chip cookies. The magic of chocolate chips is such.
Nestle Toll House is the topmost brand of chocolate chips sold in the market.
As many as 50 chocolate chips can be included in one tablespoon of the cookie dough. And yet, having even 6-8 makes people smile as they enjoy the cookie.
The Boston cookie store was opened by John Kerry, in the latter part of the 1970s when he was bored with being a lawyer.
The introduction of labels stating the nutrition facts increased the sales of chocolate chip cookies in the country.
The largest chocolate chip cookie had nearly 30000 eggs and measured about 102feet in diameter with a weight of 38K pounds.
Every chocolate chip packaging in the country has a different recipe using different brands of chocolate chips.
Hilton's Doubletree offers the guests who walk in on July 4th with a chocolate chip cookie and they continue this tradition to date.
History of National Chocolate Chip Day:
There is no clear information on the origins of this day. however, as for the origin of the chocolate chips, they came into existence after the chocolate chip cookies. Introduced as Chocolate morsels, in the beginning, they were an instant hit and were marketed for the first time during the 1940s. Despite the reason behind the celebration, this delicious and versatile kitchen delight is worthy of a celebration.