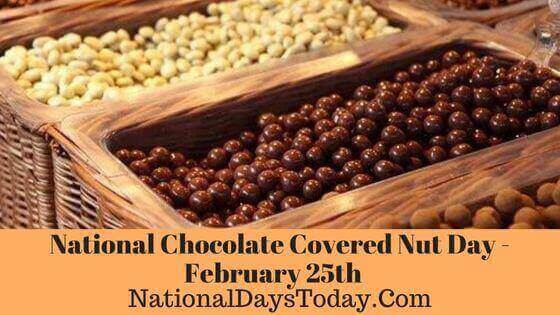 National Chocolate Covered Nut Day:
National Chocolate Covered Nut Day comes on the 25th of February and marks the celebration of the mouthwatering and crunchy nut snack that has been covered with chocolate.
| | | | |
| --- | --- | --- | --- |
| Year | Date | Day | Where |
| 2023 | 25th February | Saturday | United States |
| 2024 | 25th February | Sunday | United States |
| 2025 | 25th February | Tuesday | United States |
Twitter Hashtags:
#NationalChocolateCoveredNutDay
#ChocolateCoveredNutDay
Related: Other National Days Celebrated on February 25th:
Why National Chocolate Covered Nut Day:

The day is a day set aside for recognizing the delicious snack that is also crunchy and has been covered or sprinkled with chocolate. There are multiple different kinds of nuts that can be used for this remarkable day depending on your preference. Among the nuts that can be used on the National Chocolate Covered, Nut Day include the walnut and pecans, which were a favorite for the ancient Greeks and Romans, and the Native Americans respectively.
Chocolate, as well as nuts each, have their own benefits as far nutrition is concerned. For instance, dark chocolate is associated with antioxidants, and nuts are believed to contain a significant amount of fatty and linoleic acids, both of which are essential for the body. Nuts are also a rich source of arginine, an amino acid useful for the formation of arterial walls and setting them up for total flexibility and resistance to blockages associated with clots.
You can also use the Chocolate Covered Nut Day to benefit from Vitamin E and B12 characteristics of nuts, and also protein, folate, fiber, and other essential minerals like Mg, K, Cu, and Selenium.
How To Celebrate Chocolate Covered Nut Day:
●     Share chocolates with others
What a wonderful day to show your loved ones some appreciation by showing them some love in return! On this day, gather numerous small packets of these sweets and distribute them to everyone you come into contact with. Just make sure to first inquire about any nut allergies!
●     Bake chocolate nut treats:
Use your favorite nuts, such as almonds, pistachios, walnuts, or pecans, to make homemade chocolate nut treats like brownies, cookies, or cakes.
●     Get creative
While chocolate-covered peanuts are undoubtedly tasty when eaten independently, they also make a delightful element when added to a range of recipes that can be made at home in the kitchen.
●     Organize a party at home
Organize a tasting party for chocolate nuts and invite friends and family to attend. Offer a selection of chocolate nut treats and invite guests to bring their favorites
●     Gift it to your loved ones
What would be more thoughtful than gifting chocolates to your loved ones? you have many options to choose from. Gifts can show your affection and it is the best way to celebrate a chocolate nut day with your friends and family.
●     Post it on social media
The best way to share information about chocolate nut covered day is by posting it on social media be it instagram,  Facebook, twitter or even WhatsApp you can communicate with your friend and family.Social Media is best option if your friends or family are far away from you. You can still make them celebrate this day with you not physically but virtually.
Interesting facts about National Chocolate Covered Nut Day:
Some of the most interesting facts about the day include:-
M & M stands Among the most popular chocolate covered nuts and was introduced in 1954
M & M chocolate-covered nuts were tan until the year 1960 when colors such as red, yellow, and even green were integrated as part of the production.
TheChocolate Covered Nut Day is recognized in appreciation of a delicacy involving a nut variety that has been covered or dunked or smothered with chocolate.
While integrating a mix of nut and chocolate flavors introduces an extraordinarily sweet taste, the nutritional value of individual constituents is maintained.
History of National Chocolate Covered Nut Day:
The history of the Chocolate Covered Nut traces back to 1925 when the very first chocolate-covered peanut candy was sold. This delicacy was from the Goobers, family, a term commonly used in terms of peanuts. There have however been difficulties in finding the face behind this auspicious day, and although this may be the case, chocolate maintains royalty in as far as the National Day Calendar is concerned, which is why there are still efforts to establish its exact origin.