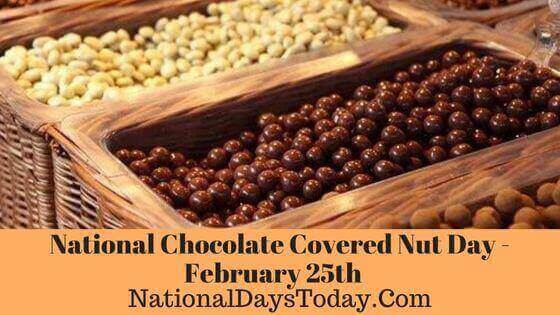 National Chocolate Covered Nut Day:
National Chocolate Covered Nut Day comes on the 25th of February and marks the celebration of the mouthwatering and crunchy nut snack that has been covered with chocolate.
| | | | |
| --- | --- | --- | --- |
| Year | Date | Day | Where |
| 2023 | 25th February | Saturday | United States |
| 2024 | 25th February | Sunday | United States |
| 2025 | 25th February | Tuesday | United States |
Twitter Hashtags:
#NationalChocolateCoveredNutDay
#ChocolateCoveredNutDay
Related: Other National Days Celebrated on February 25th:
Why National Chocolate Covered Nut Day:

The day is a day set aside for recognizing the delicious snack that is also crunchy and has been covered or sprinkled with chocolate. There are multiple different kinds of nuts that can be used for this remarkable day depending on your preference. Among the nuts that can be used on the National Chocolate Covered, Nut Day include the walnut and pecans, which were a favorite for the ancient Greeks and Romans, and the Native Americans respectively.
Chocolate, as well as nuts each, have their own benefits as far nutrition is concerned. For instance, dark chocolate is associated with antioxidants, and nuts are believed to contain a significant amount of fatty and linoleic acids, both of which are essential for the body. Nuts are also a rich source of arginine, an amino acid useful for the formation of arterial walls and setting them up for total flexibility and resistance to blockages associated with clots.
You can also use the Chocolate Covered Nut Day to benefit from Vitamin E and B12 characteristics of nuts, and also protein, folate, fiber, and other essential minerals like Mg, K, Cu, and Selenium.
How can we celebrate National Chocolate Covered Nut Day:
Some of the ways to celebrate or observe the day include but are not limited to:-
The first way to observe this day is by posting on social media under the hashtag #NationalChocolateCoveredNutDay and sharing it across different social media platforms like Facebook, Instagram, and Twitter. This will serve as the fastest way to spread the word and create awareness to this day so that people can also remember it for what it actually represents and commemorates.
Engage in a Chocolate Covered Nut making competition
You can as well choose to hold a Chocolate Covered Nut making competition with your friends and/or family, and thereafter reward in cash or in kind, the person that ends up making the most delicious chocolate-covered nut.
Invite friends or colleagues over for chocolate-covered nut
You can also choose to have your friends come over for Chocolate Covered Nut as you engage in meaningful or funny conversations while catching up. You can also make your own Chocolate Covered Nut at home and bring it to work and share it among workmates in the spirit of the Chocolate Covered Nut Day, bringing together the entire team of chocolate-covered nut enthusiasts to enjoy the treat.
Learn new chocolate-covered nut recipe
Another way to observe the day is by learning a new Chocolate Covered Nut recipe and making it for your family. The new recipe can integrate different nut varieties, but be sure to watch for allergies. This will promote the tradition while eliminating the element of repetitiveness where you have the same design every February 25th.
Interesting facts about National Chocolate Covered Nut Day:
Some of the most interesting facts about the day include:-
M & M stands Among the most popular chocolate covered nuts and was introduced in 1954
M & M chocolate-covered nuts were tan until the year 1960 when colors such as red, yellow, and even green were integrated as part of the production.
TheChocolate Covered Nut Day is recognized in appreciation of a delicacy involving a nut variety that has been covered or dunked or smothered with chocolate.
While integrating a mix of nut and chocolate flavors introduces an extraordinarily sweet taste, the nutritional value of individual constituents is maintained.
History of National Chocolate Covered Nut Day:
The history of the Chocolate Covered Nut traces back to 1925 when the very first chocolate-covered peanut candy was sold. This delicacy was from the Goobers, family, a term commonly used in terms of peanuts. There have however been difficulties in finding the face behind this auspicious day, and although this may be the case, chocolate maintains royalty in as far as the National Day Calendar is concerned, which is why there are still efforts to establish its exact origin.