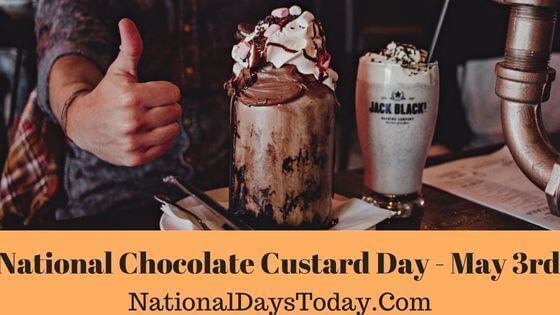 National Chocolate Custard Day:
The delicious dessert of Chocolate custard is celebrated for its taste and flavor on the 3rd of May every year as National Chocolate custard Day.
| | | | |
| --- | --- | --- | --- |
| Year | Date | Day | Where |
| 2023 | 3rd May | Wednesday | United States |
| 2024 | 3rd May | Friday | United States |
| 2025 | 3rd May | Saturday | United States |
Twitter Hashtags:
#NationalChocolateCustardDay
#ChocolateCustardDay
Related: Other National Days Celebrated on May 3rd:
National Garden Meditation Day
National Specially-Abled Pets Day
National Raspberry Popover Day
National Two Different Colored Shoes Day
Why celebrate National Chocolate Custard Day?
It is a well-known and accepted fact that chocolate is almost everyone's favorite, be it dark chocolate or the milk chocolate that you favor. While chocolate is a versatile dish that can be used across multiple food items, it is a delicacy to adore when blended with the custard. The chocolate custard made with chocolate and the usual custard mix of sugar, milk, and eggs can create a fantastic symphony on the taste buds that you will want for more. That is probably the reason why we have a special celebration day to honor and to simply enjoy this delectable dish of Chocolate Custard.
How we can celebrate National Chocolate Custard Day:
The National Chocolate custard Day can be celebrated in multiple ways. And here we have some interesting ways to enjoy this day to the fullest.
The very best way to celebrate this dish is to of course tasting it. You can order it from the nearest bakery or restaurant which makes this dish and enjoy it with your friends and family.
If you love to cook, then here is an opportunity to learn how to make delicious Chocolate custard. You can make this pudding-like dish and share it with your friends or family and take their views on your baking.
And if you are looking to include custard in a more innovative way into your dessert, then you can use a few of these tips too.

You can layer the custard on your baked goods and cookies or pastries to get an additional flavor.
Use it as a frosting between the layers of a pound cake or angel food cake.
You can simply make the mixture into cupcakes, add a dash of whipped cream, and also some sprinkles to make an appealing dessert.

Try making your own version of Chocolate Custard with dark chocolate or milk chocolate or the kind of chocolate you prefer and share your experience on which one you prefer and why.
You can use these options or make your celebration. And whatever be the way you celebrate the day, you can share your ideas and your celebration pictures with the hashtag #NationalChocolateCustardDay on your social media.
Interesting facts about National Chocolate Custard Day:
On this day, let us learn some interesting facts about custard, which is a main part of the Chocolate Custard dish.
While these two components, custard, and chocolate, form an amazing combination in the form of a dessert, they have a unique flavor and can be used in many forms and many ways. Before getting to know about custards, you should know that custard is generally made by blending eggs, milk, or eggs with cream, and the same is heated over a stove or oven.
Custard powder is very finely grounded and is an organic powder which also makes them an explosive mix.
Custard is so versatile that you can use it in plenty of cooking as much as chocolate is.
The consistency can vary in terms of its thickness based on how it is prepared. It is made into a thin sauce when preparing a crème anglaise and thick sauce when it has to be used as a filling in éclairs.
Custard is also used in savory food items and quiches to enhance the texture and flavor of the dish.
There is a belief that Cussy, who is apparently the God of Custard will bestow those who have salted custard with never-ending wisdom and wealth.
Specialty pancakes sold by a Swedish restaurant were nothing but the skin removed off the custard which has been left for a long time. This was actually well-received among customers.
History of National Chocolate Custard Day:
We do not have any specific information on how and when the National Chocolate custard day came into existence and the reason behind it. However, we do know that it makes for a celebration of a very special dessert which is delicious as the own and also as a filling in other desserts like éclairs, doughnuts, and crème puffs.