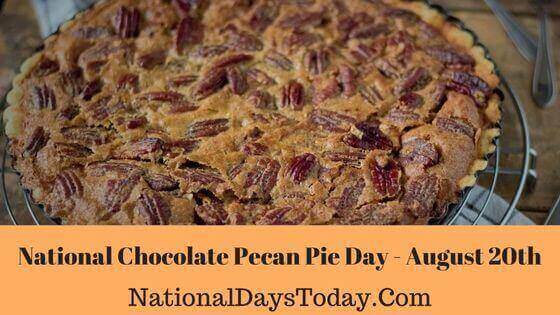 National Chocolate Pecan Pie Day
National Chocolate Pecan Pie Day is observed on the 20th of August to enjoy Southern classic that combines two of America's favorite flavors: chocolate and pecans.
| | | | |
| --- | --- | --- | --- |
| Year | Date | Day | Where |
| 2023 | 20th August | Sunday | United States |
| 2024 | 20th August | Tuesday | United States |
| 2025 | 20th August | Wednesday | United States |
Twitter Hashtags:
#NationalChocolatePecanPieDay
#ChocolatePecanPieDay
Related: Other National Days Celebrated on August 20th
Why National Chocolate Pecan Pie Day?
 The pie is usually made with a chocolate cookie or pie crust, and is filled with a mixture of chocolate, pecans, sugar, and eggs. It's then baked until the filling is set and the crust is golden brown. 
This scrumptious dessert is perfect for any occasion, and is sure to please even the pickiest eaters. So whether you're celebrating National Chocolate Pecan Pie Day or just looking for a delicious treat, be sure to try this delectable dessert! National pecan pie day is also celebrated on the 12th of July if chocolate is not to your taste. 
On this day, people make this delicious sweet dish at home and enjoy it with their family and friends. The only difference between this day and National Pecan Pie Day is the flavor of the pie. 
As the original pie goes well with the ice cream, the chocolate one also pairs well. It is a gooey pie with caramel in the center
This pie has become everyone's favorite, and people have now started to celebrate this day with full enthusiasm and enjoyment. 
How can we observe National Chocolate Pecan Pie Day?
This day is observed by making sweet and delicious chocolate pecan pie and sharing it with the family. This day can be celebrated with family and enjoy the pie in a bakery with no one except yourself. 
You can go to your particular bakery where they make a chocolate pecan pie and enjoy it by having some time yourself. Another way to celebrate this day is to create and bake the pie yourself. 
Invite some people like your friends and family to share the pie with them. This way, you can make new bonds and enjoy the old ones. People coming together and sharing this sweet dish will increase their love and strengthen their bond. 
A fun way to celebrate this day would be making and trying new dishes of the pecan pie. You can experiment with new recipes like chocolate pecan pie with bourbon, spiced chocolate pecan pie, dark chocolate pecan pie, and Mayan chocolate pecan pie to change the flavor of the sweet treat. 
It can be a new tradition for your family where you can bake fresh pies with different flavors every year to enjoy it even more.
If you are at work, you can celebrate this day by making a pie and sharing it with your colleagues and work friends. This creates a friendly environment with sweet pie on its lips.
Wherever you are, do not forget to make this sweet dish and have it with the people around you. After the dish's preparation, you can share the picture of the dish with the people you are celebrating with. Do not forget to use the hashtag #nationalchocolatepecanpieday on your social media. 
This hashtag will help you to search for people celebrating this day. It will also show your recipe to them, and you can see the recipes from around the world.
Interesting facts about the National Chocolate Pecan Pie Day:
The interesting facts about the pecan pie are as follows:
Alcohol can be used as an ingredient in the pie. Alcohol is a trendy ingredient that can be added to the chocolate pecan pie as a flavoring ingredient. Some popular alcohol added is bourbon and rum, and whiskey. 
It is said that it might have discovered the evolution of the chess pie. It was famous in Europe and became America's favorite when the Europeans traveled here through the Atlantic ocean. 
There is often a tough fight between the pumpkin pie and pecan pie as both fight for the position of the occasion's dessert. 
The first recipe for pecan pie was published in 1886 in an issue of Harper Bazaar.

The manufacturers of the brand known as Karo syrup started to print the recipes for pecan pie in the year 1920. 
In 2013, Buzzfeed ranked this pie as the fourth most crucial pie in the whole world. 
History of the National Chocolate Pecan Pie Day:
The word pecan means hard nut to crack, which has its roots in the Native American language Algonquin. As far as chocolate is concerned, the discovery of it goes back to approximately 4000 years from the cacao plant. It was known as the drink of gods back in the day and was used as a beverage a hundred years ago. 
The combination of chocolate and pecan is still unknown as this is a recent invention as like the origin of the day. However, people are grateful to the person who invented this sweet recipe.