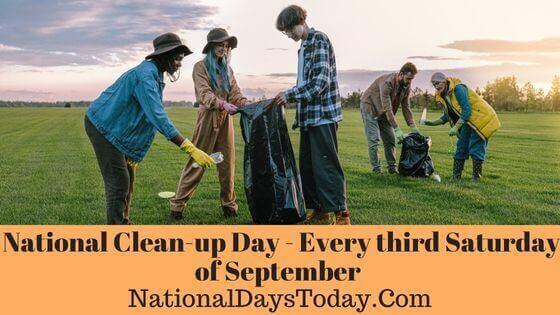 National Clean-up Day:
September is a national Clean-up Month. While we strongly encourage clean-ups to be held on the third Saturday of September, it is also possible to have plenty of clean-ups happening throughout the remainder of Clean-up Month.
| | | | |
| --- | --- | --- | --- |
| Year | Date | Day | Where |
| 2023 | 16th September | Saturday | United States |
| 2024 | 21st September | Saturday | United States |
| 2025 | 20th September | Saturday | United States |
Twitter Hashtags:
#NationalClean-UpDay
#Clean-upDay
Related: Other National Days Celebrated on September:
National Another Look Unlimited Day
Why National Clean-up Day?
The great outdoors can bring great happiness and peace to those who love hiking, walking, and climbing. However, trash and litter can not only ruin the experience but could also harm the fauna and flora.
National Clean-up Day is an effort to unite people who enjoy nature and the outdoors to clean up beaches, trails, parks, and other natural communal areas. This day encourages people to work hard to minimize litter and recycle to ensure that the environment surrounding us is clear of litter and remains clean.
Religious events, the need to schedule a clean-up on an off-day, tides, pandemics, weather, or other events like Public Lands Day create the occasion to organize your clean-up at a time of the day and its work for you.
Higher Quality of Life
The underlying principle of the practice is that the quality of our life is greatly affected by the environment around us. Garbage and litter-filled natural spaces can adversely affect a person's well-being and the surrounding environment.
How Can We observe National Clean-up Day?
Join family members, friends, and co-workers to plan a tidying excursion to the nearest park, trail, or beach.
Make people aware of the dangers of littering and garbage disposal in communal areas through public media and word of mouth.
Join a local clean-up crew and help to clean up your outdoor area.
Make the team or invite your friend to help clean up the trash from your outdoor areas. Help spread the word, Be an active participant in the effort of clean-up.
Use the hashtags #NationalCleanUpDay, to share and tweet about the event on social media.
Interesting facts about National Clean-up Day:
An elephant swimming in the sea
The marine litter problem is a tonne of a problem. There are as many as 150 million tonnes of plastic floating around our oceans, which is equal to the number of elephants living there! Marine animals consume or are stuck in plastics or other waste, which can lead to injuries and even death.
Be careful not to reveal your rage.
We dispose of over 4,500 billion cigarette butts every year. Even though they might appear to be innocent and small, cigarette butts contain plastics that are not biodegradable and contaminants that can harm the environment.
Fast food is a significant problem.
Fast food restaurants use disposable packaging targeted at those in a hurry, so it's only natural that those who consume fast food are among the most prolific offenders in the area of litter.
NASA was once penalized for littering
When parts of the Skylab space station fell to earth back in 1979, Australian authorities handed NASA $400 to pay for littering. Nobody is exempt from littering, even in space!
You can throw your gum into the garbage.
Most chewing gum sold in the market contains synthetic plastics that don't break down after disposal. Like cigarette butts, chewing gum is among the most commonly used garbage in cities.
History National Clean-up Day:
The campaign was created in 2017 with the help of Steve Jewett and Bill Willoughby. The National Clean-up Day campaign poses a simple question.
What would be the world like, if everyone picked up at least 1 piece of litter? On the third Saturday in September, they call on all to take action. By encouraging participation by the public in clean-up activities, the organization promotes civic duty and builds bonds between neighbors.
Clean-up events take place across all 50 U.S. states, as well as U.S. territories, ranging from small-scale clean-ups that involve large groups of neighbors to massive organized events that attract thousands of participants. Anyone can start an event and submit it to the nation's website.
The development of plastics, the rapid growth of fast-food chains, and disposable packaging that is only used once have caused litter to increase in alarming proportions. At present, an estimated fourteen billion pounds of garbage is dumped into the world's oceans each year. With most plastics taking several hundred years to decay, the foreign objects today surpass sea creatures such as phytoplankton and zooplankton.
National Clean-up Day aims to encourage a clean outdoor environment for all, increase awareness of the issues associated with littering, and mobilize resources to beautify and enhance public areas. The initiative is widely adopted by many community-based organizations and volunteer organizations that perform the groundwork of coordinating events, enlisting volunteers, and spreading the message to the general public.
The group believes lives are better when we have safe, clean outdoor areas. Participating in cleaning your local area and open spaces can make everyone part of a more sustainable, greener, and healthier environment.