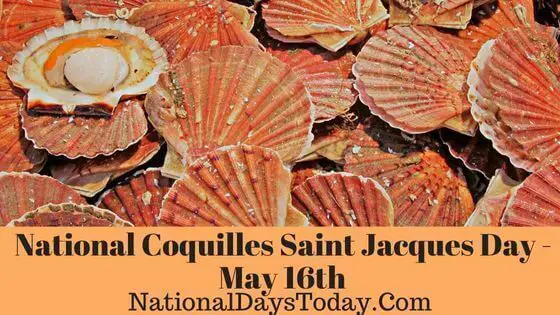 National Coquilles Saint Jacques Day: 
Celebrated annually on May 16th, Coquille Saint Jacques Day honors "the Shell of St. James," another name for the scallops. Have you tried a new dish beyond the typical bacon and fried eggs? Voila! Today is the day to get out of your food comfort zone!
| | | | |
| --- | --- | --- | --- |
| Year | Date | Day | Where |
| 2023 | 16th May | Tuesday | United States |
| 2024 | 16th May | Thursday | United States |
| 2025 | 16th May | Friday | United States |
Twitter Hashtags:
#NationalCoquillesSaintJacquesDay
#CoquillesSaintJacquesDay
Related: Other National Days Celebrated on May 16th:
National Honor Our LGBT Elders Day
Why Coquilles Saint Jacques Day? 
It is traditionally a French dish. Over the years, the dish has become widely popular in many parts of the world. This king scallop, or coquille, is found in the northeast Atlantic. For this dish, in particular, only coquille species can be used.
The coquilles shell is the emblem of Saint James. The name of the scallop follows from a very famous tale of Saint James, an Apostle of Jesus Christ, who was martyred in Jerusalem, brought back, and buried in the cathedral of Santiago de Compostela in northwest Spain. According to the legendary tale, Saint James once saved a knight from drowning. It seems that when the knight emerged from the water, he was covered with shells. Hence, the dish gets its name from him. In the 12th century, scallops got their name as Coquilles Saint Jacques.
Since the Medieval age, pilgrims have visited the Shrine of Saint James in Santiago de Composite, Spain, since the pilgrims arrived. They frequently wore a scallop shell symbol on their clothing, and carved shells of scallops can be found on the front of the houses where they stayed. On their pilgrimage, the shell was used to drink water and eat food.
In the 1950s, the Coquilles Saint Jacques dish appeared on the menu of French restaurants. A simple, delicious, but yet the most famous baked scallop dish is Coquilles Saint James, minced scallops in a wine and cream sauce under a crust of bread crumbs topped with grated cheese. These days, there are many versions of this dish wherein mushrooms and different varieties of cheese are used. Haven't tried this appetizer yet? You've got all the reasons to try this legendary, delicious dish on May 16th.
How Can We Observe National Coquilles Saint Jacques Day?
Making scallops the French way is not as difficult as it seems to be. When you've got a reason to try a new dish that is simple and luscious, the best way is to prepare the dish at home by yourself. Meanwhile, you can also be innovative in your cooking by adding your unique touch to the dish.
Go out for some Coquilles Saint Jacques!
You can visit the French restaurants around you to taste the best scallop appetizer the French way and feel like a French person!
Add it to the menu for your get-togethers!
Although they are best suited as starters, they can also be served as a main course with some French green beans, almonds and fried onions complementing the scallops. When you organize a get-together with your friends and family, it is a perfect time for you to showcase your cooking skills by trying new dishes like these!
Donate some to the needy.
It is always good to give to the less fortunate! You can donate to a non-profitable organization that will help distribute the food directly to the poor.
Feel French on Social Media.
Share your Coquilles Saint Jacques recipe on social media and invite your friends and family to join you. Use #NationalCoquillesSaintJacquesDay and #CoquillesSaintJacquesDay to share your posts today!
Interesting Facts About National Coquilles Saint Jacques Day: 
A few facts related to National Coquilles Saint-Jacques Day
Even though the dish takes its origin from France, Italians in Montreal have adopted the dish as their own and it has become a classic Christmas Eve appetizer.
Scallops are the best source of protein because they contain amino acids essential for our bodies.
It is rich in omega-3 fatty acids and contains healthy fats that can balance our cholesterol levels, which indeed reduces your heart risks. The minerals help in relaxing the blood vessels, which can lower your blood pressure, and thereby improves the blood circulation.
Scallops are used in high-protein diets that can help with weight loss. Protein can help boost your metabolism.
The funny fact is that the story is tied to Spain, but the origin of the dish is from France.
The United Kingdom exports the most scallops in the world.
Scallops are a highly prized food in many countries around the world.
 History of National Coquilles Saint Jacques Day: 
The origin of National Coquilles Saint Jacques Day remains a mystery, yet it does have a rich history and it doesn't hinder us from celebrating the day.