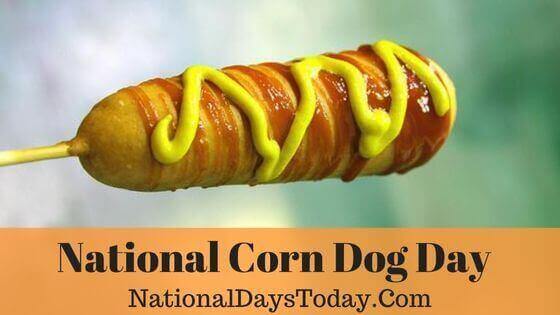 National Corn Dog Day
Celebrated annually in March, the National Corn Dog Day is observed to celebrate the amalgamation of the all-American Corn Dog and Sports. On this day, the people grab a corn dog and get back to their respective games to watch it live.
Related: Other National Days Celebrated on March:
Why National Corn Dog Day?
Corn Dogs serve as an identity of the American culture. It started out as sausage or hot-dogs deep fried in a cornmeal batter and served as a sandwich. This whole meal was then put on a stick and deep-fried to serve commercially in museums, parks, and exhibitions in the late 1930s. The idea was that fairgoers could have their meal on the go directly from the stick.
An entire patent concept of fried food on a stick was filed in the USA in 1927, which was granted two years later in 1929. The inventive reasoning behind this concept was that food could be carried and eaten outside in a much cleaner way. The first proper production of corn dogs was seen at a Basketball game in Adel, Iowa, when the local vendor had run out of hot-dog buns for their hot-dogs. Roger Newman (the vendor) then took the remaining hot-dogs and coated them with a cornmeal batter, which was deep-fried and taken back to the game (without sticks). It was an instant hit.
Ever since people got to familiarize themselves with the corn-dog concept, many food vendors throughout the USA tried to take credit for being its inventors. Still, no substantial basis was ever found or proven. The year 1946 saw Dave Barham open the first location of 'Hot Dog on a Stick' at Muscle Beach, California.
Corn Dogs cannot be mentioned without the sauces that accompany them. Many vendors claim that a corn dog is as good as its sauce. Thus, National Corn Dog Day can even be observed at home with homemade corn dogs and dipping sauces. It is a high caloric affair and is chosen by many sports fans during matches as it fills up the stomach at such minimal costs.
What works best for corn dogs is that it surpasses economic boundaries meaning that it can be enjoyed by everyone- rich or poor. This makes this American classic readily available throughout the country. In fact, places like Coney Island are particularly famous for the sheer number of corn dog stands at the pier.
As already mentioned, corn dog finds have their roots associated with the game of Basketball. Thus, it also finds a major association with especially the game of Basketball even now. The National Corn Dog Day is typically celebrated on the 1st Saturday of March Madness.
How can we observe National Corn Dog Day?
Take your family out to watch a Basketball game and have corn dogs there.
Educate your children about this all-American food:
Stress on the history and historical significance of the day. It is a brilliant part of American sports and food culture.
Use your social media handles to post photos and videos of you and your family enjoying the day at a Basketball game, the way it's meant to be. Use #NationalCornDogDay to spread love.
Interesting facts on National Corn Dog Day:
Here are some interesting corn dog facts for you to enjoy the day!
The Texas State Fair sells a mammoth 630,000 corn dogs each season (i.e., 24 days).
Japanese Sushi and All-American Corn Dog have been recently crossed to make a spicy tuna corn dog, a first of its kind.
Corn dogs are a popular part of South Korean, New Zealand and Japanese cultures as their association with sports transcended national boundaries.
Jimmy Dean has taken the sausage and dipped it in Pancake batter to form a breakfast version of the corn dog to be had with maple syrup in place of mustard.
Milo's Corn Dogs and pizza hold a corn dog eating competition with a $2500 price for the winners.
History of National Corn Dog Day:
Brady Sahnow and Henry Otley created observance of National Corn Dog Day back in 1992 in honor of the saving grace of corn dogs and March Madness, Basketball. Due to its association with Basketball, this day falls on different dates every year.