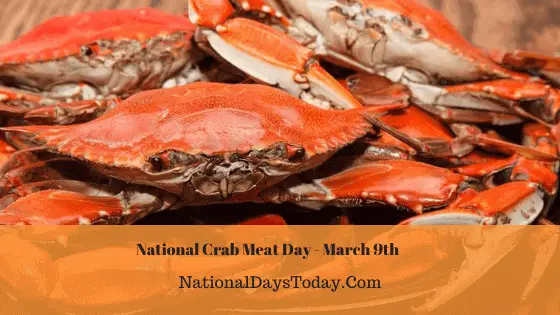 National Crab Meat Day:
Celebrated on March 9th every year. The day is to enjoy yet another delicious dish, Crabmeat.
| | | | |
| --- | --- | --- | --- |
| Year | Date | Day | Where |
| 2023 | 9th March | Thursday | United States |
| 2024 | 9th March | Saturday | United States |
| 2025 | 9th March | Sunday | United States |
Twitter Hashtags:
#NationalCrabMeatDay
#CrabMeatDay
Related: Other National Days Celebrated on March 9th:
Why National Crab Meat Day?
This day to enjoy yet another delicious dish, Crabmeat. Crabmeat has numerous special features,like,
Presence of Omega-3 fatty acid stimulates brain development in fetus right from the first trimester.
Consumption of crab meat aids in attaining better immunity to fight cancer developing cells, harmful bacteria and excess free radicals blocking blood supply.
Intake of crab meat makes the body to imbibe phosphorous activating metabolism, the functioning of kidneys and contraction-relaxation of heart muscles.
How we can Celebrate or Observe National Crab Meat Day:
Turn these crustaceans to delicious dishes with the recipes suggested below.
1) Oven roasted Dungeness crab
Ingredients:
Orange peel-1 tbsp
Minced Shallot-1 tbsp
Minced garlic-2 tbsp
Butter and olive oil-1/4 cup
Crushed pepper-1 1/2 Tbsp
1 large steamed and cracked Dungeness crab
Chopped thyme and parsley-2 tbsp
Orange juice – 1/2 cup
Heat butter and oil in an oven-proof skillet over medium flame. Add minced garlic, shallot, and crushed pepper and cook it for 2 minutes. Place Crabs in the skillet and sprinkle parsley, salt, and crushed pepper over it.
Preheat the oven to  500◦F.Roast the crab with parsley for about 12 minutes by placing the skillet inside the oven. Stir once while roasting.
Once roasting is completed, transfer cooked Crabs to a plate. Pour orange peel and juice to the same skillet and boil till it reduces to half(Approx 5 mins). Add this juice over the roasted crab in a plate. Serve it hot after sprinkling chopped thyme over it.
  2) Steamed stone crab with melted butter:
Steam uncracked claws in steamer pot about 5 minutes. When the claws are steamed, turn off the flame, break the claws and place it in a serving bowl. Mix the steamed crab claws with melted butter and juice of a full lemon sprinkled over it.
Share your relishes on experiencing popular and delicious crab meat dishes from restaurants nearby using #crabmeat to post in social media.
Interesting Facts About National Crab Meat Day:
An intake of 1 cup (135g) of crabmeat  makes your system to assimilate about 131 mg of cholesterol, 533.3 mg of sodium, 349.7mg of potassium, 24g of protein, 18 g of carbohydrate, 6 g of copper, 16 g of phosphorous,12% of magnesium and calcium, 74% of cobalamin, 3 % of iron, 7% of vitamin C and 10% of vitamin B6 and many other nutrients.
Nutrition facts :
Selenium, an essential mineral that boosts immunity, metabolizes thyroid hormones, increases cognitive ability, prevents mental decline and heals cell and tissue damage. A 100 g of crabmeat provides 110% of selenium needed for men and 140% for women.
Disparate short chain omega-3 fatty acids found in veggies and nuts, crabs are rich in long chain omega-3 fatty acids, helps in fighting depression, improving eyesight.
Crab contains vitamin B2(riboflavin) that augments red blood cells production and activates central nervous system. Crab consumption increases riboflavin which in turn helps in energy production.
Crab meat is available in different grades in the US market
Mega jumbo lump also called as the colossal crabmeat is the unbroken pieces of meat taken from the two largest muscles connected to swimming legs of the blue crab.
Claw meat is the soft pink meat from the claws and swimming fins of the crab. It is used in soups for its strong flavor and juiciness.
Cocktail fingers are claws of the crab with one pincer attached to it and served with pink meat inside it. Used often to add flavor in soups.
The Oregon legislative assembly declared Dungeness crab as the 'state crustacean' based on lobbying done by school children at Sunset Primary School during the year 2009.
Listed down are the some of the varieties of crab used for its meat  in the US 
1) Dungeness Crabs have hooks on their claws that differentiates themselves from other species.
2)Stone Crabs: After acquiring the claws, Live Crabs are dropped back to the Ocean, thereby they can regrow their claws. Mainly harvested for their claw meat.
3)Snow Crabs can be spotted from Alaska to Siberia North. After mating female Crabs can carry 150,000 eggs in their abdomen.
History of Crab Meat Day:
Origin of National Crabmeat day is not known.