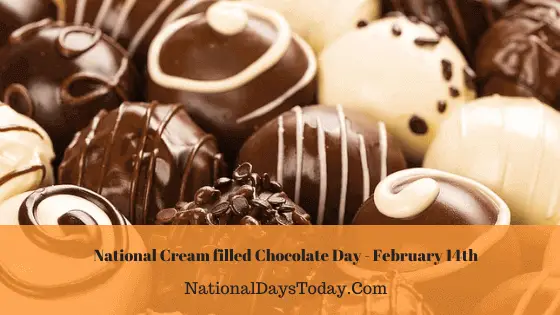 National Cream filled Chocolate Day:
Celebrated on February 14th, every year. This day is to enjoy with Cream filled Chocolate.
| | | | |
| --- | --- | --- | --- |
| Year | Date | Day | Where |
| 2023 | 14th February | Tuesday | United States |
| 2024 | 14th February | Wednesday | United States |
| 2025 | 14th February | Thursday | United States |
Twitter Hashtags:
#NationalCreamfilledChocolateDay
#CreamfilledChocolateDay
Related: Other National Days Celebrated on February 14th:
Why Cream filled Chocolate Day?
It is the day for chocolate lovers.we have loads of admiration for chocolate,i hardly found people who say no to chocolate.When i go off from my work everyday,my daughter search chocolates in my bag, despite the fact that i won't get it daily,i buy usually atleast once in a week to just see her eyes going big with a great smile on seeing the chocolates.not only children,even we love chocolates.this is the day to show our admiration.
How we can Celebrate National Cream filled Chocolate Day:
use #creamfilledchocoday to post your recipes.
HOME MADE CREAM FILLED CHOCOLATE RECIPE:
Ingredients
1 medium sized cup dark chocolate (you can either choose milk chocolate or normal dark chocolate,perhaps,taking half/half proportions of both milk chocolate/any other flavored and normal chocolate could produce different taste)
1 medium sized cup of chocolate filling.you can prepare accordingly to your taste.(milk/strawberry chocolate filling is highly preferred)
Half cup of milk chocolate or white chocolate
Sugar-1 to 2 teaspoon (you can adjust it after tasting before the preparando time)
3 teaspoon of cream (either whole or whipped,depending upon the density, you can adjust)
Preparation method:
First prepare chocolate mold and set aside,and then prepare chocolate filling .
How to prepare Chocolate Mold:
Step 1: Take the dark chocolate bar,cut into pieces and keep it aside.Take a large bowl,pour 2 cups of water and heat it on medium flame.dont boil the water at higher temperature,set it low. After it becomes warm, just place a small bowl inside the large bowl and add the chocolates pieces. let the chocolate melt and occasionally swirl it. This is to melt the chocolate.
Step 2: cool the chocolate mold for few minutes. make sure that it did not freeze. you can make into any shape , if you don't have any idea just take an ice tray, pour the cooled chocolate in each cubicle.(don't fill it, just pour only half so that it can be topped with cream and chocolate).Keep it in the freezer.
To prepare chocolate filling:
Step 1: cut the white/milk chocolate into small pieces and mix it well with the powdered sugar.
Step 2: Take a saucepan and heat the cream. mix it with the chocolate sugar mixture and heat it until it becomes smoothy and creamy. occasionally swirl it.
Or else instead of using saucepan you can follow the step 1 procedure of chocolate mold.
Step 3: cool it for few minutes. take the tray from the freezer. let it cool for 5 minutes. after that, pour the chocolate filling and top it with the remaining chocolate mold. refrigerate it for 15 minutes. if you want you can garnish with broken gems. cool it and store it in the freezer.
Enjoy the day with home made cream filled chocolates.
Interesting Facts About National Cream filled Chocolate Day:
Different creams like vanilla, chocolate, strawberry etc are being used in the preparation.
History of National Cream filled Chocolate Day:
The history of this National cream filled chocolate day is obscure.