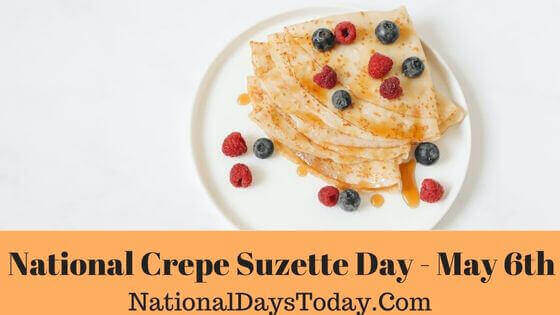 National Crepe Suzette Day:
The National Crepe Suzette Day set on the 6th of May and celebrated annually, is a special day established to celebrate the amazing, unique, and very delicious dessert that features or comes in multiple different versions.
| | | | |
| --- | --- | --- | --- |
| Year | Date | Day | Where |
| 2023 | 6th May | Saturday | United States |
| 2024 | 6th May | Monday | United States |
| 2025 | 6th May | Tuesday | United States |
Twitter Hashtags:
#NationalCrepeSuzetteDay
#CrepeSuzetteDay
Related: Other National Days Celebrated on May 6th:
Why National Crepe Suzette Day?
This remarkable day reminds people to enjoy a delicious dessert that is prepared with expertise and authenticity. The crepe Suzette can be prepared in multiple different ways and is popular for being a distinct serving that stands out from the recipes of many other desserts.
Crepe Suzette is a French dessert that features a crepe with a beurre Suzette sauce. The sauce is prepared using sugar and butter that have been caramelized. There is also orange juice and zest alongside orange liqueur. The moment fire is set upon the liqueur, the alcohol content in it evaporates to bring a thick caramelized sauce. This recipe is normally prepared in the presence of guests at the table.
As a recipe and dessert prepared for the French audience, the crepe Suzette first hit the tables in the 19th century  and is credited to the skills and expertise of Chef Henri Charpentier. This remarkable chef made the crepe Suzette after an incident of accidental preparation in the kitchen. In the course of his normal cheffery duties, Chef Henri was preparing a meal for the Prince of Wales, Prince Edwards- who was the incumbent king Edward VII at that time. Prince Edwards was also accompanied with elite guests.
Chef Henri accidentally ruined the sauce for the crepes he was expected to serve and had no time for recovery.  The decision to modify a source that he had burned was very creative of him. After tasting and noticing the unique and delicious blend of tastes, this talented chef decided to serve it as dessert naming it Crepes Princesse.
The prince however did not connect with the name given to that dessert and protested against it, an action that drove Chef Henri Charpentier to change its name to Suzette. Suzette was a name chosen to honor one of the lady guests that were in attendance at that gathering.
Later, Charpentier moved to America and worked as a personal chef for the renowned John D. Rockefeller. Chef Henri also has history learning under the renowned Auguste Escoffier, a popular chef associated with many remarkable dishes and recipes.
How we can observe National Crepe Suzette Day:
There are multiple ways through which we can celebrate or observe the National Crepe Suzette Day, among them include:
Hold a Crepe Suzette preparation session
The most basic way to observe and celebrate this amazing day is to organize for a Crepe Suzette-making session at home with your family or friends. You can thereafter jointly share the dessert as a family.
Bring Crepe Suzette to work or school
In case you are a student, you can prepare the Crepe Suzette at home with your parents or siblings and bring it to school to share with your friends and classmates. On the other hand, adults can also bring Crepe Suzette to work and share with colleagues and clients. Doing so would go a long way in preserving the tradition and ensuring that it is never forgotten.
Schedule a Crepe Suzette-making competition.
This day can also be observed by engaging in a Crepe Suzette-making competition and thereafter share the dessert to determine whose preparation is best. The winner can take a rewarding home.
Posting on social media under the #NationalCrepeSuzetteDay will also achieve much in raising awareness about this day. You can post on Facebook, Instagram, or even tweet about it with the intention to spread the word about the significance of this day.
Interesting facts about National Crepe Suzette Day:
Some of the most interesting facts about this amazing day include:
Suzette first hit the tables in the 19th century when Chef Henri was serving Edward VII, the Prince of Wales.
The dessert was named after one of the guests at the table- Suzette
Crepe Suzette is a French dessert consisting of a crepe with beurre Suzette, a sauce of caramelized sugar and butter, tangerine or orange juice, zest, and Grand Marnier or orange Curacao liqueur on top served flambe.
History of National Crepe Suzette Day:
The history of this remarkable day remains a mystery, as there is no one who has claimed credit for it so far. Even so, research is still ongoing to find out who came forward to propose the National Crepe Suzette Day as a national day.