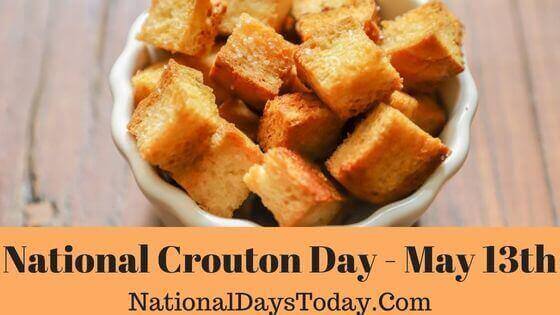 National Crouton Day: 
Celebrated on May 13th, National Crouton Day recognizes a tasty and mouth-watering topping infused with flavors! Whether you'd like to enjoy them in your soups, salads, or as a snack is totally up to you! Join us as we explore these little re-baked goodness!
| | | | |
| --- | --- | --- | --- |
| Year | Date | Day | Where |
| 2023 | 13th May | Saturday | United States |
| 2024 | 13th May | Monday | United States |
| 2025 | 13th May | Tuesday | United States |
Twitter Hashtags:
#NationalCroutonDay
#CroutonDay
Related: Other National Days Celebrated on May 13th:
Why Crouton Day? 
It's always good to know the reason for the celebration. The word croissant is derived from the French word croûte, which means crust.
When it's about bread, France is the first country that comes to mind. To use up leftover stale bread, people have been making a type of croutons since the Middle Ages. Stale bread is used in many dishes. It is used for soups mostly. It is believed that in the 17th century, croutons first showed up in France, which were alluded to as bread crusts that were cut into small pieces and were served with drinks initially.
These small cubes of bread have a versatile fictional tale. Once upon a time, there lived a wretched knight-turned diplomat, Sir Edgar Crouton. He was a French diplomat posted to England, even though not a single soul knew how he ended up in that job. Sir Edgar usually dined with the king. He was ill-mannered and never thought about being conscientious around the king. On one casual evening, while he was dining with the king of England himself, as he usually dines with the king as a diplomat, Sir Edgar was served with soup and bread. Since he was ill-mannered by nature, he first grasped the toasted bread even before the king could put his hand on the food. In his haste, while grasping the bread, he accidentally dropped a few pieces into the soup and could not help but drink the soup with the bread pieces as the kind and other dignitaries were watching him. In haste, he devoured everything together, soup and bread. To his wonder, it turned out to be delicious. Sir Edgar Crouton wanted to name the new dish, and he decided to name the dish after him.
The crunchy croutons have ever since captured the hearts of all people. Who doesn't like some crunch? And they are easy to make, share and include in celebrations! It's a delightful and economical way to put the leftover bread to good use!
The etymology of Croutons is a reminder of how we as people have been connected via food!
Now that you know about the history and reasons to celebrate, don't stop there? Let's celebrate this humble dish with great joy!
How can we celebrate National Crouton Day? 
Get creative with your own variation of croutons.
Try the classic way by using it as a topping for your salad. Not a salad person? No worries, you can eat it with pudding or soup. You can add your own twist by adding your favorite seasonings. If you want to try something new, toss it with caramel sauce and eat it with ice cream.
There are a variety of crouton flavors available than you can imagine! Celebrate by exploring a few new flavors today!
Have a crouton-themed party!
Organize a crouton-themed party. Get together with your friends and family and get creative with multiple crunchy variations of croutons. Encourage your guests to come with their own versions of croutons and enjoy them as a community.
Share some croutons with the less fortunate.
You can buy some or cook extra croutons and donate them to some non-profit organization so that many who are dependent on them will get to enjoy some delicious croutons.
Celebrate the day by sharing your crunchy crouton ideas on your social media pages! Use #NatianalCroutonDay and #CroutonDay to post your recipes and videos today!
Interesting Facts About National Croutons Day: 
Here are some facts about croutons that will make this humble dish more interesting!
Croutons are bread crusts, and there is not much difference between croutons and bread crumbs.
Croutons can be eaten as snacks as well.
Croutons are not vegan as eggs and milk are added while preparing the croutons.
Adding croutons to your diet salad won't be helpful as croutons contain fat and calories.
Croutons are consumed 1.27 times every year on average in the USA.
Croutons are used a lot in Thanksgiving dishes.
The French word Croute, which in English is called a Crouton, was inspired by the Latin word C.
History of National Crouton Day: 
In February 2015, a family-owned American company, Rothbury Farms, founded National Crouton Day! This humble dish is celebrated across the USA as a fun food holiday!