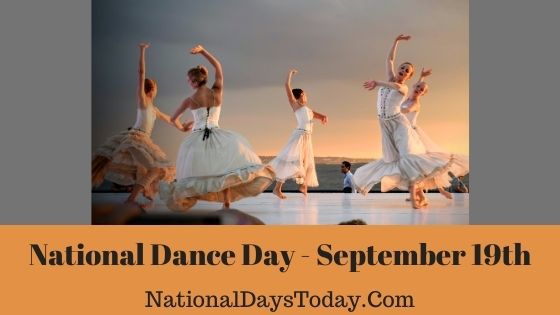 National Dance Day:
Every year on 19th September is celebrated as National Dance Day in the United States. At this day, get on to the dance floor to experience the feather-like feel and joy that dancing gives.
| | | | |
| --- | --- | --- | --- |
| Year | Date | Day | Where |
| 2023 | 19th September | Tuesday | United States |
| 2024 | 19th September | Thursday | United States |
| 2025 | 19th September | Friday | United States |
Twitter Hashtags:
#NationalDanceDay
#DanceDay
Related: Other National Days Celebrated on September 19th:
National Butterscotch Pudding Day
Why National Dance Day?
Dance day is celebrated to appreciate the art of dance which is considered as a useful exercise and fun-filled passion for many people. Not only it acts as cardiovascular exercise but it also had various health benefits like weight management, flexibility, and strength, etc. Dance is not age-restricted so anyone can dance. On this day let all your worries out, just get up and dance to the rhythm of the music to help you boost your mood to happy and healthy.
How Can We Observe Dance Day?
Let us observe some of the worldwide famous dance styles on this day and know more about it.
Ballet – Ballet was created during the fifteenth century of the Italian Renaissance and later its popularity arises in countries like Russia and France. Ballet dance has a high technical form influenced globally and also used in various dance genres and styles. It's style has varied and developed over time. There are various styles like Classic ballet, Romantic Ballet, Neoclassical ballet, Contemporary ballet, etc.
Salsa – Salsa is considered as a Latin Dance which has the same genre of Latin music. It is originated in New York but later gained its popularity with the alloy of Cuban dance. It goes best with the Mambo, Rumba, and Pachanga which also made the salsa famous.
Tap Dance – Tap is different from other dance styles. It focuses on Tap shoes to dance the rhythm instead of body movements or dancing partner. The various styles of tap dance is Classical, Broadway, and Rhythm (Jazz). Rhythm focus on musical notes which is considered as a part of traditional Jazz.
Hip hop – Hip hop evolved as a culture when people started dancing to hip hop music. The dance crew made it widely popular around the United States which includes breakdancing style. The industry of dance often refers it as 'new style'. Hip-hop which includes jazz is called Jazz dance. Hip-hop is performed both in studios and outside spaces.
Folk Dance – Folk dance is around evolved around the Middle East and Asia. It is developed to reflect a certain region of Religion. It is also referred to as ethnic dance but not all the folk dance is considered as ethnic dance. Folk dance is performed for family gatherings and functions for traditional music or to perform on stage at a function.
Breakdance – BreakDance is a kind of athletic style dance which is often referred to as b-boying or b-girling. It is danced to music like drum breaks, funk, Breakbeat or Hip-hop. It consists of four movements freezes, top rock, down rock, and power moves. BreakDance comes under a part of hip-hop.
Few Tips for dancing:
If you are above 40 years, seek a medical advice to kickstart your interest.
Drink water before, after, and during dancing.
Before you dance ,do some stretches, or warm ups to make sure you're ready for the dance session
Use appropriate shoes or clothes to make sure you are comfortable during dancing.
After dance, rest down as much as you need.
Ways to celebrate Dance day:
Join a class to dance along with your friends or family.
Watch a dance performance. There are lots of communities that organize a performance.
There are so many good dance movies to watch. Don't miss a film that lightens your mood.
Donate what you can do to the dance organization.
If you want to post about today, use the #NationalDanceDay to share it on the social media platform.
Interesting Facts About Dance Day:
Originally, this day was celebrated in July. But it is moved from September because of the collaboration of national dance day team with AHA (American Heart Association) for bringing a new perspective on goodness for health due to dancing.
Dancing helps to improve your heart's condition, promotes Aerobatic fitness, increase in muscular strength, paves a way to weight balance, improving physical and mental conditions, aids in improving self-confidence, social skills, and so on.
There are many foundations and communities for old people to learn dancing. Because a research says that dance helps the old people not only to improve muscle function but also improves cardiovascular health which is much need for old adults.
Around the world, there are various dance styles which we all will amazed by them. Every country has its traditional dance style and also the common style of dance which adopted from some other countries.
History Of Dance Day:
This national dance day was founded by Nigel Lythgoe,  the co-creator of  programs named "The American Dance Movement" and "So You Think You Can Dance".