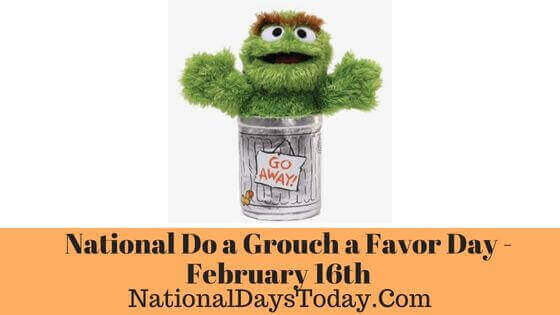 National Do a Grouch a Favor Day:
Each year, the National Do a Grouch a Favor Day is celebrated on the 16th of February. You would think we do it happily, but that kind of defeats the purpose does it not?
| | | | |
| --- | --- | --- | --- |
| Year | Date | Day | Where |
| 2023 | 16th February | Thursday | United States |
| 2024 | 16th February | Friday | United States |
| 2025 | 16th February | Sunday | United States |
Twitter Hashtags:
#NationalDoAGrouchAFavorDay
#DoAGrouchAFavorDay
Related: Other National Days Celebrated on February 16th:
Why National Do a Grouch a Favor Day?
Let me be honest with you. I have no idea, no clue at all. You see, nothing about this day has been recorded, but I like to believe it was a Squidward fan who came up with helping a grouch. Someone out there who looked at the grouches just having a bad time or the permanent grouches and thought, "we need to make his day better if we want to survive."
At this point, you are probably thinking, what is wrong with the writer! You are also wondering if there is a point to this holiday. Let me assure you, there is. How many times have you had simply a bad day, and everything annoys you. You go crazy with anger and irritation at the tiniest of things. Have you ever wished something would turn your day around, but nothing really does?
That is the spirit of the day. You go out of your way and make it a day less filthy for those who feel this way on a regular. You take away a little bit of their unhappiness and replace it with just a little sparkle, and it does not even take as much effort as you believe.
Besides, we have all been a grouch at least once or twice, if not always, and there has always been someone to help us understand that we are not alone, that the annoyance comes to an end, and everything goes back to normal. It is about time we do that for someone. Granted, we do not need a specific day to help people out; we can do it any day. But giving it a name makes us realize that it has greater importance than what is let on.
How Can We Observe National Do a Grouch a Favor Day:
This is the best and the easiest way to celebrate them. Just listen to their grumblings, or maybe even add your own. Who knows, maybe after this little task, you will understand why they are the way they are. Maybe you will even find something common to be grumpy about!
Get them a little something.
Are they fresh out of stapler pins? Do they need a new notebook or pen or a pair of scissors? Go out and get it for them. If that does not feel personal, bake them a bunch of cookies and get them dinner. Food is never the wrong answer.
If you know a grouch who knows they are grouchy, this activity is perfect. Let them know they are your favorite grouch. Click pictures of yourself together and post them over social media with the hashtags #NationalDoaGrouchaFavorDay #DoaGrouchaFavorDay. While we are at it, also watch a bit of Squidward's best moments.
Interesting Facts on National Do a Grouch a Favor Day:
Here are some wonderful facts about grouches for you. Remember, do not smile!
Grouchiness is not inherently bad. Most children feel it in the form of frustrations, while adults get out of control. Grouchiness in itself is not bad or evil, but the effects caused by it need to be kept in check.
Humor diffuses grouchiness. Once you know what exactly causes the grumpiness, a joke or two can easily console and convince a person otherwise.
When in their most relaxed state, grouches are just as happy as most other people. Grouchiness is caused due to stress, frustration, and sadness.
Grouches are wonderful in crisis. This is primarily because they already expect the worst, and so they know exactly how to react in such situations.
It is very easy to make a grouch happy. Even the littlest positive things bring them joy since they do not expect them.
History of National Do a Grouch a Favor Day:
You see, the origins and the founders of the day remain unknown. This day is celebrated on 16 February, and this is in order to be kind to grouches and make them feel special, even if it is only for a day.