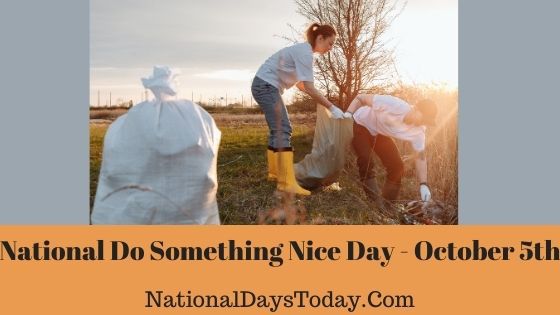 National Do Something Nice Day:
National Do Something Nice Day is observed on 5th October. It is celebrated to make people reflect on kindness and to encourage them to do more acts of kindness.
| | | | |
| --- | --- | --- | --- |
| Year | Date | Day | Where |
| 2023 | 5th October | Thursday | United States |
| 2024 | 5th October | Saturday | United States |
| 2025 | 5th October | Sunday | United States |
Twitter Hashtags:
#NationalDoSomethingNiceDay
#DoSomethingNiceDay
Related: Other National Days Celebrated on October 5th:
Why National Do Something Nice Day?
Humans are social creatures, and kindness is one of our most important virtues. Kindness helps us to lift each other up and to progress as a whole.  It is something that can be taught, and it has to be demonstrated. If our children watch us being kind, they are going to grow up to be kind individuals as well. National do something nice day reminds us to continue doing good deeds to be good humans and be good role models for the coming generation. This day is going to provide you peace and help to someone who might really need it.
How can we observe National Do Something Nice Day?
Donate for a cause
Donating can be the easiest and yet the most difficult way of doing something nice, depending on your financial situation. It is definitely not easy to let go of your hard-earned and well-deserved money. But everyone can contribute their bit without breaking the bank. Donations can be made with a small amount as well. We have to remember that it's the thought that counts. Even small donations add up when it comes to making a difference. You can donate by selecting which cause you to donate; once that is done, you can choose which organization to donate to; it is always preferred if you donate to organizations that are close. It makes it easier to keep a tab on the organization. The most important aspect while selecting where to donate is to check the legitimacy of the organization you plan on donating to. There are a number of scams that are being run in the name of donations. A good rule of thumb is to always look for accredited organizations.
Volunteer
Volunteering can be done irrespective of your financial status, and this means you can make a difference without spending a penny! It helps you to connect with the community and make it better for everyone. The more time you spend as a volunteer, the more time you will dedicate to making new friends, forming bonds, working on your social skills, and networking skills. Volunteering also gives you immense self-satisfaction; when you can physically see your work making a difference, it puts a broad smile on your face and fills your heart with satisfaction and bliss.
By calling an old friend and checking up on him/her
In this day and age, it is possible to communicate with anyone we want in a matter of seconds, but the irony is that no one is willing to spend even those few seconds talking. As a result, loneliness is at an all time high; calling an old friend and letting them know that you still think of them from time to time may brighten their day. It can also make you immensely happy, reminiscing on the old times and reflecting upon how far you've come.
Visiting your parents
The people who gave birth to us will always have a special place in our hearts no matter what happens; truly, blood is thicker than water. Visiting your parents assures them that their kids are still looking out for them. You can also take this visit as an escape and pretend that you are still the naïve kid you once were.
Doing little god deeds like complimenting a friend, buying a meal for a person in need, tip a little extra to the attendant who is serving you, all these deeds require little to no effort, yet they can make someone's whole day and restore his/her faith in humanity.
While doing all these acts of kindness, you can click pictures and post them on social media using the #nationaldosomethingniceday
Interesting facts on National Do Something Nice Day:
Kindness is contagious, and it spreads: Research at Stanford social Neuroscience suggests that kindness does spread from person to person. An example of it may be the fact that a child who watches his parents being kind is likely to follow their footsteps and, in turn, become a kind individual as well.
Kindness helps you to be more socially accepted and helps you to be well.
Kindness was observed to positively affect the social acceptance of school-going children of the ages between nine years to eleven years; this showed that doing random actions involving kindness can improve well being and acceptance among the peer group.
Kindness can lead to happiness as performing acts of kindness does result in the release of serotonin in the brain; it is the chemical. It is directly responsible for an individual's happiness and satisfaction. But to feel these effects in the long term, consistent efforts in kindness are necessary.
History of Do Something Nice Day:
As of now, not much information is available on the history of Do Something Nice Day.