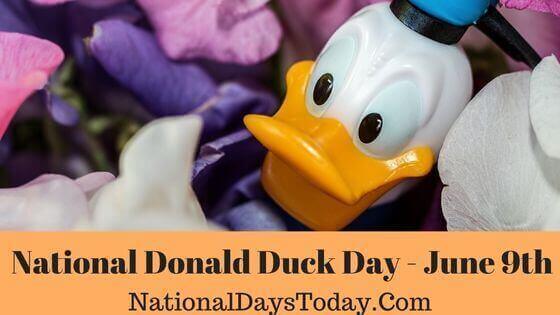 National Donald Duck Day:
Celebrating one of the most famous Disney characters, the Donald Duck, National Donald Duck Day is celebrated on the 9th of June every year.
| | | | |
| --- | --- | --- | --- |
| Year | Date | Day | Where |
| 2023 | 9th June | Friday | United States |
| 2024 | 9th June | Sunday | United States |
| 2025 | 9th June | Monday | United States |
Twitter Hashtags:
#NationalDonaldDuckDay
#DonaldDuckDay
Related: Other National Days Celebrated on June 9th:
National Strawberry Rhubarb Pie Day
Why National Donald Duck Day?
When we think of cartoons, we cannot help but think about the Disney creations, and then Donald Duck will flit across our minds. The voice of the character has been imitated by so many in these years and is one of the most popular characters to have lighted the cartoon industry. Apart from the interesting voice, the character is also famous for its representation of the famous Peking Duck. While the actual Peking Duck became popular not until the year 1873, the accent of Donald Duck can bring out laughter any day. If that is not enough to celebrate the character, there is also the image of Scrooge McDuck swimming through money which can make your day. All this and much more warrants a celebration of the birthday of this ingenious cartoon character and that is why we all would love to celebrate this day.
How can we celebrate National Donald Duck Day?
If it is a celebration of cartoons, there are many ways to do it. However, we have a few ways here for you to enjoy this national day and make it an occasion of joy and fun.
You would be surprised pleasantly to know that there are more than 200 movies made with Donald Duck as the main character. This could be the day where you would want to indulge in more than one of them.
If you are not a lover of movies but would prefer a book, then you can indulge in a multitude of comics featuring Donald Duck. The Carl Barks drawing of this character is something that will bring back your childhood days.
If you are the partying kind, then you can have a party with a theme dedicated to the famous character of Donald Duck. A simple ensemble of sailor hats with a red tie would be enough to bring about the right merriment. And if you want to simplify there are always Donald Duck Tshirts that can replace the costume party.
Another way to enjoy the Donald Duck birthday is to spend time in the nearby Disney World or Disneyland. There will be mascots of all characters including Donald Duck and it would be a good day to click some pictures with this popular character and create a memory forever.
Share your thoughts and spread awareness about this day on social media with #NationalDonaldDuckDay.
Interesting facts about National Donald Duck Day:
The character of Donald Duck has a long history dating back to its origin in 1934. Here are some other interesting facts about this day and Donald Duck for you to mull over on this day.
While Mickey Mouse is the first of the creations of Walt Disney, in the 1940s, the character of Donald Duck bypassed Mickey with more than 128 short animation videos to its credit.
There was a brief period after Walt Disney's death when the character did not make an appearance and was later revived in 1983.
Donald Duck was featured in "Der Fuehrer's Face" which won an academy award for animation in 1943.
It was in 1953 when the character of Daisy Duck was introduced as the girlfriend of Donald Duck.
The character is banned in Finland for lack of pants in the character's outfit in the year 1978.
A star was awarded to Donald Duck in the Hollywood Walk of Fame in the year 2004.
"Don Donald" was a short film that increased the popularity of Donald Duck on the silver screen and in this film, he tries to win the heart of Donna Duck.
The full name of Donald Duck is Donald Fauntleroy Duck as mentioned in the short film of 1942 "Donald gets drafted".
History of National Donald Duck Day:
It was the celebration of the 50th birthday of this legendary cartoon character that the National Donald Duck Day was proclaimed. It was by the Mayor of Los Angeles Tom Bradley who declared the celebration of this day and in return, the city got a silver statue of Donald Duck to adorn the place. As for the history of the Donald Duck, we all know that it is one of the earliest characters created by Walt Disney in the year 1934 on June 9th.