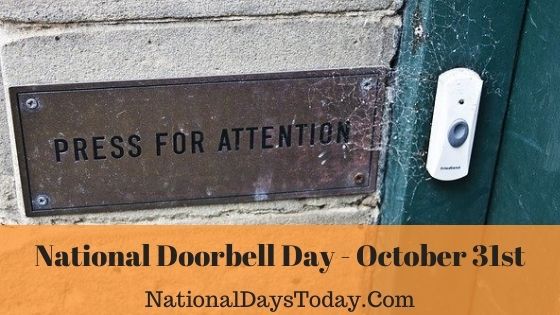 National Doorbell Day:
Every year, National Doorbell Day is celebrated on 31st October and was started in the year 2017. It is celebrated as the doorbells ring more than ever on that day as children dress up for Halloween and go for trick or treat.
| | | | |
| --- | --- | --- | --- |
| Year | Date | Day | Where |
| 2023 | 31st October | Tuesday | United States |
| 2024 | 31st October | Thursday | United States |
| 2025 | 31st October | Friday | United States |
Twitter Hashtags:
#NationalDoorbellDay
#DoorbellDay
Related: Other National Days Celebrated on October 31st:
National Knock-knock Jokes Day
Why National Doorbell Day?
Honestly, it's weird how a day like this exists and is being celebrated. Doorbells are something common in everyone's house, and whenever it rings, it marks the arrival of a guest. It's a sign of someone at the door, and well, you have either let them in or meet them. If you're waiting for someone, its sound will bring you happiness, but at the same time, if you're sleeping and you hear your doorbell ring, well, god have mercy on them!
Before doorbells were invented, people used to use door knockers and bells, which they used to hang on their front door. The noise created by them is used to alert the people about the guests' arrival.
Doorbells today have changed a lot. Technology has transformed them into a different kind. The first doorbell was invented in 1817 by William Murdoch, a Scottish inventor. He made several innovations and used them around his house in Birmingham. One of his innovations was a loud doorbell by using a piped system of compressed air.
After this, in 1831, Joseph Henry, an American scientist, came up with the electric doorbell. Unlike the loud doorbell, this could ring at a distance via an electric wire. This invention ultimately became a product that was present at every house by the early 1900s.
In the early 1930s, electric door chimes became a must with houses. They used to work by hard-wiring the outdoor button with a transformer and chime or bell inside the home. In this, the guests had to push a button to let the people inside the house know they've come.
Then came the wireless doorbells, which are still popular and used around the world.
Musical doorbells can be considered as a part of wireless doorbells and are adopted as well.
National Doorbell Day came into the picture to celebrate the innovative development of the first-ever melodious door chime invented by J.Ralph Corbett during the Great Depression. J. Ralph Corbett was a local philanthropist who manufactured electric doorbells and died while fighting a long illness. This day marks the replacement of buzzers and knockers via melodious door chimes. NuTone founded this day to celebrate J Ralph Corbett's invention and NuTone Knock, their revolutionary video doorbell. With this doorbell's help, homeowners could see and talk to visitors from anywhere in the world using their smartphones. With integrated motion activation and night vision, it helps the homeowners be aware when any person is at your door and have peace of mind that their home is secure and safe. This means checking in on the house while on vacation or ensuring ghosts, vampires and witches are not taking more than one piece from the doorstep candy bucket while you relax at a neighbors' trick-or-treat cider stop down the street.
One might wonder why this day is celebrated on 31st October, i.e., Halloween? Well, it is due to Halloween. More than 41 million American children kids dress up and go from house to house and ring its doorbell for trick or treat. This day marks the maximum number of times and houses the doorbell rings. This day helps in connecting children with families down the street.
How Can We Observe National Doorbell Day?
You can engage in this by creating riddles or tongue twisters and play those with your visitors. It could be anything from a trivia question to trying to guess the password to ultimately be let inside.
With every visitor ring, jingle, chime, etc., celebrate the day with him/her.
Share posts with your visitors on your social media platforms to celebrate it to the fullest. Use hashtags #NationalDoorbellDay #DoorbellDay everywhere!
Interesting Facts On National Doorbell Day:
Here are some amazing facts for you to enjoy today –
National Doorbell Day is celebrated to celebrate the innovation of doorbells and remind people to add a layer of security to their houses.
In Paraguay, houses do not have doorbells; instead, the visitors clap to let the homeowners know about them.
Before electrical doorbells were invented, large estates and homes made complex mechanical systems to allow a resident of any room to pull a bell and ring a bell at a central bell panel in the staff quarters in order to summon a servant.
With the growth of the Internet of Things in the 2010s, several internet-connected bell system, known as smart doorbells, have appeared on the market. 
History of National Doorbell Day:
The National Doorbell Day was founded by NuTone™ on October 17th, 2017, and is celebrated every year with Halloween on 31st October. It is celebrated to mark the innovation of the doorbell by J.Ralph Corbett during the Great Depression.