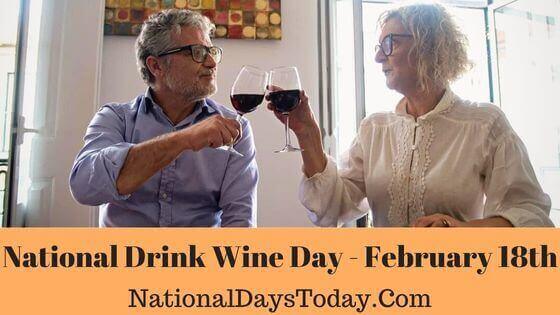 National Drink Wine Day:
National Drink Wine Day on 18th Feb is an undisputed highlight of the calendar for anyone from wine connoisseurs to casual fans who enjoy the occasional bottle at a restaurant or on a night out with friends.
| | | | |
| --- | --- | --- | --- |
| Year | Date | Day | Where |
| 2023 | 18th February | Saturday | United States |
| 2024 | 18th February | Sunday | United States |
| 2025 | 18th February | Tuesday | United States |
Twitter Hashtags:
#NationalDrinkWineDay
#DrinkWineDay
Related: Other National Days Celebrated on February 18th:
National Crab Stuffed Flounder Day
Why National Drink Wine Day?
As the name implies, Drink Wine Day is a day dedicated to the celebration of wine, which involves the consumption of wine. Its aim isn't to leave participants with the mother of all hangovers on Drink Wine Day +1 or to leave millions of people stumbling around bars after losing self-control. On this day, more than any other, wine should be consumed responsibly.
The annual festival is an opportunity to reflect on wine's many benefits and its historical and cultural significance. This day is symbolic for giving importance to social aspects of your life, so spend it with friends and family. After all, nothing beats sharing a bottle of fine wine with friends while enjoying a good time.
For many, it's not just a wine day; it's a Wine AND Dine day. However, wine (especially red wine) is widely regarded as an aphrodisiac. As a result, there is no need for the dining section. Besides the relaxing properties, attendees will benefit from other aspects of the day's festivities, such as improved social events, soothing the mind, lowering the risk of heart disease, and providing the perfect complement to various dishes. There's also the fact that it delights your taste buds.
Wine is one of life's little pleasures that should be savored on a far more frequent basis than once a year. Nonetheless, Drink Wine Day is a unique opportunity for millions of people to lift a glass to the benefits of wine while also paying tribute to previous generations of winemakers.
How Can we celebrate National Drink Wine Day:
"Wine is one of the most civilized and natural things in the world, and that has been brought to the highest perfection, and it provides a greater range of pleasure and affection than, probably, any other strictly sensory thing," Ernest Hemingway once said.
As a result, it would be imprudent to let the day pass without a lavish celebration.
Wine is a beverage that millions of people regularly consume (in moderation). Many others enjoy a few bottles of wine on the weekends or once a month on a night out.National Drink Wine Day is a chance to do something special, regardless of your regular relationship with wine. Opt for a zesty Bordeaux or luxury Pinot Grigio instead of the regular budget white or red. A special drink is required for special occasions.
When indulging their senses with a few wines, participants should rest assured that they have appeased the gods. Or, at the very least, Dionysus (Bacchus in Roman mythology), the god of revelry, wine, theatre, and ecstasy. That sounds like the right kind of god, even to those who aren't religious. Make sure you remember him onthis day.
The parties on National Drink Wine Day aren't intended to get people drunk beyond social levels. A dinner party is an ideal place to enjoy great wine and even better conversation because it's a time to be enjoyed with friends. Couples can also benefit from the aphrodisiac properties by spending a night together. In any case, the right wine will boost the evening's entertainment while also encouraging good health and the many other benefits that the beverage has to bring.
Share which is your favorite wine and its benefits on this day by posting it on social media using the hashtag #NationalDrinkWineDay.
Interesting facts About National Drink Wine Day:
A Persian princess who had lost the king's favor wanted to end it all by eating a jar of rotten grapes. Instead of dying, she began to feel much better. Her new cheerful demeanor so took the king that he welcomed her back into his good graces.
The forefathers cheersed each other with glasses of Madeira after signing the Declaration of Independence.
The Titanic houses the world's oldest wine cellar, and yes, the bottles are still intact.
In 1769, Franciscan missionary Father Junipero Serra planted the first wine grapes in California, known as the Mission grape.
Wine is usually made from grapes, but in some parts of the world, it is popularly made from rose petals, pumpkins, chocolate.
Snake wine is a concoction made by infusing whole snakes in rice wine or grain alcohol and served in China, Vietnam, and other parts of Southeast Asia. The drink was once thought to be a panacea for all ailments.
History of National Drink Wine Day:
Wine's origins can be traced back over 8,000 years to winemakers in what is now Georgia's Eurasian region. Since then, alcohol has played an essential role in society and has been consumed in all four corners of the globe for many centuries. Europeans and Italians in the Balkans all have long histories of winemaking, while China produced similar alcoholic drinks as early as 7,000BC.
As a result, fans have celebrated wine for decades, and it is often consumed as part of a meal or to improve social occasions. In reality, the average adult uses 45.6 gallons of the stuff per year, which equates to 20 miles per gallon compared to the 900 miles that the average person walks each year.
Nowadays, nearly 20 million acres of the earth's surface are dedicated to grape farming for wine fermentation. Orange, white, sparkling, rose, mead, fruit wine, and dessert wine come in thousands of brands and varieties, many of which are readily available. In addition, the enjoyment of drinking wine is inextricably linked to human culture. Fans of Diane Chambers, Sam Malone, and the rest of the fictional gang in Boston, Massachusetts, may be shocked to learn that the practice of tapping glasses to say "cheers" goes back to the Ancient Romans.
Drink Wine Day is a much more recent addition, but it has now been around for a decade. It offers a formal and structured time to celebrate all that is good about alcohol, such as lowering the risk of liver disease, type II diabetes, stroke, and certain cancers, as well as being trapped at the bar with someone who will bore you to tears.
The annual event has grown in popularity rapidly, visiting new locations and attracting a more comprehensive range of demographics each year. Given the universal appeal of the beverage, it's only average.