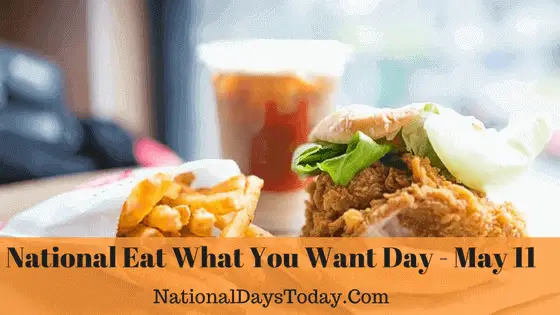 National Eat What You Want Day:
Celebrated on May 11th every year. The day is observed to help us to relieve just one day in a year from the frustrated diet we followed for a prolonged period of time.
| | | | |
| --- | --- | --- | --- |
| Year | Date | Day | Where |
| 2023 | 11th May | Thursday | United States |
| 2024 | 11th May | Saturday | United States |
| 2025 | 11th May | Sunday | United States |
Twitter Hashtags:
#NationalEatWhatYouWantDay
#EatWhatYouWantDay
#YoutooWant?
Related: Other National Days Celebrated on May 11th:
Why Eat What You Want Day?
This day is observed to help us to relieve just one day in a year from the frustrated diet we followed for a prolonged period of time. In fact, several nutrition agreed on this and prescribe the same to their patients. Not only the diet, the price is an equivalent concern for us. At times, we love to eat something, however, we rarely order due to the price tag. This day is to order what we love to eat, regardless of the price. Nothing is going to happen if we spend to eat only a day in a year for what we love to eat. This Eat What You Want day is created to eat what we desire. Eat whatever you want.
Eat cookies, candy, ice creams, fast food dishes, fries, pizza, a burger without minding your diet or health. Many nutrition even suggests that "break this for a while" protocol is really a good approach for your frustration since adjustments in food to avoid health issues normally leads to depression. so having whatever we want for a single day in a year would definitely be a relaxation for mind no matter about the future impact on body health. Whatever it is, our health would become normal within 2 or 3 days and the immune system does the job at the right time.
How we can Celebrate or Observe National Eat What You Want Day:
Celebrating this day is very simple. Just eat whatever you love. Go to some fine restaurant, have what you desire and post your pictures using this hashtag #YoutooWant? on social media. Just use this hashtag #FineRestaurants and post the restaurant address if you find it good and valuable for what you paid. Try to have a new variety of dishes today and post the same dish name using this hashtag #UnknownDishes so that others might have a try. Just post an unpopular recipe using this hashtag #UnpopularRecipes.
A Quick Recipe For Eat What You Want Day:
And here is a. Pizza recipe for you. Just have a try at home.
Step 1: Take 2 cups of warm water. Add 2 teaspoons of yeast.
Step 2: Take a cup of wheat flour, add salt and yeast mixed water.
Step3: Stir well and knead the dough and sprinkle olive oil.
Step4: Keep it in a tightly closed container and leave it for two hours. Finally, the pizza base is ready.
Step 5: Flatten and roll the dough into a round shaped structure, place it on a pan and sprinkle some more olive oil.
Step 6: Spread the Tomato Sauce, you can use the readymade sauce or prepare it. Preparation of tomato sauce is pretty simple.
Step 7: Blanch the tomatoes and chop it. Take a pan and heat oil and fry the tomatoes. Add chopped garlic and 2 tablespoons of red wine, cook it for 5 minutes and the sauce is ready.
Step 8: After spreading the sauce. spread the mayonnaise.
Step 9: Spread Vegetable oil, Olives, baby corn, you can add any number of vegetables or chicken as you wish.
Step 10: Spread a layer of heated Cheese.
Step 11: Sprinkle the seeds of red chilies.
Step 12: Oven it for 2 minutes. Cut into pieces and serve hot with Tomato Sauce and chili sauce.
History of Eat What You Want Day:
Eat What You Want Day is created by the Thomas and Ruth Roy, Coordinator of Wellcate.com, A site which provides information regarding various herbs. Perhaps, it features all the herb products and helps in providing information on terms of Medical, Mystical, Culinary uses of all the herbs.