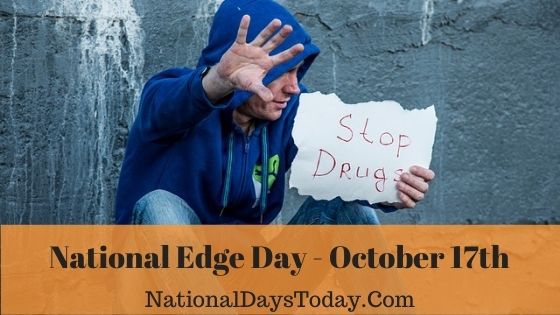 National Edge Day:
The National Edge Day is a celebration that is conducted on October 17th. The day is set aside to caution young people against drug abuse.
| | | | |
| --- | --- | --- | --- |
| Year | Date | Day | Where |
| 2023 | 17th October | Tuesday | United States |
| 2024 | 17th October | Thursday | United States |
| 2025 | 17th October | Friday | United States |
Twitter Hashtags:
#NationalEdgeDay
#EdgeDay
Related: Other National Days Celebrated on October 17th:
Why National Edge Day?
The main purpose of the National Edge Day is to caution youths against using drugs such as tobacco, alcohol, and narcotics. During this day, youths are brought together and urged to pledge against using these drugs, as they can be harmful to their health. The Straight Edge Movement is the mastermind behind the celebrations and their main aim is to caution young people against drugs, unhealthy foods and to abstain from recreational sex. Besides this, the day is also commemorated to celebrate the youths who have chosen to live responsible and healthy lifestyles. They are offered support and encouraged to continue following the paths that they have chosen without feeling as if they are dull and without being victimized against it.
How can we Observe National Edge Day?
You can take part in the celebrations for the National Edge Day by doing the following:
One of the things that you can do to observe this celebration is by sharing your experiences with drugs and how using them affected your life. You can share your experience with your friends and family and let them know when you knew that you had to turn on a new leaf. Describe how choosing to live a healthy and responsible life has been beneficial. You can also share the details on how you have been living your 'straight edge' life and the things you have been doing to make sure that you do not go back to your past life.
Start your 'Straight Edge' journey
If you have been looking for the perfect day for you to start leaving a clean lifestyle, then you should pick the National Edge Day. By choosing this as the day when you stop using drugs, you will be walking the journey with many other people. You can also choose a friend or a family member who is also willing to participate in the movement and you can walk the journey together, and this makes it even easier for you.
There are many events that are organized on this day. One of the things that you can do when celebrating this day is to participate in a local event that encourages young people to live healthy and responsible lives.
Show your participation via social media
You can also seize the opportunity that this day presents and celebrate with many people around the world via social media. On your social media platforms, you can share how your journey of living a 'straight edge' life has been as well as the benefits you have realized from it. You can also urge other youths to refrain from using drugs and from participating in recreational sex. You can use the hashtag #NationalEdgeDay and #EdgeDay to urge people to participate in the day.
Interesting Facts about National Edge Day:
Some of the most interesting facts about National Edge Day and living a healthy lifestyle include the following:
One of the symbols that are used during the celebrations for this day is 'X". This symbol signifies the 'straight edge' life. It is usually printed in bands and T-shirts on this day.
Living a straight edge life is healthy because it makes sure that you are able to fully control your body and mind in order to achieve full productivity.
Living a straight edge life helps you to save money. Buying drugs, alcohol and going to parties every can be very expensive. However, by removing these things from your life, you will have money to spare.
History of National Edge Day:
In 1981, a popular band decided to go straight edge by releasing the song that was titled 'Straight Edge'. The title of the song was then adopted to signify refraining from drugs and other irresponsible behaviors. In 1999, the Straight Edge movement was born and it set aside October 17th as the day when they would celebrate youths who decide to avoid the use of drugs. The first event for this day was held in Boston, Massachusetts and it was named the 'Edge Fest'. Since then, this day has been marked each year with the main theme being urging the youth to refrain from engaging in reckless recreational behavior.