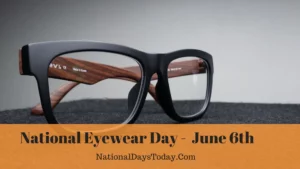 National Eyewear Day:
National Eyewear Day is observed on every June 6 in the United States. A day for Americans to celebrate the literacy and the demand for spectacles in the world.
| | | | |
| --- | --- | --- | --- |
| Year | Date | Day | Where |
| 2023 | 6th June | Tuesday | United States |
| 2024 | 6th June | Thursday | United States |
| 2025 | 6th June | Friday | United States |
Twitter Hashtags:
#NationalEyewearDay
 #EyewearDay
Related: Other National Days Celebrated on June 6th:
National Gardening Exercise Day
Why National Eyewear Day?
We all have been using spectacles for centuries and it is for sure that none of us can predict the exact origin of these fancy and colourful spectacles. It is another day for Americans to celebrate the literacy and the demand for spectacles in the world.
Spectacles were invented far before the printing press was invented back in 1452. This day not only reminds us about the flourishing science but helps us improve our personality and physical looks.
Eyewear plays a significant role in all our lives; it is certainly a day to be celebrated.
How can we observe National Eyewear Day?
Eyewear Day is something that you should feel proud of. It is a day that helps us remind the health of our eyes- the use of right and correct eyewear that not just suits our vision but our overall health. Possibly, there are so many ways you can celebrate the day. If you want to know, we can give a list of reasons you can celebrate this day.
Contrast your eyewear
When you are choosing to wear eyeglasses, you develop a priority to protect your eyes. The difference lies in the way you look at things with or without your eyewear. It can help you reduce eye strain, and headaches, and see clearly with fine prints. It makes driving more comfortable, even at night. Thanks to the one who invented the eyewear. You can choose different types that can suit your clothing.
Block Out the Blue
There are varieties of spectacles in the market; some are used to protect us from sun waves, and some are used to improve our visions. Many of them can help you filter out high-energy visible (HEV) light. It is the harmful blue light that makes us spend many hours on simple writings. The new fancy eyewear in the market is coming with digital screens. Sunglasses, spectacles, multicolour shades and polarized glasses- all of them have their individual uses. Some help us to reduce our strain, tired eyes, while others help us with blurred vision. Eyewear helps us protect against retinal damage from spending more hours on our favorite movies, computer, games, and work. You can enjoy the day using your eyewear the whole day at your work.
Let your style speak to the heat of the sun
Eyeglasses and sunglasses help us protect from UV rays. Now, you know the reason for wearing eyeglasses. You can style your eyewear and can flare the day as you wish to!
Say no to harmful diseases
Eyewear Day is the day to remind ourselves that we need protection from sun's UV rays. Nearly 5-10% of the sun's rays affect us with harmful diseases like cancer or eye damage. But, now you have sunglasses! You can enjoy the day with your favorite colors and can keep your eyes, and skin flourishing during the daytime too.
Interesting facts about National Eyewear Day:
Early in the 12th century, glasses were used by judges. Glasses were used to help the judges to maintain a poker face while giving sentences to the suspects.
It was in the 1950s when the style of using spectacles was brought in Hollywood. It was one of the most stylish ways to protect eyes from paparazzi, and that way sunglasses became popular. It became the trendy way to stand out in the crowd.
It is said that Romans first discovered the ability to use glasses in the wake of seeing small texts, and making the things visible to the eyes. At that time, glasses with spheres were most popular.
Some people say that glasses are the creation of Italians, from where they spread out to the whole of Europe, making the glasses available only to wealthy people. It soon became the status symbol and was owned by only those who were attributed to be intelligent and prosperous.
History:
The first inventor of eyewear or wearable glasses is unknown; however, certainly, it was first noted in the 13th century when history propelled the use of glasses in Italians. Earlier, glasses were known to be set into a wooden or leather frame. Glasses used to be perched on the nose. They were earlier used by the monks and the style was brought up from there. The technology and the making of human expertise developed the glasses through the Renaissance.