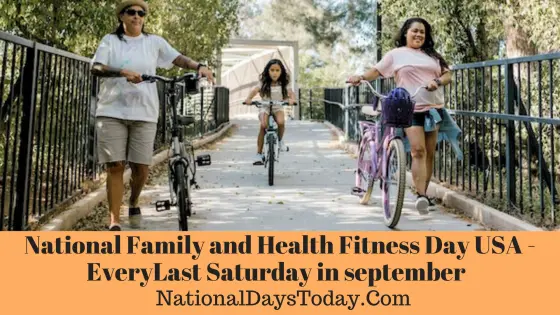 National Family and Health Fitness Day USA:
Mark your calendar, it's time to plan something interesting for the Saturday of the last week in September to keep ourselves healthy and fit.
| | | | |
| --- | --- | --- | --- |
| Year | Date | Day | Where |
| 2023 | 30th September | Saturday | United States |
| 2024 | 28th September | Saturday | United States |
| 2025 | 27th September | Saturday | United States |
Twitter Hashtags:
#NationalFamilyAndHealthFitnessDayUSA
#FamilyAndHealthFitnessDayUSA
#FamilyAndHealthFitnessDay
Related: Other National Days Celebrated on September:
National Hunting And Fishing Day
National Puppy Mill Awareness Day
Why Family and Health Fitness Day USA?
For those of you reading about the National Family and Health Fitness Day in the USA for the first time and wondering what it is, here is a brief explanation.
You see, back in the 1700s, the world was in a health crisis, a time of epidemic where cholera cases saw quick rises, taking lives along the way.
And so, as one of the many solutions, the US came up with the National Family and Health Fitness days, which is, till today, one of the many ways to serve as a reminder to the people in the US to stay in shape.
In other words, this a day of physical activity, healthy meals and you decide what else, a day of motivation to families and the society at large to make the US (and no one's exempting you to participate if you're from elsewhere) a healthy state.
How Can We Observe National Family and Health Fitness Day USA?
So, are you ready to do what it takes? Then, let's not wait for the third week of September. The day is only fun when you plan well in advance, planning on the things you would like to do on this day and arranging the many things on the way. All this is going to make you look forward to the day.
And if you can't do more than a little walking, do that anyway. Today is for everyone in the USA (and for you to if you are elsewhere but want to participate)
And it's all about doing the best that you can. So, go take a walk, or walk your dog if that's all you can, if your age doesn't permit you to do more than this or your health conditions (we totally understand) The idea is to join in the spirit, the spirit of good habits and health. It doesn't matter whether you ran miles together or took a walk down the lane.
Eat Right:
Fitness day is not fitness day if you ran miles and then came home to binge on burgers and fries. Stay away from unhealthy stuff on this day. We are going to practice some healthy eating and for this, come up with ways to make it interesting.
How are we going to do that?
Start discussing soups and salads of different kinds, thinking of what to do about the fruit basket in order to make it interesting and nice, and what else? Think of some healthy food in your culture, be it some healthy chicken, fish, or even some rice.
Again, remember to make it fun. Plan a food stall in your neighborhood if you can, and remember no ham and cheese or ice cream. This day is all about health and fun.
If you have good cooking skills, why not show the world that healthy eating can be made fun too. Put together some healthy juices and salads for everyone in the neighborhood to feast on?
And got some new ideas, shed some lights on us as well. Use the hashtags #NationalFamilyAndHealthFitnessDay and #FamilyAndHealthFitnessDay on social media.
There you are. Family fitness day is not as boring as you thought, is it? So gear up towards this fun day, finding something unusual to make it a memorable day, inspiring others to join in and add to the play. Don't forget to take as many pictures on the way, and share them on Facebook, Instagram and wherever you want it to stay.
Finally, remember that it's all about celebrating health together on this day, so if all you planned for yourself is a day indoors with a treadmill and a pair of dumbbells, then plan again. You can do that on any other day.
Today, it's all about being together with the crowd. Come outside if you can, and join the rest of them, be it for a run, on a cycle or some fun workout together.
Interesting facts about National Family and Health Fitness Day USA:
To make this day interesting, lets see some of the data related to Family, Health, Fitness in the United States.
There are around 32000+ health clubs in the United States approximately. It has fallen sharply from 41000+ to 32000+ in the last two years.
With around 45 million people with Gym Membership, its evident that we concern about Health and Fitness. However, monitoring the data after pandemic, the health club has reduced which alarm us in concentrating on health and fitness. Thus, this day is being observed annually.
History About National Family And Health Fitness Day USA:
The Health Information Resource Centre created and organized this day on 1996 from which it become an annual observance.