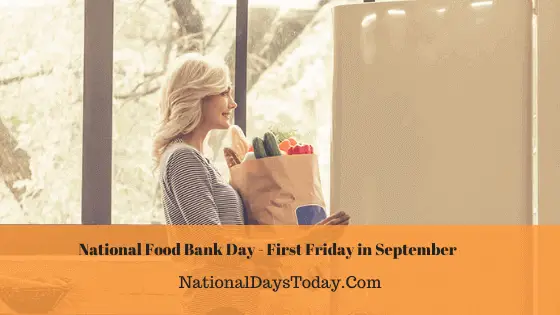 National Food Bank Day:
Celebrated on First Friday in September, every year. The day is remembered for a common cause that is to feed the poor.
| | | | |
| --- | --- | --- | --- |
| Year | Date | Day | Where |
| 2023 | 1st September | Friday | United States |
| 2024 | 6th September | Friday | United States |
| 2025 | 5th September | Friday | United States |
Twitter Hashtags:
#NationalFoodBankDay
#FoodBankDay
Related: Other National Days Celebrated on September 1st:
National No Rhyme (Nor Reason) Day
Why Food Bank Day?
The day is remembered for a common cause that is to feed the poor. It is reported that in every ten seconds, a person dies because of hunger in the world, which does not mean that there is no food. Yes! It is! We have enough. But sadly not all. Unfortunately, children die frequently because of hunger because many people are trapped in poverty.
Several programs like "Food for Education", "Food for Work" are being initiated By United Nations World Food Program to eradicate starvation death. Food Banks play a pivotal role to prevent hunger-related deaths. Normally, the left out food is collected by the Food Banks and are provided to the poor through volunteers and social workers, which have reduced the considerable amount of deaths and the set up need not require any much investment.
The day is to commemorate those workers, volunteers and Food bank charities who work in this regard.
How we can Celebrate National Food Bank Day:
We shall donate for a good cause. Let us avoid any starvation deaths by contributing a small amount to any Food banks. Fine! Do not throw food and if you are organizing a party, please make sure that you are in contact with a food bank so that the leftover food can be distributed to the needy via that food bank.
Let us create a hashtag and name as #FeedForPoor. Post if you have any left out food so that someone could come forward to collect and distribute it to those who are in need of food. We shall join hands to eradicate this world's biggest threat.
Interesting Facts About Food Bank Day:
On an annual basis, nearly 35 million people die of hunger and hunger is considered the world's biggest health problem and a growing problem as well. Perhaps, children are more prone to this and it becomes one of a great challenge for us to be succeeded.
It is reported that in the United States, one in every seven persons irrespective of ages highly depend on the Food Bank. A notable such food bank is "FEEDING AMERICA", a chained network and has more than 200 food bank branches all over the country.
History of Food Bank Day:
National Food Bank Day is created by St. Mary's Food bank, a non-profit foundation founded by John Ven Hengel in the year 1967 as a part of his social activities. John thought about to prevent wastage of groceries and eventually came up and formed this foundation and hence St. Mary's pioneer in food banking system and it holds a 50 years of service and their goal is to alleviate hunger.
Moreover, the idea has reached all over the country leading to the formation of several such food banks. To commemorate his extraordinary works in this regard, a day was selected on behalf of John Hengel and named as National Food Bank Day. Apart from this, their values are to deplete hunger by encouraging education. They provide around 250000 meals per day to the concerned to eradicate hunger. The Main motto of this foundation is "NONE SHOULD BE HUNGRY".