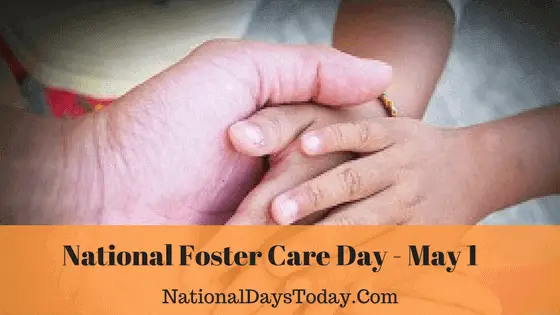 National Foster Care Day:
Celebrated on First Tuesday in May, every year. The day is observed to appreciate the dedicated service of Foster Care System in the United States and further to promote the adoption.
| | | | |
| --- | --- | --- | --- |
| Year | Date | Day | Where |
| 2023 | 1st May | Monday | United States |
| 2024 | 1st May | Wednesday | United States |
| 2025 | 1st May | Thursday | United States |
Twitter Hashtags:
#NationalFosterDay
#FosterDay
#DoAdopt
Related: Other National Days Celebrated on May 1st:
National Chocolate Parfait Day
Silver Star Service Banner Day
Why Foster Care Day?
The National Foster care day is observed to appreciate the dedicated service of Foster Care System in the United States and further to promote the adoption. Foster Care System provides a temporary solution to the homeless children until they find the Permanent Life. In the United States, as of 2015, 671,000 children were reported to be benefitted from Foster Core System with 112,000 children ready to be adopted.
Family oriented Foster Care is mostly preferred rather than other forms of care like Orphanages.However, a recent survey in Washington reveals that about one-third of the children were abused by their Foster Parents either sexually or physically/mentally. Therefore, this day is observed to creating awareness among the Foster Parents as well.
How we can Celebrate or Observe National Foster Care Day:
I hereby make a strong request that if you were not able to create a better environment for them, and then do not go for adoption. At least they would find someone better than you that makes their life peaceful. To promote this day, either go for adoption if possible, or promote this day by encouraging the concept of Adoption using this Hash Tag #DoAdopt on Social Media.
And, Dear Foster Parents, Spread the Joy by posting a picture with your child and share your moments with him or her using this hashtag #MyChildren on twitter. Those who take care of a homeless child as their own are equal to the Almighty. Let us honor those Almighty's by appreciating them using this Hashtag #DearFosterParents. Wear a blue color dress today and support this Foster care Day.
Interesting Facts About Foster Care Day:
In the United States, A recent statistics state that over two Lakhs children begin their new life every year in Foster Care System. Only half the amount of foster children completes their higher studies. One third of the foster women become a parent or pregnant at the age of 18.There are roughly four Lakh homeless children served by Foster care in the country.
The average number of Months, a child stay in Foster Care, as of 2015 is 13.5 Months. However, almost 10% of the Foster children were staying in Foster Care for more than 5 Years. Nearly half of the children suffer from medical problems and serious psychological problems including stress, depression, which is high incomparable to that of War Soldiers. Almost 11% of the children exits from the Foster care every year.
Foster Care children have the highest probability of suicide risk when compared to general children. Therefore, the mortality rate is considerably higher compared to that of general. In addition, they are likely to be suffering from Poverty, homelessness, cross-cultural adoption, Less Education, Eating disorder, Post Traumatic Stress Disorder, Medical and Psychiatric disorders, Abuse and Negligence.
History of Foster Care Day:
Ticket to Dream, a foundation that helps foster kids along with Project Blue, an Organization that works with an aim to change the current statistics for the betterment of foster children founded this day to create even more awareness to the public on the welfare of the Foster children. Thus, this day is dedicated to the Foster Care System and observed as an annual event right from the year 2017.