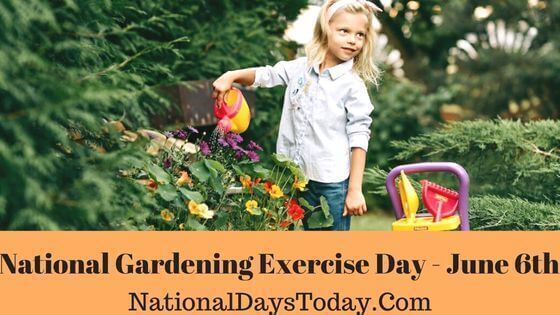 National Gardening Exercise Day:
National Gardening Exercise Day is celebrated on the 6th of June every year, emphasizing the importance of gardening as a workout option.
| | | | |
| --- | --- | --- | --- |
| Year | Date | Day | Where |
| 2023 | 6th June | Tuesday | United States |
| 2024 | 6th June | Thursday | United States |
| 2025 | 6th June | Friday | United States |
Twitter Hashtags:
#NationalGardeningExerciseDay
#GardeningExerciseDay
Related: Other National Days Celebrated on June 6th:
Why National Gardening Exercise Day?
It is a known fact that gardening as therapy can work wonders on our physical and mental health. From building muscles to burning calories, and bursting stress levels, there are many things gardening can do. Even a simple walk in the garden can do wonders to our bodies. Imagine building up a garden with weeding, planting, digging, spading, pruning, raking, mowing, etc. involved. The activities are plenty and so are the chances to lose weight and keep yourself fit. Also being out in the sunshine and fresh air will keep your mind and body fresh through the day. like exercising, gardening can be a good way to relieve your stress.
While gardening has changed in many ways over the years, there is one thing that has not changed. It is a fact that working in the garden can help you to stay fit, physically and mentally.
How can we celebrate the National Gardening Exercise Day?
If you are wondering how you can celebrate the National Gardening Exercise Day, then here are some pointers to celebrating this day memorably.
Start gardening in your home. This is the first step to begin a new hobby that will keep you fresh. It could be a small plant on your kitchen window or your work table. You don't need a large space to start growing plants. They can be a small addition to the décor and still cleanse the air around you. As for the workout having a small flowerpot on your table may not count as one but it is a good start.
You can visit any of the community gardens near your house. It is an exclusive affair but you can nevertheless try to get a visit. And if you get the chance to visit, you can enjoy it more if you get to walk to the garden and work in it.
Get out those power tools in your gardening kit and start working on your garden, in your backyard, or the front lawn. You can incorporate some of your workout squats and stretches into your gardening routine. This would make your body fit and your garden looks good too.
You can share your ideas and also spread awareness about this day with the hashtag #NationalGardeningExerciseDay on your social media platform.
Interesting facts about National Gardening Exercise Day:
It is this time of the year when you can learn a few interesting and lesser-known facts about gardening.
If you don't already know, plants can hear you and that is why many plant lovers sing to them. The music vibrations can help with the growth of the plants.
Found generally along the coast of California, the Redwood trees are the tallest in the world. So you definitely wouldn't want to plant them in your windowsills.
Not many people love the buzzing sound of the bees in our garden, but they have a crucial role to play in pollination. If you hear the music of the bees, then feel happy about it.
Tending to crops in a garden can easily consume as much as half an hour to 45 minutes in the sun. This means you can burn as many as 300 calories by indulging in gardening.
Earthworms are your best friends if you are into gardening. They cleanse the soil and recycle the organic material, turning them into nutrients flourishing the plants.
The hanging gardens of Babylon, once counted among the seven wonders of the world, the history of this wonder dates back to the 6th century BC.
Luca Ghini established the first botanical garden in Pisa, Europe in 1543 AD.
The first of the gardens date back as early as 10000 BC with the enclosure of the outdoor spaces, became a source of food for families.
History of National Gardening Exercise Day:
There hasn't been any information available about the origins of the day yet. As for the history of gardening, it dates back to as early as the times when agriculture began. The history of farming and gardening is intertwined and dates back to nearly 10000 BC. Evidence suggests that gardening was practiced in Mesopotamia and flourished all over the globe.